Artists/Entrepreneurs/Visionaries
As it pertains to your desires, dreams & wishes, the language goes like this…
THEY

say: You're crazy.
YOU

say (grinning): I know.
The naysayers will always be there.
It's your choice to be affected or not by their indifference.
Tweet
I once attended a SXSW talk given by Gary Hirshberg, Stonyfield Yogurt CEO and his wife, Meg Cadoux Hirshberg and she was discussing her new book, For Better or For Work: A Survival Guide for Entrepreneurs and Their Families.
As they shared their experience creating and running Stonyfield, what stays with me the most is when Gary said,
"I am a pathological
OPTIMIST.

" -Gary Hirshberg
Meg had us captivated when she talked about the stress that came with building their business (couples in attendance all nodded their heads) and how there were times when she and Gary didn't speak to one another (couples elbowing one another and chuckling), when they literally had to stay away from one another to give Gary the space to do what he did well (couples smiling).
There was a time when they got news that their farm had received some sort of citation which required it be shut down that day. This was potentially devastating to their operations and Meg thought it was the end of the world while Gary never saw the risk involved because he had something fundamental to true entrepreneurial thinking…the understanding that there are no impossibilities unless you choose to see them.
When Gary shared his one-liner with the group, it was like a lightning bolt straight to my heart. I clearly understood what he meant because I see opportunity and growth everywhere and seek to find ways to maximize and express it.
It's easy to go on that "just-be-positive-and-have-faith" spiel when it comes to the aspects of our lives that aren't so convivial, but you have to meet hope halfway and find ways to think and act in the face of risk and fear.
Have the courage to see your problems for what they are, then take the necessary steps to figure them out. That's much better than playing the sugarcoating game, or ignoring them altogether.
Where in your life can you choose to be more pathologically optimistic?
(Photo by Julian Dufort, Inc Magazine)
Tweet
Confession:
When things feel hard and my vision is not clear and important details are not coming together for me, whether professionally or personally, I am easily tempted to throw in the towel on this whole idea of convivial living.
But guess what?
I can't. I just can't.
There are just too many dreams and desires that are more powerful than I am and I am forced to keep going.
There is just too much love that I owe to myself.
There are just too many hills, steps, mountains I've climbed.
There are just too many people who truly believe in my abilities…more than I probably believe in myself.
There are just too many conversations that I've had that require me to walk my talk.
There are just not enough good enough reasons to give up.
There are just too many breaths I still have to take.
The journey is just too long to even think that I've come to the end of it.
So I keep on.
And on.
And on.
And so you must carry on with your own journey, dream, life…don't give in.
The challenges you face are there to shape and catapult you onward…
so keep doing your thang!
Tweet
Whenever I've read back on the things I've written, sometimes I can't believe it's me writing and flowing in such ways. Instead of getting cocky, those are the moments when I believe in a force outside of me, beyond me, working through me, for me, to express ME.
Being the kind of person who shies away from the limelight, talking about what I have to offer the world is not the most comfortable feeling, but with courage and consistent practice, it makes that process more bearable, and dare I say it…easy.
Convivial Intention: Stop and consider the greatness in you.
How will you do that this week? Here are some suggestions to get you going…
:: Revisit an old photo album (tangible or digital) and see the convivial life you've been busy creating.
:: Dig up something you once created and remind yourself of the talents that reside in you. Then…create something totally new.
::Rummage through some old photo boxes you have stuffed with letters from friends (back in the snail mail days) and hear what others had to say about and to you.
or…
:: Fill in your own blank and drop me a comment on how you plan to recognize the living work of art in you this week.
Tweet
Everyone has to hustle to get money – to pay the rent, mortgage, car payment; to pay for what they need and want, to care for their health, to invest in themselves, to be as generous as they want to be; to pay for support (i.e. housecleaner, childcare); to pay for those shoes you spent too much on, or that coaching you thought you needed…only to realize you wasted your money because your heart had the answer and gave it to you willingly.
None of us are immune to fumbling through choices and none of us are incapable of choosing to do better the next day. As you live and aspire for your convivial life, keep these words in mind…
"Our job in this lifetime is not to shape ourselves into some ideal we imagine we ought to be, but to find out who we already are and become it." -Steven Pressfield
Are you cut out for this job? Of course you are. It's what you were born to master. But awareness comes before action…with this kind of work, you will be expected to roll up your sleeves and begin savoring and taking in the world with every sense of your being.
To fulfill this very important "role" of a lifetime, you are faced with the choice to open yourself up to new experiences and people; to question, face challenge and resistance from yourself and others who are threatened by your growth and curiosity; to venture out of your house, neighborhood, city, country. I can't forget to mention your need to overcome that unnatural guilt you will feel when you attempt to acknowledge the real desires you have to live versus accepting what others deem as just "the way things are, the way they've always been."
You can begin at any time, so consider today your first day on the "job".
When you show up for work, when you put "heart" into what feels hard, when you have faith in that little whisper that comes back over and over again – the one that doesn't let you throw the towel in when you so often want to – then you can and will enjoy the benefits of a convivial life…the one you deserve and are capable of creating for yourself.
(FYI: In the above paragraph, I originally wrote "If" in place of "When" and purposely changed it because that is how one must think: when it comes to what you want in life, it's not a matter of IF but WHEN.)
Tweet
After picking my oldest son up at school last week, I surprised him by taking him to Barnes & Noble where he likes to buy new puzzles. We found him a 12-pack of 500, 300, and 100 piece puzzles to work on and he was ecstatic. He practically bear-hugged the box on the ride home.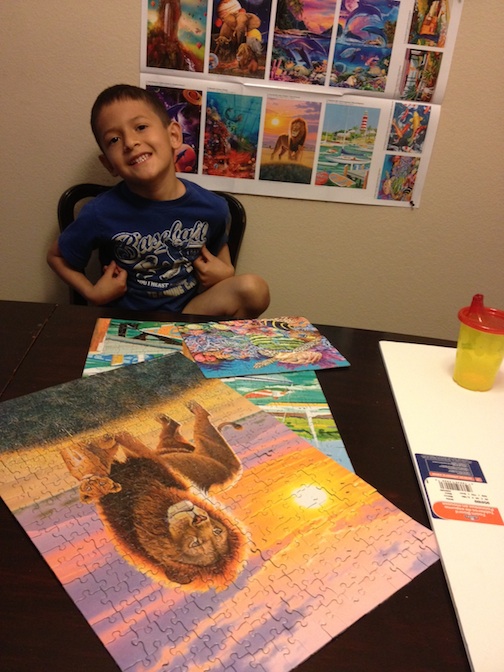 Unable to wait, he began working on a 300 piece puzzle of a lion. He asked me to help him, so we got started and soon found ourselves getting stuck because it was proving hard to bring the pieces together at times. We had to keep referring back to the picture on the box because we'd forget what the image looked like.
We'd try putting one piece with another, nothing…then another piece and searching for yet another piece, and nothing. This went on for awhile and then I got distracted with my other son and had to leave the table. I encouraged my son to keep working which he didn't resist because he loves these sorts of things (read: challenges).
He worked tirelessly, never leaving the table except for an occasional snack or bathroom break or drink, but soon returned to the scattered puzzle pieces. After awhile, I passed by and saw the lion and surrounding sunset and brush coming together little by little.
I cheered my son's diligent efforts and thought in that moment how in many ways, the things you work toward in life – your goals and dreams-  are no different.
When you have a vision for something you want (Sailboat anyone? Tuscan Villa?), you have the gist of what you might have to do to make it happen, and so you begin your quest. 
As you work, you hit bumps and obstacles along the way, but the key is to keep working (and believing), especially during the seemingly most challenging moments. Those moments determine your will for how bad you want what you want. I've often dealt with this as it relates to my writing and business-building efforts for The Convivial Woman. It's no easy game to play but I keep playing it!
What "puzzle" are you working on in your own life?
This week, I encourage you to keep trying to put the pieces of your "puzzle" together…if one piece doesn't fit, try another, and another, then search for another. If you need to, take a break – either temporarily, or sometimes from it all. If you're committed and passionate enough, you'll return to the work at hand and your focus will return. Trust in the dips and valleys of your personal journey.
You WILL have plenty of moments of frustration, confusion, uncertainty, but if you take action to pick up where you left off, or in a whole other place, your focus will be renewed. You're meant to get lost in the process because not everything is within your control.
Remain vigilant and committed to seeing your goals – whatever they may be – to completion. The ones you're willing to quit are the ones you don't want as bad, so why feel bad? If you need to, find a new goal to build your confidence.
When your patience gets tested, when you feel like giving up, when you aren't figuring things out, or the details are just not coming together, remember that creativity is an enlightened form of problem solving and your role is to trust and stay committed.
If a 5-year-old can show us the way of a good work ethic, then we can certainly follow his lead. I know I will!
Cheers to you and your dreams (and the work ethic they so desperately need!),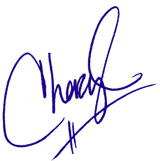 Tweet
"I'm not going to change."
When it comes to the person you are, you will always be you.
But when it comes to the person you were born to be, the person you have the utmost potential to be, you can never say those five words because you indirectly stunt your growth.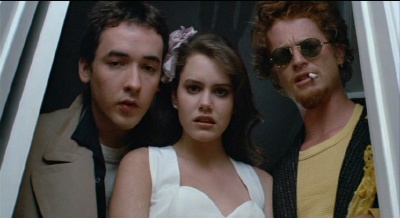 We must change to change the world we live in.
Do you want to play a role in those changes?
Then become more aware of your behavior.
Be more…
observant,
attentive,
inquisitive,
curious,
daring, 
vulnerable,
more open to adapt to changing environments, relationships, circumstances, etc., if you want to make a difference with the short time you have on earth.
It's your one and only chance.
What if you said,
"I am willing to change."
Your habits, beliefs, forms of communication, appearance, language, environment, and perspective can all change if you make the choice to do so. It all starts with you.
When it comes to your personal sense of discipline and the habits you learned growing up and in school, remember this: those ways of "being" are not your entire make up as a person unless you choose them to be.
Tweet
Before the Super Bowl games began, I stole some time alone and took myself out for the day. I felt spent from the previous week of managing activities for my kids and fulfilled from the time I played tour guide to my parents who'd come to visit for the weekend, but I was starting to get that anxious feeling deep within that some solo time was needed before a whole new week began.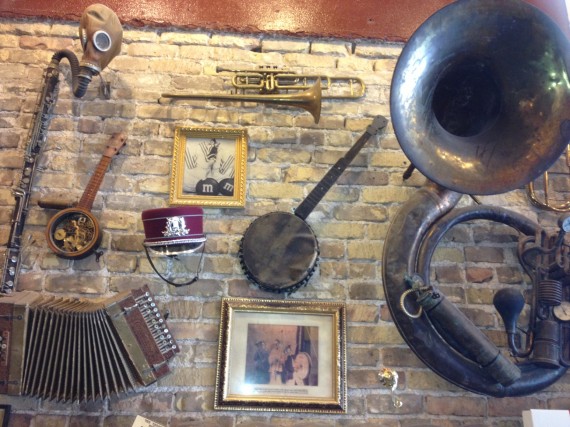 After saying my goodbyes to mom and dad, I made my way to Austin's notorious  Congress Avenue and headed toward some shops I'd been wanting to pop into for a while. My body was craving some movement, so I knew sunshine on my face and walking uphill would do the trick.
Side note: Before heading out, I thought to call a couple of friends to see if they might want to join me, but then I felt the need for calm and quiet, like I didn't want to be available for no one else but me, so…I left the invitations for another time and dedicated the time to myself. 
After getting my walking in and repressing the desire to buy the most beautiful indigo and sea green colored precious stone necklace (I'll be back for it though), I had a craving for P.F. Chang's Chinese Bistro in downtown Austin.
I am not a chinese food lover, but I have my fave spots and my fave picks. At this particular bistro, I showed up for the wonton soup, a side of spicy green beans, and left room for dessert – Banana Springs rolls. That was the ultimate reason for going there, anyway.
When I entered the restaurant, the host asked, "Are there more joining you?"
I smiled and said, "No, just me. I got a craving…" He smiled back and escorted me to a booth all to myself and the experience was on.
The meal I showed up to have is one that I normally share with two other cherished girlfriends whenever I go back to visit friends and family in Dallas, but today…I was eating for all three of us! Ain't no shame in my convivial dining game. Nuh uh.
I was there to savor the meal, my solo time – to find a moment to connect with myself, to pray secret prayers, to take in the scene, and claim a sort of spiritual experience all my own. It was Sunday after all.
Once I was able to do that, I knew I'd be ready to return home to my family and give them the best of who I am as we prepared to start a new week.
These are the experiences I need to be a present, observant, patient and loving mother, wife, daughter, sister, friend, and writer.
It's so important to recognize what you need when you need it. I'd venture to say it's crucial.
If I don't get intimate, creative, savory, expansive moments for myself, I cannot guarantee the best of me to others.
A 90-year-old woman whom my mother used to assist had me organize her stationery desk and run some errands for her when I was sixteen years old and newly moved from Chicago to Dallas.
I was gathering her stash of stamps and envelopes to help her mail something and noticed she had labels printed that said,
Be Good To Yourself
I always remember that. You should too.
Tweet
Have you heard the news?
CONVIVIAL LIVING is in full effect in the form of a private facebook group – created by yours truly to coincide with my 'Convivial' digital book experience!
Curating a convivial life doesn't have to be a solo pursuit.
In fact, it shouldn't ever be. This road can feel lonely, the pathways and choices to make can seem dim, uncertain or altogether scary, BUT…
when you have like-minded people gathering to support you on your quest to
walk your own path
discover your own truths
follow your heart's desires
master your true strengths
and serve the world as a result of it all...
well…I gotta ask, how could you not consider joining this life-enhancing crowd of folks who are ready to shine their lights on you so yours can shine just as bright?
Mama was right…Birds of a feather flock together…so let me encourage you to be selective in how you choose to spend your time and with whom…especially on Facebook!
Convivial Living serves as an arena for thought-provoking and honest conversation, not to mention intentional community-building which can be an incredible catalyst for vigorous personal development. Consider this network of peeps as the dream accountability team you've been needing.
So! Are you ready to embark on your quest to the masterpiece within?
How to Join Our Private Facebook Group, Convivial Living:
1. Purchase your copy of my book 'Convivial' by clicking HERE.
2. Upon completion of your order, you'll receive special instructions on how to gain access to the good vibes and great conversations happening right now in the group.
3. Introduce yourself…or do as John Mayer would do and bust down them double doors of the Convivial Living digital space and let the group know you've arrived!
Hope to see you there!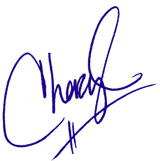 Go on…take the first step toward creating the life you crave.
Here's the link to purchase 'Convivial' once again–>http://www.theconvivialwoman.com/convivial/
Tweet
For the last couples of days, I can say I've been experience some sort of an internal shift. All sorts of emotions brewing about me.
That's probably what happens when you delve into storage boxes of your belongings, things that you have saved to later reminisce on.
As I went through my things, trying to decide on what to keep and what to shed, I realized how important the little details are for me.
How do you preserve the memories of your life?
I am not a pack rat, but I do keep the essentials apparently.
I found acceptance letters to college, my speech as class president of my 8th grade class, old photos of friends, and a letter from my grandmother who passed 15 years ago – she wrote "Hey amiga". It just showed the closeness and the bond that her and I were developing at that time in our lives. I was 18 and she was 60, yet the both of us felt as if it was our time to LIVE.
Her letter made me cry because at the third sentence, she said, "Nothing new here in Odessa, everything old…"
That line hit me hard for one reason. I know she wanted to see so much of the world, but her life was cut short – yes, at 60 years old when she died in an unexpected car accident.
I told my husband, "She had the same spirit as I do…she wanted to travel, to explore, to discover what was 'out there'."
She was no different that anyone else who wants to feel alive, to be seen, to be loved, to be heard, to be appreciated.
I cherish her memory which remains alive and well in my heart daily.
Life is so short and its very easy to take it for granted, but we mustn't. So a new question…
What if you have desires to live in ways that are against everything that you've been raised to believe, against the roles you have found yourself playing, against your culture and traditions, against what society deems as normal?
In my newsfeed, I am connected to many folks who live, sell and market consciousness, saying things like Joseph Campbell once said, 'Follow your bliss," and I even say such things, but what happens when your bliss turns out to be something taboo, something uncanny, something that carries consequences or may change people's perception of you?
Who is talking about that aspect of following your bliss?
I guess I am now.
And I think you'll be hearing me talk more and more about it right here.
In the past days of rifling through my "boxed-up-SELF" (literally and metaphorically), I am thankful and pensive about conjuring up all sorts of memories about my life. It is causing me to peel back the layers of who I am and although hesitant, I venture to see deep within all of me that wants, needs, and must be expressed.
I hope to be brave enough to share my findings and personal discoveries here.
That is the adventure we are all on…to experience, question and better know who we are…to make the choise to be who we want to be…to follow the path that leads us to the person we are to become…to be courageous enough to understand the life story that is unfolding before our eyes… to be honest and real and honest and real.
That is my desire for 2013…to tap into the deeper TRUTH of who I am and explore the aspects of myself that I've let sit idle, that I've suppressed, buried, ignored…and to find out how to continue to best express me- beliefs, traditions, society, culture, and personal fears aside.
Isn't that what we all want to do? Every new year, new day, new moment that comes our way?
The only true way to find anything real out about your life is to get out there and live it, experience it, taste it, question it, face it.
Now, THAT would make for a happy and very interesting New year.
Tweet
HAPPY NEW YEAR

!

Last night, I got all dressed up and took to the city scene to enjoy some great booty shaking music  for the New Year's Eve celebration and ended it with a veggie omelet at a local cafe.
Did you feel absolutely amazing and filled with the spirit of your life as I did? You deserve that convivial feeling every day.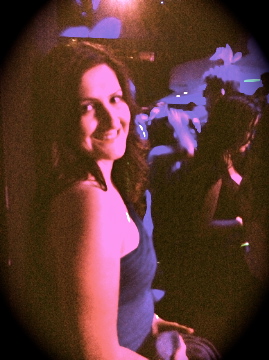 At the beginning of every year, we all have the desire to prepare for new beginnings, new habits, new experiences, a new life…so, I'm curious to know…
What specific strokes do you intend to make toward the blank canvas that is your convivial life?
How will you begin it today?
I want to take this moment to encourage you to consider going full force in 2013 with your quest for the masterepiece within - 'cause I know I will!
It's time to get out of your head and dive deep into your heart and continue the personal inquiry and discovery of everything that makes you come alive.
Let this new year be about discovering all that nurtures your spirit, soul, person.
I guarantee you if you do that, your happiness will emanate and spread to those around you and THAT is when we can be of most service to our loved ones and the world.
WARNING

: There are risks associated with following your heart and being true to you.

Not everyone will be comfortable to take the ride with you nor will they appreciate the tough choices you make if it doesn't nurture their comfort zones. There will be criticism and resistance lurking around every corner that your heart may need to venture, but that is to be expected when you walk the path to your convivial life.

It's not easy, it can be scary, but it is so exciting and worthwhile when you do experience the realness and richness that can be the life YOU create and have the courage to live.

It's time to get my eat on – tamales with "rajas con queso" mmmm.

Happy New Year from my creative heart to yours,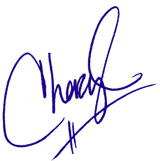 "We must let go of the life we have planned, so as to accept the one that is waiting for us." -Joseph Campbell
Tweet
Indifference to someone's ideas, thoughts, dreams, desires, concerns and fears can kill so much between cherished individuals.
When someone shows courage and speaks a deep desire, a wish, or they share a long-time or completely new dream with you, understand that THAT is an honor if you are on the receiving/listening end.
When someone trusts you enough to share something so close to their heart AND something they fear, keep in mind that by speaking up, they have just walked across a tight rope, then leaped over a self-imposed safety net that existed to keep them exactly where they are in life.
Do you remember how scary it felt to share a deep desire or a dream you had with another person?
We have to take great care with one another's heart's desires.
When someone speaks up and declares how they feel, what they want to change, and what they intend to do about it…know that they are taking the first crucial step of busting out of a box they have been comfortably sitting in for who knows how long.
Your thoughts become your reality, so by taking the faint whispers of your heart and putting them out in the open for another person to hear and know, you are declaring your desire to change the story you've been telling yourself and the world.
You are deciding to begin anew, to recreate yourself.
That someone, that dreamer, can be you.
Or…
If you are the one who is lucky enough to be on the listening end in that grand moment, YOU are a chosen one, you are the secondary ears and eyes for that potential vision, and if you care enough, you can play a role, a part in their success – you can be a co-creator of their happiness.
They have spoken ALOUD what many are afraid to admit – what they want, need, yearn for, fear.
I've been that dreamer speaking my desires and dreams aloud to certain individuals for a long time now and I have learned to decipher between those who care, those who don't, and those who don't KNOW how to care.
When I first embarked on my path to writing for the best city news magazine in Dallas, I was excited about simply getting my foot in the door and wanted to share how I was feeling with a friend. When I began talking about what I was doing at the office, my friend cut me off, flicked her hand and said, "Oh, you're just fetching coffee for them there!"  Talk about getting shot DOWN, huh?
Being as self-aware and emotionally driven as I am, those sorts of moments hit me deep, because I would never dream of doing that to a friend.
Every single one of us is a dreamer.
Not everyone of us is a doer, though.
That has nothing to do with ability, but about the choice to take action.
The dreaming for 2013 has already begun for so many…what are you ready to make happen?
Depending on how self-motivated you are, and especially who you surround yourself with, who you choose to hear you out when its dream-speaking time, is a big factor in going from dreamer to doer.
For that reason, it's important to be attentive, be conscious, be considerate, be open, be available when someone chooses you.
There is a reason they have chosen you, and its not convenience.
Don't be indifferent.
One day, it will be your turn to speak up. If you dare.
However well you listen can determine how well you will be heard when your time comes to share what's in your heart.
Your dreams are fed by the amount of nurturing you do for another person's dream mapping.
Don't be indifferent.
Be willing to dream with them.
We are all in this together.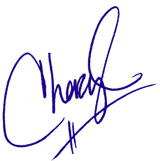 P.S. if you're ready to embark on a quest to the masterpiece within you in 2013, take the first step and grab your copy of my book 'Convivial' – its one experiential read that can set you on your way  to the creative, convivial life that awaits you.
Tweet