Hustling
After picking my oldest son up at school last week, I surprised him by taking him to Barnes & Noble where he likes to buy new puzzles. We found him a 12-pack of 500, 300, and 100 piece puzzles to work on and he was ecstatic. He practically bear-hugged the box on the ride home.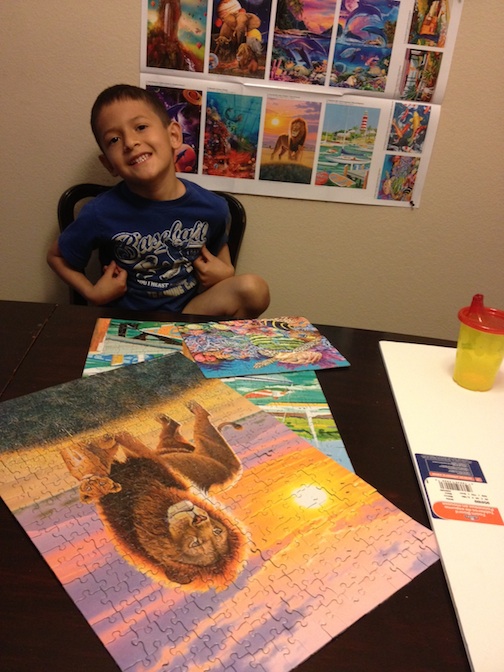 Unable to wait, he began working on a 300 piece puzzle of a lion. He asked me to help him, so we got started and soon found ourselves getting stuck because it was proving hard to bring the pieces together at times. We had to keep referring back to the picture on the box because we'd forget what the image looked like.
We'd try putting one piece with another, nothing…then another piece and searching for yet another piece, and nothing. This went on for awhile and then I got distracted with my other son and had to leave the table. I encouraged my son to keep working which he didn't resist because he loves these sorts of things.
He worked tirelessly, never leaving the table except for an occasional snack or bathroom break or drink, but soon returned to the scattered puzzle pieces. After awhile, I passed by and saw the lion and surrounding sunset and brush coming together little by little.
I cheered my son's diligent efforts and thought in that moment how in many ways, the things you work toward in life – your goals and dreams-  are no different.
When you have a vision for something you want (Sailboat anyone? Tuscan Villa?), you have the gist of what you might have to do to make it happen, and so you begin your quest. 
As you work, you hit bumps and obstacles along the way, but the key is to keep working (and believing), especially during the seemingly most challenging moments. Those moments determine your will for how bad you want what you want. I've often dealt with this as it relates to my writing and business-building efforts for The Convivial Woman. It's no easy game to play but I keep playing it!
What "puzzle" are you working on in your own life?
Keep putting the pieces of your "puzzle" together…if one piece doesn't fit, try another, and another, then search for another. If you need to, take a break – either temporarily, or sometimes from it all. If you're committed and passionate enough, you'll return to the work at hand and your focus will return. Trust in the dips and valleys of your personal journey.
You WILL have plenty of moments of frustration, confusion, uncertainty, but if you take action to pick up where you left off, or in a whole other place, your focus will be renewed. You're meant to get lost in the process because not everything is within your control.
Remain vigilant and committed to seeing your goals – whatever they may be – to completion. The ones you're willing to quit are the ones you don't want as bad, so why feel bad? If you need to, find a new goal to build your confidence.
When your patience gets tested, when you feel like giving up, when you aren't figuring things out, or the details are just not coming together, remember that creativity is an enlightened form of problem solving and your role is to trust and stay committed.
If a 5-year-old can show us the way of a good work ethic, then we can certainly follow his lead.
Cheers to you and your dreams and the work ethic they so desperately need!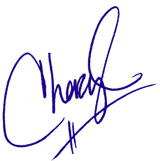 Tweet
I just came across this article on the Huffington Post called The Rise of College Alternatives and it was yet another reminder and comfort to me about the choices I have made in the last decade of my life.
I am a student of life, but in a different sense.
I didn't make the list of students graduating summa cum laude . I was farrr from it. But that didn't mean I lacked a thirst for learning. I just didn't focus on 'making the grade'.
When I was a sophomore in high school, you would've seen me in the library perusing many different sections or flipping through the pages of thick poetry books, looking up words I'd circled in Vogue articles, or reading about the life of Black Panther founder, Huey Newton.
I was simply curious…about everything that interested me.
You would never have imagined that I was nearly failing my chemistry class, even though I adored my teacher who resembled Elmer Fudd. But his adorableness wasn't enough to get me to pay enough attention to protons and everything else that proved to be a foreign language to my ears and eyes in that class. I just wasn't into it and knew I wouldn't pursue it in life.
I wasn't the best student when it came to what was always required of me, but I still never questioned my need for an education, for a degree.
When I graduated high school, I wasn't able to ask my parents to borrow money to go to school (I'm still laughing about that one, Mitt) nor did I have a concrete plan for college. I was completely on my own when it came to that, but there was never a doubt that I would go or that I would finish. I was American and having the opportunity of a college education was ingrained in me.
I ended up getting guidance from a fellow college friend who walked the campus barefoot just to prove that he could. He helped me register and schedule my classes – interestingly enough, we had two classes together and he wanted to keep that pattern going the following semester because of his feelings for me, but his revolutionary ideas weren't impressing me anymore.
Where he saw being bold in the face of authority or disdain for anyone's upward movement in life, I saw limitations and struggle surrounding him and the life he was leading. That was not how I wanted to feel in my own life, so I eventually changed the company I was keeping.
When I graduated with a Bachelors degree in Finance, one thing I was grateful for was to declare myself debt-free from that experience. I worked in Banking and found a company that paid 100% of my college fees. I'm talking, they covered tuition, books, and even my cap and gown. It was a fantastic deal plus I was getting real world experience in the Finance world while educating myself.
There are always trade offs, though. I can't look back on my college days and recant stories of me yelling in the lunch cafeteria "Food fight!!" or going to thriller parties with  my nerd boyfriend from Lambda Lambda Lambda. I was too busy mixing and mingling from 9 to 5 like Melanie Griffith once did…as a total "working girl."
I didn't have the dorm life, the roommate you either love or hate, the parties, the football games, but when I left college, I LEFT it behind me…no debt, no creditors, no loans, and had a degree to call my own.
The choices
YOU

make in life shape

YOU

and determining the path right for you is all in your hands.

After getting my Bachelors degree from UT Dallas, I went back in to pursue a Masters in Aesthetic Studies- which is pretty much like an interdisciplinary studies degree where you curate the curriculum of your choice in the Arts. It was a whole other world and I knew UT  Dallas was not known for its liberal arts program, or for much of anything liberal arts-related; it was a commuter school primarily for working folks and best known for its computer science and business programs. So I canceled that higher education plan out. I wasn't willing to move forward, because I didn't feel it  was the best route to take.

So I went alternative and threw myself into the world. I went to Mexico and mingled with published authors, returned to Dallas to work alongside magazine editors at the best city news magazine in town, then went entrepreneurial and started my own personal concierge service, then got into the blogging scene. Who knows where I'll go next, but that's the beauty of life…it always changes and I am more than willing to go with that kind of flow.

Many routes that I've taken have actually felt more like detours, leading me down paths that have brought me knowledge about life and myself that no college education, professor, or former boss ever offered me.
Experiencing my life, making unconventional choices, becoming a mother, writing my first book, heartbreaks, and trusting in the unknown and my own intuition have been my best forms of education.
I highly recommend you pay more attention to what you want to learn, what calls your interest, what attracts you, who speaks to you, and follow that pathway. This is the very concept of living that I discuss in my book 'Convivial | A Quest for the Masterpiece Within'. Have you gotten your hands on a copy yet?
College degrees are a great accomplishment, but they don't solve everything and they don't entirely bring you the knowledge you need to live a convivial life.
This is truly a different economy. You've got to adapt to it. Your curiosity for learning, for delving into new environments, for connecting and building relationships with others, your willingness to adopt new habits and outlooks, your desire for continual improvement, your openness to criticism, your ability to be proactive and creative, and your courage to face your fears is what will take you through life successfully.
Determine how you best learn.
Declare the world your classroom.
Take your seat up front.
Pay attention to the lessons.
Choose the best teachers…
Life, Love, and your very own heart. 
Tweet
You know that inner critic inside all of our heads, the one who loves to construct the walls, the glass ceilings, the roadblocks and imaginary obstacles deep within when we set out to fulfill our dreams?
That imaginary bully/mean girl rolling her eyes, crossing her arms, and plotting ways to sabotage your confidence and efforts to be happy, to find confidence within yourself and your abilities, to finish what you start…the negative voices in your mind who love to talk talk talk about everything you can't do? Yeah, I think you know that character.
Well…just a day after successfully launching my brand new book 'CONVIVIAL' and exciting sales starting to come in like WOW,
Here's what my inner critic, looking ever so small and sitting on the sidelines, is saying today:
"She did it. The bitch did it. She wrote that damn thing and it now exists for the world to read and enjoy. Shit. I need a new game plan."
So! What dreams have you put on the back burner? What changes are you ready to see take shape in your world? It all starts from within and my book can serve as a guiding light to help you make headway.
Get your peek inside and read a few pages right now!
Tweet
This will be quick, but I simply want to express my gratitude for an unexpected blessing that came my way last week and to tell you that if you show your commitment to your craft, your art, your dreams, yourSELF, and put your requests out there to be heard, to be known, to be considered, guess what? Life will respond accordingly.
As I write you, I'm on a writer's sabbatical all this week as a result of doing just the above. I devised a plan of action to create space and time for myself to continue focusing on a project that's been a long time coming. Before I continue, I want to ask you to be part of this experience and not miss out on anything, so be sure to…
Join the Convivial Collective for news on the official launch date of The Convivial Woman's first digital offering, Volume I in a series of Convivial Lifestyle Guides written by yours truly for you truly.
Back to my story… So, I put my request for space and solitude out there for the right person to hear, and as easily as I spoke it, it was granted.
I'm so grateful for what's been provided to me all this week. I'm holed up in an undisclosed location, all by myself with my Mac, a new journal, surround sound music, a plush bed, several books, and healthy snacks galore. I have no plans to be anywhere. It's just me, the convivial muse and I all week long. Scary and exciting!
Silence can be intimidating, but it's needed for anything creative to come out of you.
Upon arrival, I experienced (more…)
Tweet
I was able to steal this morning time to share with you all I was up to late last night.
After a few phone calls, some research, and two weeks of tapping into my feelings about where I want to go with The Convivial Woman and how I want to feel as a result of my efforts here, I took one swift action toward investing in myself by enrolling in…
Marie Forleo's Rich Happy & Hot B-School.
I'm thrilled, jittery and absolutely giddy because I pushed through my fear and every possible excuse that could keep me where I'm at versus getting me to where I need to be!
I spoke to two friends who happen to be women I admire and entrepreneurs themselves and when I told them I would be joining B-School, this is what they said:
"Yay!! We'll rock it out together"
and
"Yaaaaaaayyyy!!! It's gonna be awesome."
After a decent night's sleep, I also woke up to this message on Facebook from yet another friend who was aware of my recent choice:
"We are best friends…always remember that if you fall, I will pick you up–after I finish laughing at you." (ahh the truest of friends)
With every risk comes major rewards. Sometimes it's money, love, moving to a new city or country, a new house, but even better, it's a more clearer, confident, unstoppable
YOU.
When you show the courage to go for it, life responds accordingly and instantly, even if the response is subtle.
It was scary for me to push this button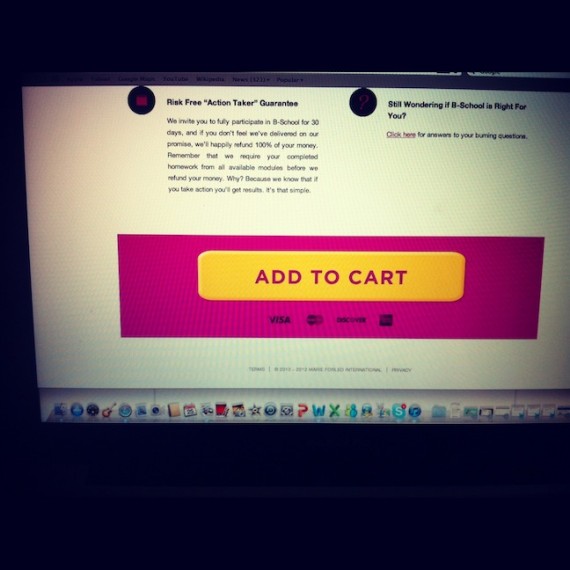 but I took a deep breath, knew I'd done my homework, and thought to myself, I know what I need to get better at what I'm already good at. And so I did it.
It's hard to know what to do sometimes, but you still must do that one thing to get to the next thing. Your future depends on you to make a decision, any decision.
I went through the process of signing up for B-School, from an expert I trust and know is the real deal, and when it was time to click "Pay", I took yet another deep breath, heard the click, and upon exhaling, this appeared before my eyes:
I felt nervous about what was ahead, yet I was proud of myself for demonstrating the courage to give in to my deep-rooted needs.
When you're a working professional, you show up to work and put your trust in that company to train you to do the job. As you get to know people, you find mentors and people who want to help guide you on your way. Bless those people who take the intiative to get involved in shaping your future. We desperately need more people to step up and reach out.
On the flipside, when you're an entrepreneur and creating worlds of your own imagination, there is no road map. Everyone is figuring out their way through the road less traveled, yet there are many travelers.
When you choose to tread a path that isn't as smoothly paved, that's constantly changing, doesn't have any clear cut signs for you to follow, then you must seek out mentors in your industry who have had the courage the venture down that same road to help guide and mentor you.
The more mistakes they've made, the more knowledge and wisdom they can impart. Athletes aren't the only ones who need coaches.
Their experience won't be your exact experience, but it will be worth finding out with them at your side.
So that's what Marie Forleo and the community of B-Schoolers are going to be for me.
Our parents were our first teachers and that is one world of knowledge we begin our lives with, but there are myriad worlds of knowledge and wonder that await you. It's up to you to discover them, to trust in them, to invest your time (and yes, your money) in them.
No action taken toward accomplishing your dreams is ever wasted.
Get your education on!
P.S. If you're looking to be part of Marie Forleo's B-School class of 2012, today's your last chance to get on board. Enrollment closes at 3pm EST today 2012 May 25.
Tweet
It warms my heart to see all of the entrepreneurs out there spreading their message of hope and perseverance through their very example of living it. I know it inspires me every day.
I sit at a cafe and just outside the window, I see a van parked with decals that advertise catering and entertainment services. There's nothing fancy about the van- in fact, I can see a few scrapes and dings in it.
The letters from the decal are starting to peel off, but the person driving this vehicle, and perhaps running this business is obviously not concerned with the condition of his van…his priority is on having reliable transportation for the chairs, tables, and bounce houses he's offering in exchange for the cash that goes straight to his bank account. Ah…I see him driving away and silently, I wish him well in his endeavors.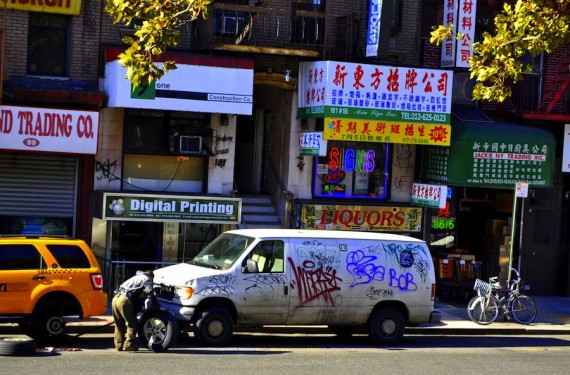 (Note: Not the real van, but play along with me!)
What he is concerned about is paying his bills with the income he has created for himself, about how he's going to get the next customer, and secure their business.
He's not sitting in some office, whether it be leased or at home, waiting for the phone to ring. No, he's hustling to get that business. How he goes about his hustle is what sets him apart from his competition.
Everyday that he is in business for himself, he makes the choice to wake up and face potential risk and rejection, one after another, because he believes he can achieve a sale, and provide a service derived from his own imagining, and deliver happiness.
He believes in himself, even when he doesn't have all the answers. And believe me, as an entrepreneur, a visionary, an artist, you won't ever have all the answers.

(more…)
Tweet