The Art of Convivial Living
In 1995, I read a short story written by a then up-and-coming writer, Junot Diaz  in The New Yorker titled How To Date a Brown Girl (Black Girl, White Girl, or Halfie) and I never forgot this Dominican-born wordsmith. The now Pulitzer-prize winning author, Junot Diaz came to Austin the last week in September and made a pit stop at Book People. I was lucky enough to catch him while he was in town.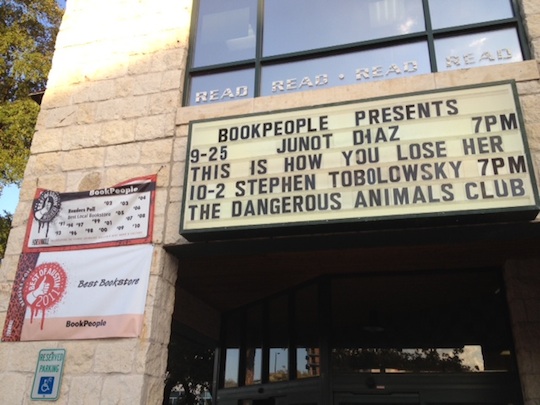 I knew there'd be something powerful about being in the same room as Junot, a man who has endured this solo pursuit known as the writer's life that I am coming to know so well. I arranged a sitter and made plans to be there–I even put on a necklace for this occasion.
At 15, Junot made me laugh and any girl can appreciate that. But more than that, his story felt close to home. It reminded me of my brother and all of the guy's from our block in Chicago trying to get girls. He pin-pointed the vulgarity so common among teenage guys perfectly. There's no denying he puts the time into his craft and continues to share the best stories.
This is the power of words and true art. Once it reaches you, I mean, truly sets off emotion in you, then its the real deal and a moment to remember.
Now he's published a third book called This Is How You Lose Her. It was  interesting to see the diverse crowd gathered to hear him speak and read that night. He's funny, humble, and his language is raw. He is who he is.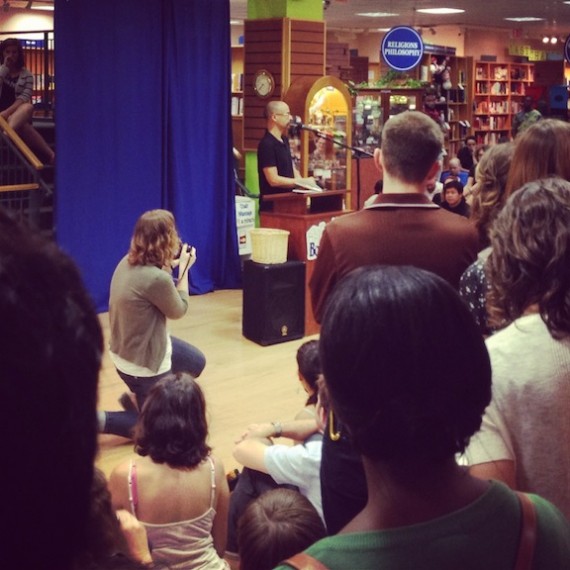 I had yet another full circle experience when I got the chance to ask Junot the question, "Who supports you?"
I had to ask, because the man's been on his own creative quest for at least 20 years and I know staying in the game that long is no easy feat. When you make the choice to heed the call of the creator in you, to share what you've got deep inside of you with the world, because you are compelled to do so, it can be a very lonely pursuit. And for that reason, you need people in your corner to keep the fire lit under you. He let us know that two women were at the heart of his writing. "They vett all my shit," he said.
Want to hear Junot's full response on the need for supportive networks in the pursuit of your creative calling? 

LISTEN HERE
Some of my favorite quotes from the audio clip below:
"To stay in this game, you need your ovaries well placed."
"You've gotta have the heart."
"You've gotta believe this stuff matters."
What artists inspire you and why? Share your favorites in the comments below and let me know if anything in today's blog or the audio clip speaks directly to your experience.  
Tweet
I get around every so often with my camera to capture moments as another means to express myself creatively. However, there are some photo ops that should be passed on…this I know.
Like Princess Kate sun-bathing topless in France or the guy I saw today at the grocery store who did his very best to dress as a woman, but unfortunately was not successful in pulling off his desired look. I realize it happens to the best of us and the last thing we need is someone with a camera nearby.
But, here are some random moments I snapped that I am happy to share today. You know, because they might inspire or bring about the sh*ts and giggles.
Knock Knock, it's me, Wisdom
I found this piece of paper taped to the door of a counselor's office and had to hold my hand back from scribbling the word "convivial" before the word living. You know what's up. This pretty much sums up what I be preachin' here here. Too bad there's no source to credit. Then again, I could google it, but I'm lazy. It's good stuff to share regardless.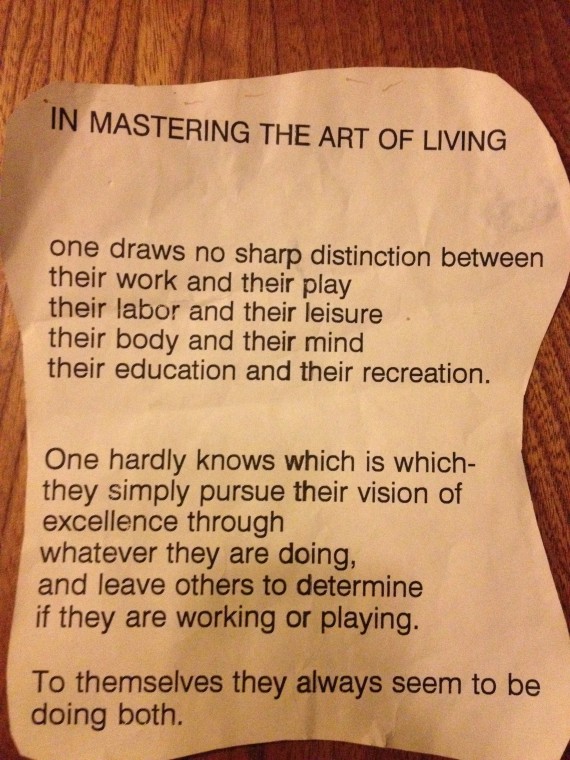 I'm on a riverwalk boat tour and pictured is the bridge where famous Tejano singer, Selena filmed her music video No Me Queda Mas. We were all chanting "Selena! Selena! Selena!" Just kidding, but she does live in my heart forever. And her music too. Ahh…memories of that one Tejano cowboy sporting the cowboy hat, boots and belt buckle, the one I danced a mean cumbia with when I was just 16. He went by the name Lely. Go figure.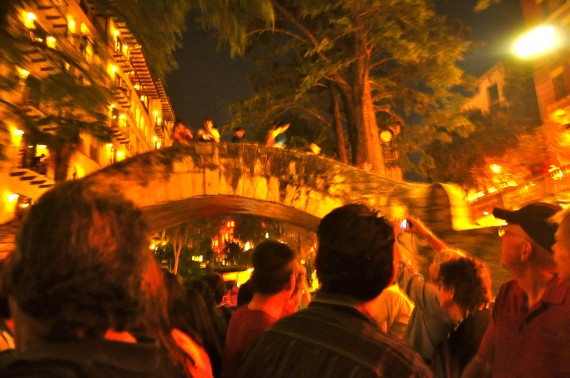 In between writing and revisions on my forthcoming Convivial Lifestyle Guide, I play with Photo Booth in Mac.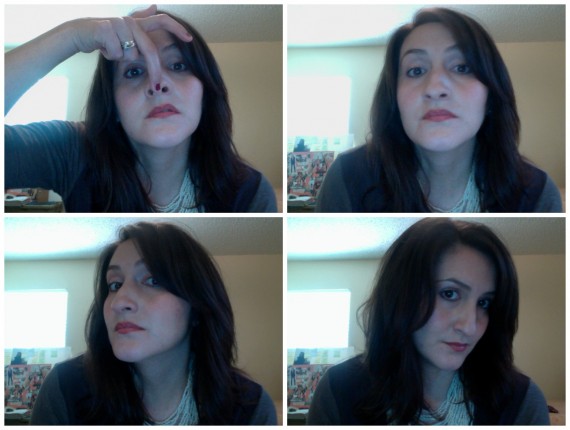 About to dip my fingers into this buxom beauty of a birthday gift sent by my Chi-town girlfriend who was known as "Giggles" in grammar school.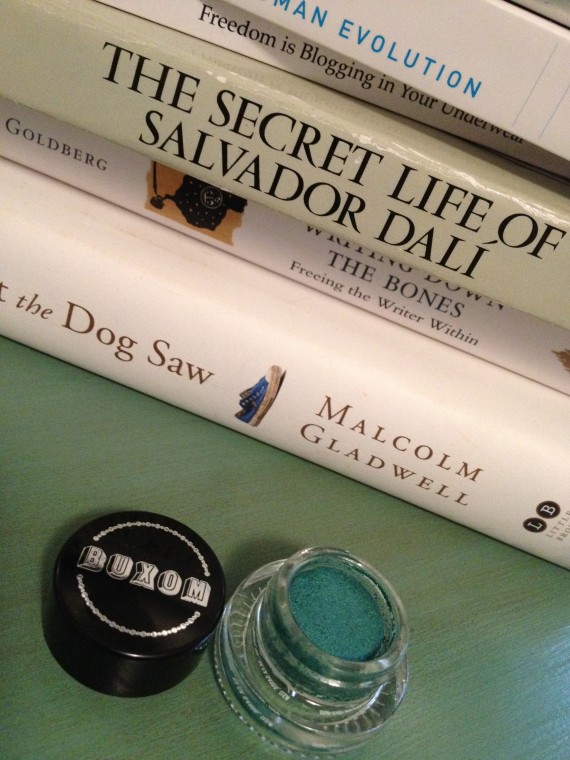 I sometimes get out to local coffee houses to write and this night, I was at Hideout Coffee House on Congress Avenue. Just down the street from the Texas Capitol.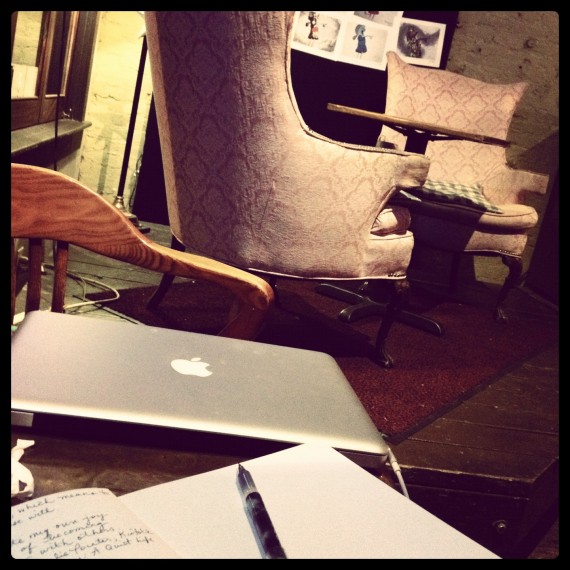 That's all folks!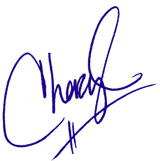 Tweet
Last night, I went to bed at 2am. As a result of that decision, I have a headache and aching body the next day. This is a pattern for me, because I am lured by the silence of the night. It's when I work and find myself seeking to connect to the creative in me, but my poor body pays the price.
To calm my mind from the myriad tasks on my personal and creative to do lists, I pulled out Julia Cameron's book, Prayers to the Great Creator.
I'd say its fair to call it a devotional for creatives with universal language that can appeal to all. I opened the book to this page and thought the words were perfect for how I'd been feeling earlier that day.
Being in the midst of writing the Convivial Lifestyle Guide Vol. 1, I am learning a lot about my voice and abilities as a writer. I reassure myself that this is my first guide, and as a friend recently assured me, I can aspire to create a masterpiece, but this only is a representation of a moment in my life, of how I thought, felt, believed. It is impermanent, so I must detach expectation from it.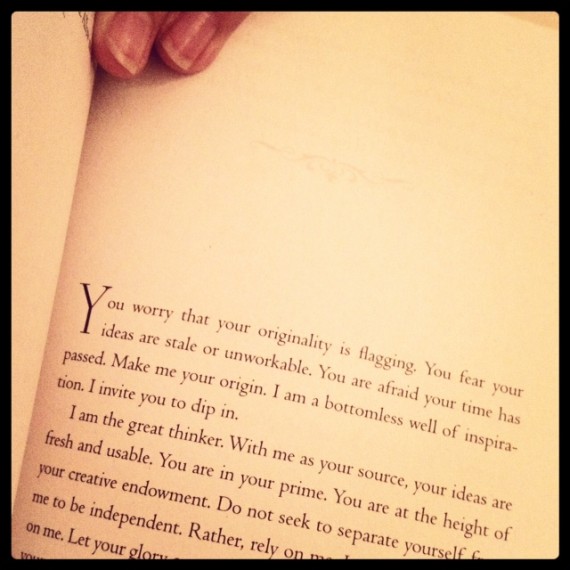 The Moment When You're Ready To Follow Through
It was the last week in June that something finally clicked in me to sit my butt down and focus on writing the first Convivial Lifestyle Guide. I gave myself this ambitious time frame of completing it by end of July, but I also gave myself the freedom to have fun with it and go with the flow.
Every evening at 8pm, I'd head out to write. I enjoyed it, exercised the discipline each day to focus on this one thing. Then…resistance hit toward the end of the month. But I smiled and thought, it's all good…this is part of the process. I'm just going to go along with it.
I never allowed it to convince me that resistance in the form of mental exhaustion and anxious eating would stop me from completing my guide. I also ignored thoughts of "Who's going to read this, who will care?"  and just kept writing.
When you create, you do it for you first.
We are now in the month of September, and there are less than two weeks left, and the guide is not finished yet. I've accepted that not everything is within my control and I am not going to rush this experience. Don't worry, you won't have to wait too long. I can see the finish line approaching. I'm suddenly hearing Chariots of Fire and imagining I'm running in slow motion on a beach.
What I've noticed in this experience is how fast time goes when you've set a specific goal and you stick to it. It feels like I've put my head down to paper and began to write and numerous days have zipped by. This is when I write myself reminder notes to call my grandfather, take needed breaks, catch up with friends, watch a movie or some reality TV to give my mind a rest, simply do other things that bring me joy and peace and laughter, because that will only fuel the convivial material and experience I share with you.
If you're in process of creating something totally new, here's one last bit of wisdom from genius writer, Steven Pressfield's book, The War of Art:
"The professional [read: creator] arms himself with patience, not only to give the stars time to align in his career, but to keep himself from flaming out in each individual work. He knows that any job, whether its a novel or a kitchen remodel, takes twice as long as he thinks and costs twice as much. He accepts that. He recognizes it as reality."
When at the beginning of a creative project, a career switch, a life change, etc., once you've come to the decision to just do it, there is excitement, momentum, immense enthusiasm, a sense of lightness in your body, and then…there is resistance, silence, a restless mind, confusion, doubt, distraction, but you must stay strong and stick with it.
Be humble in your efforts and know that this creation doesn't define your entire life, but only one moment in it, so enjoy it, savor it.
In the end, that's what convivial living is all about- the moment, the feeling, the memories, the experience.
Tweet
I have this desire to expand on the Merriam-Webster's definition of the word that defines and supports the overall message surrounding this online haven…
Convivial [kuhn-viv-ee-uhl]: : The feeling you get when making the every day choice, whether subtle or profound, to live your life on purpose and with passion.
Convivial is how you aspire to feel every day of your life (whether you realize it or not). It's a privilege, a unique responsibility that you must take advantage of and this desired feeling I speak of cannot come through unless you make the choice to create and express yourself, every day, in every way you see fit.
I'd love to know how this new, enhanced definition is playing out in your life. What subtle or profound choices are you making to experience the genius and the joy within you?
Tweet
The life of a writer, an entrepreneur, an artist, an activist, anyone going against the grain is a beautifully challenging one.
The tough part is seeing the beauty during those tough times, during those moments of doubt, during the times when the responsibilities that come with managing your way in the real world (i.e. working a job you aren't fulfilled by, paying mounting bills, raising a family, finding quality education and experiences for your kids, etc.) seem to take over any time and energy you want to preserve for getting out to experience your life. It's even harder when you feel alone in your quest to create the worlds you envision, when you feel no one understands why and what you're doing, including yourself sometimes. The good news is…
There's a spirit of extreme perseverance that resides inside each creative, inside you.
When you believe there is another way you can live your life, even if you don't have all the answers right now, you are compelled to stand firm in your position and push through your blocks and detractors. You seek (more…)
Tweet
I made the recent discovery of John Mayer's song, Walk Grace's Submarine Test and I don't know if the surround sound stereo system I initially heard it on made the difference, but as I listened to the lyrics, I thought, "Umph! Yet another example of why I love this man." If I was a male musician, that'd be me.
I am fascinated by the spirit of human creativity, by the spirit of humanity
-there's the beauty of our perseverance; our intolerance to mediocrity (most times); our desire to experiment, to better ourselves; our efforts to experience quality co-existence with others, to hear and speak truth, to arrive at fulfillment. This simple song about a man and his unique choice that blatantly went against anything common speaks volumes of that creative, human spirit.
CLICK HERE TO EXPERIENCE THE SONG
The line that does it for me, I mean, caused me to run for my pen and write it down, was when he sang,
"'Cause when you're done with this world, you know the next is up to you…"
Perhaps you may interpret it as the reality of death and your second chance to experience the hereafter and "get it right", but I took it as a reminder of how you have the ability to choose to create your life over and over again while you are still alive on earth.
Right now, you could be living one world, one life, one reality, but the moment you decide you are done with it, you are ready for a change, for something new, then "you know the next is up to you…"
My Deer in Headlights Moment with John Mayer
While on sabbatical last week, I'd been writing and editing most of the day and before closing down this writer's shop (i.e. brain) for the night, I checked email and saw a message saying, "You have a new twitter follower…"
I clicked the link and saw it was John Mayer. My jaw dropped and I said aloud in the silence of the house I was staying at, "SHUT. UP. QUIT IT." My cousin always splits her sides when I respond to her gossip in that manner.
My heart started racing, and it was clear I was having one of those moments where you feel all giddy and flattered and think, "Who, me?" I did everything not to fan myself and flitter my eyelashes at the computer screen.
Logic kicked in and I verified that this was not the real John Mayer that I am infatuated with, the one in which I would probably faint if he ever serenaded me. No, it was someone portraying themselves as him. Good laughs good laughs…
Your turn now. Are you as madly in like with the mind of John Mayer as I am? If so, we must connect. What's your response to the submarine song above? What other tunes by Mayer or other artists set your soul ablaze? I'm talking the kinda of music that makes you want to pull a Walt Grace and defy all conventional wisdom, set sail along new shores in life. Do share in the comments below for the convivial creator's collective playlist.
Tweet
This will be quick, but I simply want to express my gratitude for an unexpected blessing that came my way last week and to tell you that if you show your commitment to your craft, your art, your dreams, yourSELF, and put your requests out there to be heard, to be known, to be considered, guess what? Life will respond accordingly.
As I write you, I'm on a writer's sabbatical all this week as a result of doing just the above. I devised a plan of action to create space and time for myself to continue focusing on a project that's been a long time coming. Before I continue, I want to ask you to be part of this experience and not miss out on anything, so be sure to…
Join the Convivial Collective for news on the official launch date of The Convivial Woman's first digital offering, Volume I in a series of Convivial Lifestyle Guides written by yours truly for you truly.
Back to my story… So, I put my request for space and solitude out there for the right person to hear, and as easily as I spoke it, it was granted.
I'm so grateful for what's been provided to me all this week. I'm holed up in an undisclosed location, all by myself with my Mac, a new journal, surround sound music, a plush bed, several books, and healthy snacks galore. I have no plans to be anywhere. It's just me, the convivial muse and I all week long. Scary and exciting!
Silence can be intimidating, but it's needed for anything creative to come out of you.
Upon arrival, I experienced (more…)
Tweet
Are you the kind of person who doesn't take whatever life someone tries to hand you, impose upon you, convince you of, create for you?
Good. That's what you call someone awake and alive and exercising the free will and power they were born with.
In reviewing some notes of recent things I've written, but am not ready to fully share yet, I do want to stop for a moment and share this nugget with you:
You are here to express the masterpiece within you, to live according to all that

YOU

believe, not what others want you to believe.
The moment you start questioning, that's the moment you start living.
Open your eyes. Be a sponge. Take your life in your hands as a baby does and explore, observe, taste, and even fumble with it. It's all just an experience, an opportunity to be. here. now.
Stay open to the lessons the world wants to present you by way of…
the people you cross paths with,
the places you visit,
the feelings and yearnings that linger and haunt you,
the relationships you are challenged by,
whatever and whomever you come into contact with…
Life is attempting to offer you a new, more wild education that is certain to bring you back to the essence of and the original creation that is you.
Let me know in the comments below where you see your compass pointing you these days, how and about what are your personal beliefs changing? What do you think is provoking that change?
Tweet
Anyone who knows me knows that I'd melt at the sight of John Mayer. I love the man, love his music, and love the courage he exhibited at 18 to venture off with a guitar and share his voice with the world.
He lives each day with the intention to color outside the lines just as I do. And I have no doubt you hold a similar desire in your heart.
When I was a young wife and still working as a banker, I was questioning a lot in my life. I had a steady income, college degree in hand, was good at what I did, had my parents nearby, and was married to a wonderful man. But something was still missing.
I wanted to write for a living. I wanted to really, truly, massively serve the world. But what could I do to figure out the answer for my life in that moment? For starters…
I was driving home from work, contemplating quitting my job and I was listening to his first CD. Here was a young guy who worked at a gas station, had no interest in following his classmates to college or looking for his life's answers in text books.
He had just one natural gift to guide him in starting his life: his voice.
And he used it and found his proper place on a stage. You are no different and can do the same with your talents. Has the world seen what you're capable of?
When you're trying to figure out your way in the world, Mastin Kipp, CEO/Founder of The Daily Love says, there will be a tremendous questioning phase.
Everyone's going one way, and yet, you want to go the other way. Are you wrong for wanting to venture down a different path? One that is unlike anything anyone you know has ever gone down? It's not wrong…it's mandatory!
John Mayer wondered the same thing and even wrote a song about it called Why Georgia. Mayer asks, "Am I Living It Right?" Click the lyrics below to listen to the actual song. Makes me want to wrap my arms around my muse and have the most sensual of slow dances.
We're all here to have a similar success story, in our own unique way.
What do you want your story to sound like?
In what ways are you contributing to the details of your legend every day?
We all have fears deep inside that want to convince us that we are not enough, but none of it is true.
As Marianne Williamson says, you are powerful beyond measure…All you have to do is believe it and act on it.
If John Mayer feels the need to ask, "Am I living it right?" I'm sure you won't be any different if you're contemplating listening to the stirring your soul.
Follow your bliss. Do YOU. Become all you deserve and are meant to BE.
Tweet
Today is my first day in "class" for B-School and I'm taking a quick break to share this blog with you!
I'm possibly working out some discomfort and feelings of uncertainty as I write you-I was feeling it as I worked through the material I'm learning.
The community of women entrepreneurs who are involved, approximately 1500, are all so amazing and inspiring. That is the true benefit of this experience and I am so grateful to be part of it. However…
That alone can bring up tons of emotions and feelings of uncertainty. You may start asking yourself,
Do I belong here?
Is this the right place for me?
Do I have what it takes?
How can I compare to all the amazing things that these other women are doing?
Will this really be worth the money I spent on it?
and…
Will I get through all the assignments and apply all the knowledge in one peace?
When in uncharted environments and around new people who bring on the challenge, I'd like you to remember this quote to justify and validate your state of uncertainty and occasional insecurity (forgive me I can't remember who said it!):
"If you're the smartest person in the room, you need to find another room."
Simply put, smart people surround themselves with even smarter people. And the smarter you want to get, the more uncomfortable positions you're willing to put yourself in.
Personal investment in yourself is a huge deal and embarking on a new path can feel like stepping onto a tight rope with all eyes on you. There will be bumps in the road, especially at the inception, and the path will appear unpaved, seemingly treacherous, but this is to test your will and determination to get to where you are going.
Here's what I want to recommend you do ever so often, starting today, to combat weak thoughts:
Treat yourself to unforgettable, inspiring, personal reminders and words that come straight from you.
A kind of love note to self and place them in unexpected places for you to find later, where you can easily forget, and then find when you least expect to.
When that time comes for it to reappear, you'll find yourself pleasantly surprised and trying to remember
"Hey! When did I write this?"
It'll be a guaranteed moment of personal warmth and wonder.
I bet you'll even have a bounce in your step the rest of the day, because you took the time to treat yourself to words of your own that inspire and uplift. It'll be a great way to be reminded of how special, smart and vulnerable you are.
Here are two unexpected discoveries I recently found…
When I first set up my website, it was called Convivial Society and I was using FotoMoto to print postcards and share my photography. I wanted to test out the quality of the card stock, so I sent myself a postcard and wrote this message on the back. I've kept it since.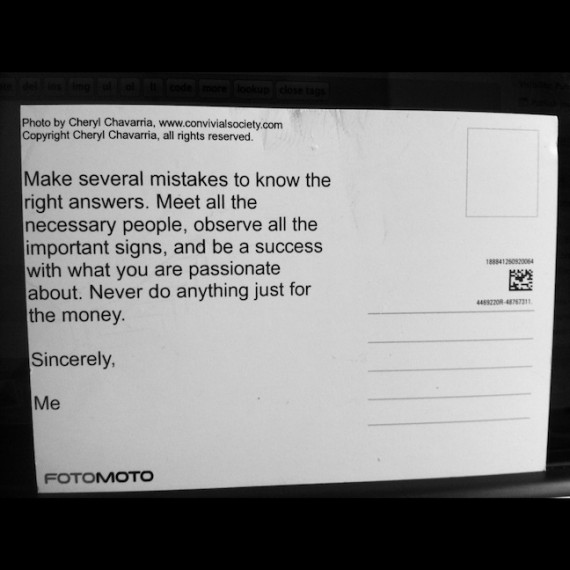 I started reading Aleph by my beloved author, Paulo Coehlo, then put it down to probably read three other books that I didn't finish either (creative, scatterbrain minds!), then I picked up Aleph again and found this message written on back.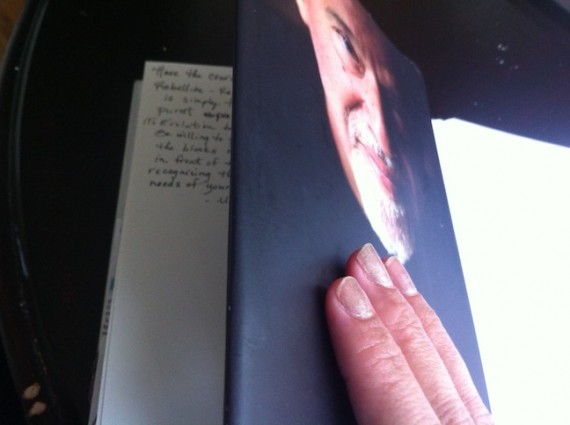 A closer look at what I wrote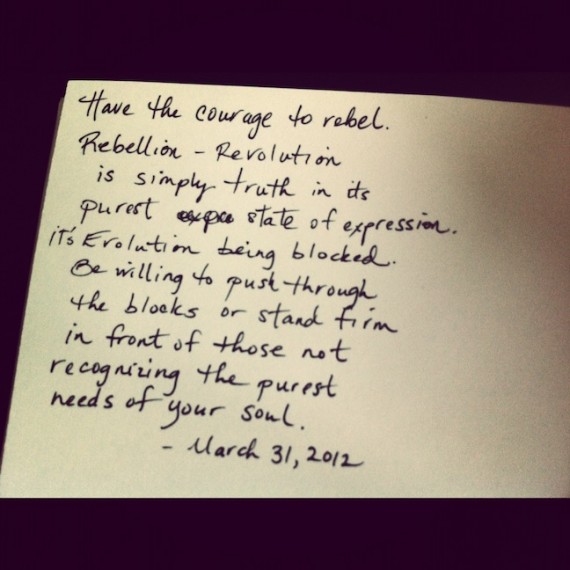 It was a sweet surprise and I'll be surely including it in my notes for The Art of Convivial Living book I'm working on. Material! Material! Our lives are what make up the material in everything we create.
Alright, I've gotta run now. It was great to spend this moment with you! Let me know in the comments or on Facebook / Twitter how you plan to take loving action into your own hands. Perhaps you can even do it for the ones you love…that never fails. Secret post it notes under the toilet seat? Nah…do even go there!
Just acknowledge that you are on this earth to learn, create and contribute in your own way and to touch numerous lives because of it.
Your presence is like no other,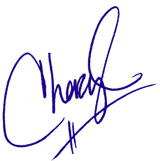 Tweet
This evening, I had it planned to write and gather content for the Convivial book I'm working on, but instead something else happened.
I called a dear friend and chatted the night away.

Sounds counterproductive, but it turned out to be an inspiring call that gave me the push I needed to act on some other ideas that have been sitting stagnant in my iPhone notes, waiting for me to give them my attention.
I got off the call ready to push forward, to get moving, to do something
BIG.
If that's the end result, I have to say that was (a procrastinating writer's) time well spent!
The ideas discussed relate to creating Convivial merchandise that I want to sell on the site. Yes, here! Right on that side bar to your right—–>
Without divulging all the details of what's in the works, all I'll say for now is this…
You can look forward to some wearable and hangable affirmations straight from this convivial imagination of mine.
I haven't given this idea the attention it needs, because it's a whole business unto itself and I have somehow convinced myself that the timing or the order is not right yet. Plus let's remember, I'm the HMIC (ahem, Head Mama In Charge) of two growing warriors aged 2 and 4. You know my little dictators take first place in anything I do.
My delay in taking certain ideas from digital notepad to actual, tangible product is proof that I am guilty of playing small and thinking that I have to "wait" for the "right time" when the time is right now.
When have you held back from following through on a doable, actionable idea because your fear of the unknown or lack of the know how set in?
Come on now, don't let me be the only culpable culprit in this matter.
There's another factor that can plague and delay your efforts: Over thinking the situation.
Helloooo, I'm hanging my head and raising my hand over here.
Yes, I am known to over think situations, but according to Tom Rath's StrengthFinder 2.0 (an assessment I recently took and found to be mahvelous insight, dahling), this is part of who I am, my nature, so I can't really help it. I am deliberative in my approaches. Call it a strength, and depending on the situation, consider it a flaw.
How many times have you avoided getting started or following through on something, because in your mind, things needed to be jussst right, perfected, positioned better, yet…you still had nothing to show for? Ugh. That sucks and I know your pain. Can someone get me a drink over here?
Here are 4 Tips to push through any sensation of holding back:
1. Talk it out like SO (<–Clickety Click for a DEMO)
2. Write it out like I do or… as Jo March once did.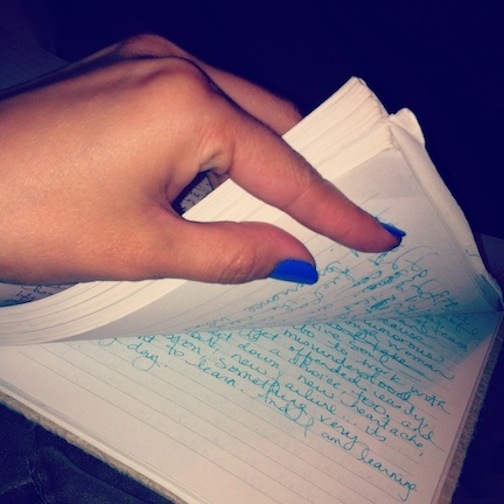 3. Walk it out.
Forgot how? Noooo problem, HERE'S A VIDEO TUTORIAL.
4. Partner up with someone to discuss your ideas and plan it out.
Without another brain to bounce ideas off of, you may be causing yourself a creative blindspot.
Luckily tonight, I caught an unexpected curve ball with the loving insight shared by a friend.
I should've opened up a long time ago, but I've been protecting my ideas, cradling them, hoping for THAT ONE PERFECT DAY (and mood) to get started, but I realize I've been holding out on myself. And you. Not cool. Not cool.
Ahh…the woes of every creative out there. Fist bump me here if you feel me.
Know what happens when you've got a great idea in the palm of your hand and you want to protect it, keep it all to yourself?
You close up, perhaps make a fist and potentially crush it …in the non-Gary Vaynerchuk kinda way.
And how do you think the world is going to respond?
Two ways: they'll avoid it or put their fist right up against it.
You've got to open up your hands and reach out and ask for what you need.
What ideas do you have sitting on the back burner of your imagination?
Share them with the world.
If you keep your dreams to yourself, if you hoard your ideas, the world can't know what only you are capable of creating. Yes, your ideas can become worlds upon worlds of their own.
That is the only purpose for anything in this life- to share it and offer up an experience with your personal stamp on it.
Put your hand out and release your dreams one idea at a time.
A hand extended cannot be left hanging for too long, because someone else with the same need to express, to give, to be generous with their gifts and experience is bound to reach out and grab on for dear life.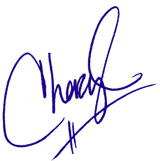 Tweet
I was able to steal this morning time to share with you all I was up to late last night.
After a few phone calls, some research, and two weeks of tapping into my feelings about where I want to go with The Convivial Woman and how I want to feel as a result of my efforts here, I took one swift action toward investing in myself by enrolling in…
Marie Forleo's Rich Happy & Hot B-School.
I'm thrilled, jittery and absolutely giddy because I pushed through my fear and every possible excuse that could keep me where I'm at versus getting me to where I need to be!
I spoke to two friends who happen to be women I admire and entrepreneurs themselves and when I told them I would be joining B-School, this is what they said:
"Yay!! We'll rock it out together"
and
"Yaaaaaaayyyy!!! It's gonna be awesome."
After a decent night's sleep, I also woke up to this message on Facebook from yet another friend who was aware of my recent choice:
"We are best friends…always remember that if you fall, I will pick you up–after I finish laughing at you." (ahh the truest of friends)
With every risk comes major rewards. Sometimes it's money, love, moving to a new city or country, a new house, but even better, it's a more clearer, confident, unstoppable
YOU.
When you show the courage to go for it, life responds accordingly and instantly, even if the response is subtle.
It was scary for me to push this button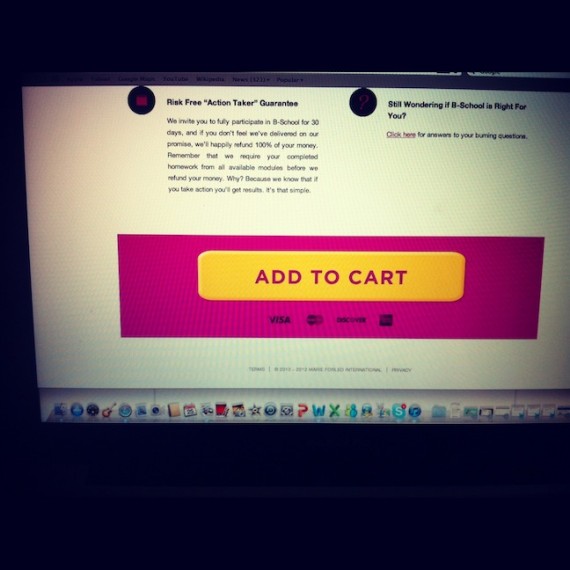 but I took a deep breath, knew I'd done my homework, and thought to myself, I know what I need to get better at what I'm already good at. And so I did it.
It's hard to know what to do sometimes, but you still must do that one thing to get to the next thing. Your future depends on you to make a decision, any decision.
I went through the process of signing up for B-School, from an expert I trust and know is the real deal, and when it was time to click "Pay", I took yet another deep breath, heard the click, and upon exhaling, this appeared before my eyes:
I felt nervous about what was ahead, yet I was proud of myself for demonstrating the courage to give in to my deep-rooted needs.
When you're a working professional, you show up to work and put your trust in that company to train you to do the job. As you get to know people, you find mentors and people who want to help guide you on your way. Bless those people who take the intiative to get involved in shaping your future. We desperately need more people to step up and reach out.
On the flipside, when you're an entrepreneur and creating worlds of your own imagination, there is no road map. Everyone is figuring out their way through the road less traveled, yet there are many travelers.
When you choose to tread a path that isn't as smoothly paved, that's constantly changing, doesn't have any clear cut signs for you to follow, then you must seek out mentors in your industry who have had the courage the venture down that same road to help guide and mentor you.
The more mistakes they've made, the more knowledge and wisdom they can impart. Athletes aren't the only ones who need coaches.
Their experience won't be your exact experience, but it will be worth finding out with them at your side.
So that's what Marie Forleo and the community of B-Schoolers are going to be for me.
Our parents were our first teachers and that is one world of knowledge we begin our lives with, but there are myriad worlds of knowledge and wonder that await you. It's up to you to discover them, to trust in them, to invest your time (and yes, your money) in them.
No action taken toward accomplishing your dreams is ever wasted.
Get your education on!
P.S. If you're looking to be part of Marie Forleo's B-School class of 2012, today's your last chance to get on board. Enrollment closes at 3pm EST today 2012 May 25.
Tweet