Treat Yourself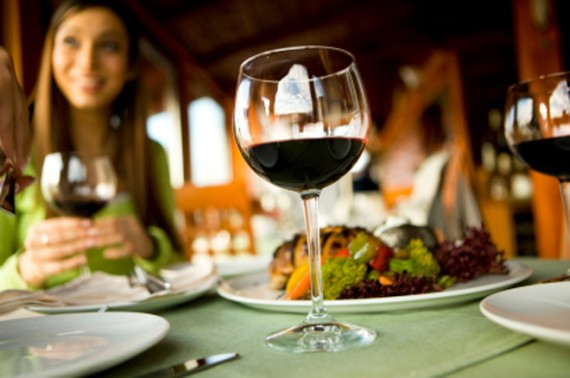 In case you didn't know, I like to eat. In fancy terms, dine…and I like to do it with women who are big advocates of listening to their own voices, especially those little inklings and yearnings that tend to lead us down paths all their own.
When inspiration comes knocking, I gather such women at a table and we throw down…not the table (although I could), but the food, along with our thoughts and sentiments on…life, love, business, family, dream-chasing and glass-ceiling smashing.
This experience is The Convivial Supper Club, hosted by yours truly.
Let me assure you, it's not your average meeting over dinner and drinks. Oh no…it's much more than that. The food and drinks are really a side note, but we surely don't scrimp on that area!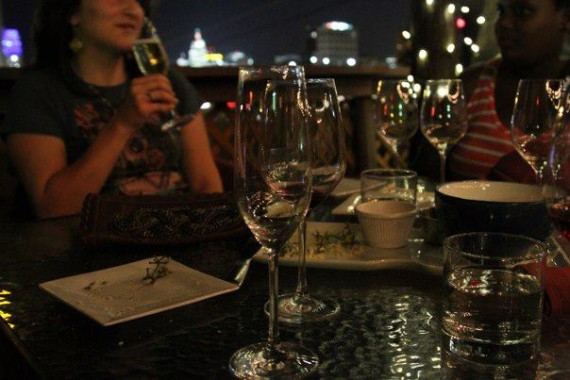 The Convivial Supper Club is a highly anticipated, private dining group that sits at the intersection of creative living, personal development and social impact for women.
CONVIVIAL [kuhn-viv-ee-uhl]: 1. fond of feasting, drinking, and good company; festive; folksy, forthcoming, genial, kindly, lively, communicative, expansive, high-spirited. 2. The feeling you get when you make the every day choice, whether subtle or profound, to live your life on purpose and with passion.* 3. The essence of who you are.*
The Convivial Supper Club is distinct and stands apart from every other women's group because (more…)
Tweet
After getting some work done today, I took my boys to the Austin Children's Museum and on our walk there, we stumbled upon Daily Juice, a local Austin juice bar.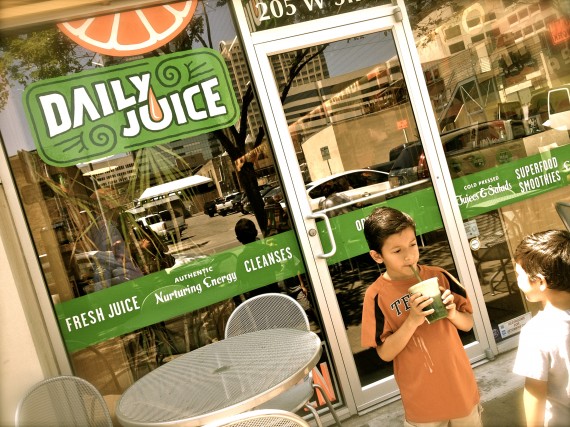 The smell of fresh fruit and vegetables emanating from the revolving doors of Daily Juice were too enticing to pass up, so we stepped inside and ordered the Green Ocean (Cucumber, Apple, Spirulina, Marine Phyplankton).
I prefer to save my cash and juice at home on my Breville – something I've been doing for the last five years – but today we splurged. I have to say, though…the wait was way too long (20 minutes) so I will avoid going there at lunch time again.
As their mama and first teacher, I know it's up to me to train my son's taste buds for healthy eating…
That's why I made certain they fell in love with Natalia Rose's Green Lemonade drink as babies and I've kept up the task of introducing new foods to their palate each day.
For the record, my oldest son loved his green juice, but my little one was like, "Whatever…" I know, I know…you can't convert them all.
How about you…are you a green juice lover? Do you juice at home? Or could you seriously care less? It's all good whichever way you go.
Tweet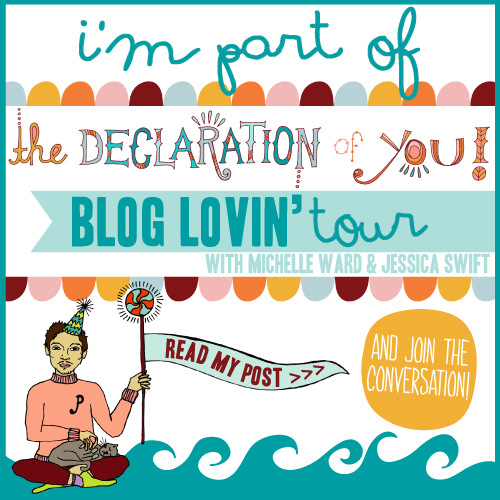 Self-care is a form of trusting, listening, seeking, yearning, surrendering…it's purpose is convivial at the core.

This is the story of my convivial discovery of an Ancient Mayan massage therapy and how I came to the understanding that you are your body's advocate and its up to you to find the many ways that nurture, restore, and heal you…
Once upon a time, I headed to Mexico for a much needed sabbatical after quitting my job in Banking. I left behind my husband, my home, my parents; my country, language, currency, and all certainty to walk the cobble-stoned streets of San Miguel de Allende with the intention to restore myself to who I once knew myself to be…a writer.
My first week in town, I went to the mercado and purchased what I thought was a fresh bowl of albondigas (meatball soup). After taking a long walk and climbing the steps of El Chorro to reach the peak streets of this colorful central Mexican town, I knew Moctezuma had spiked my soup with drano, because I fell ill that night with chills and fever.
My mother-in-law, concerned for me, recommended I visit La Dona Chole, "'pa que te de una sobada…" My Spanish was getting better by the day, but I still had to put two and two together to understand that she was suggesting (more…)
Tweet
Recently, my cousin and her hubby came to Austin for a brief stay and being their convivial host and tour guide, I took them around to a few notable spots.
We had a few good chuckles while out on the town together and here are a few places we went…
First stop: Home Slice Pizza on Congress Avenue.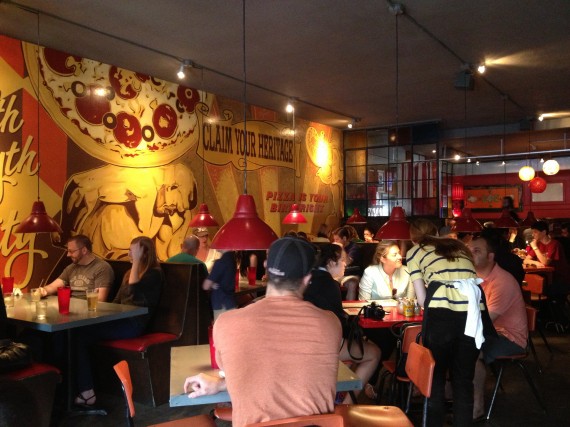 Can you go wrong with NY style pizza paired with table talk about U.S. conspiracy theories?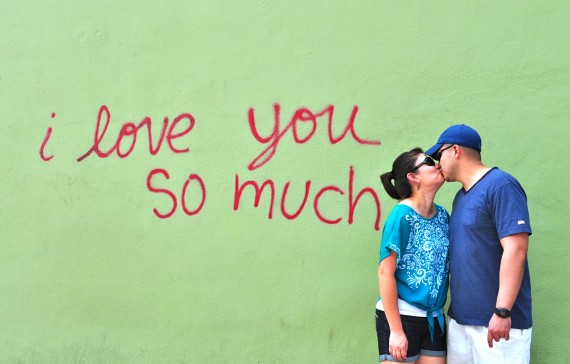 I encourage public displays of affection any chance I get behind a camera.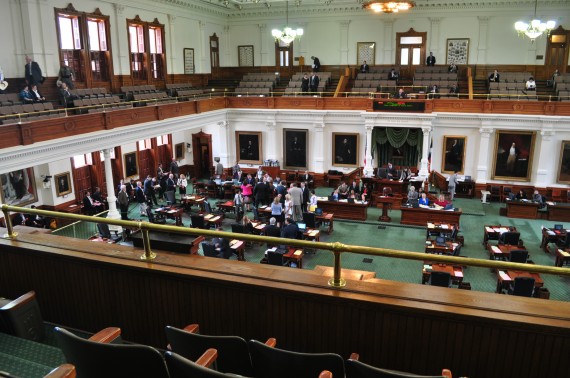 They were stoked to sit in on a live session at the Texas State Capitol.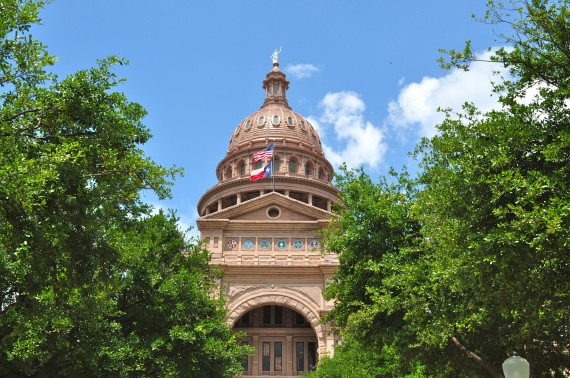 Cool graffiti spot in downtown Austin.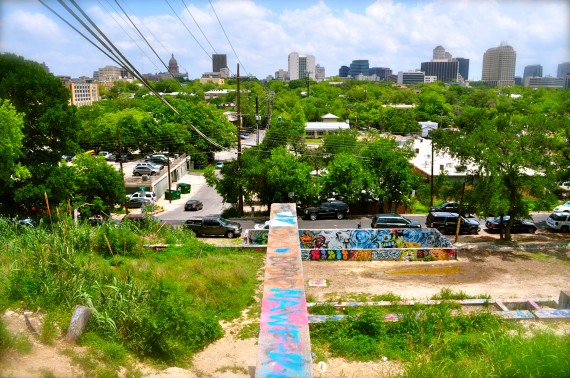 I was instantly transported back to my short-lived stint with gymnastics, walking the balance beam at 6 years old.
Alchemy: a power or process of transforming something common into something special…
I'm so thankful for my cousin's visit- or any visit I get from family or friends because its usually me flying away somewhere or stopping by to say HEY! It's just my nature to want to always get out and try or see something new and anyone I can bring along for the ride, then I say come on!
Do you have family to host in your hometown or city soon? Where will you be taking them? I'd love to hear…
(Photos by yours truly)
Tweet
Do you ever find yourself holding back because you feel conscious about what others may think or say about you and your lifestyle?
If you play good girl to the world, then holding back is a common sentiment.
Recently, I visited a friend I hadn't seen in a while and we started talking about her passion for a certain sacred spot in Rome, Italy. I could see how her face lit up when I touched on that subject and being the kind of woman who wants to encourage the work of art in every person, I asked, "So, when are you going?!"
She melted at the thought of traveling to Rome and said, "Oh my gosh, I would LOVE to go, but my husband would never want to go with me. He just wouldn't want to do all that walking and go that far."
My brain nearly short-circuited at her response and convivial instincts kicked in when I said, "So you mean to tell me, you would sacrifice a dream of yours because your man is unwilling to step out of his comfort zone, if only momentarily?" I continued…"All I'm saying is…if you have the opportunity to make that dream a reality, why not take a chance and rock that boat because you only have one life to live. Just one."
Many times, we make choices that sacrifice our own happiness, in small or large ways, because we have been conditioned to avoid conflict.
In the words of Bob Newhart, stop it! Conflict is a stepping stone to growth. In fact, Margaret Heffernan dares you to create conflict. Imagine that! She points out how most people instinctively avoid conflict, but good disagreement is central to progress.
The hardest thing to do, which should be the easiest thing, is to live your life- not one that others deem to be appropriate to their eyes, ears, and personal beliefs. Many opportunities to live are passed up because so many people are afraid. What are your deep desires and what fears surface when you even think of the possibility of pursuing them?
How about you go against the grain of convention, culture, (fill in your blank) and think/repeat when necessary…
"While they're busy talking, I'm too busy LIVING."
Choose to be an example of someone who is living according to their own beliefs and values- ones gathered from your own life's experience.
Tweet