Nature
After getting some work done today, I took my boys to the Austin Children's Museum and on our walk there, we stumbled upon Daily Juice, a local Austin juice bar.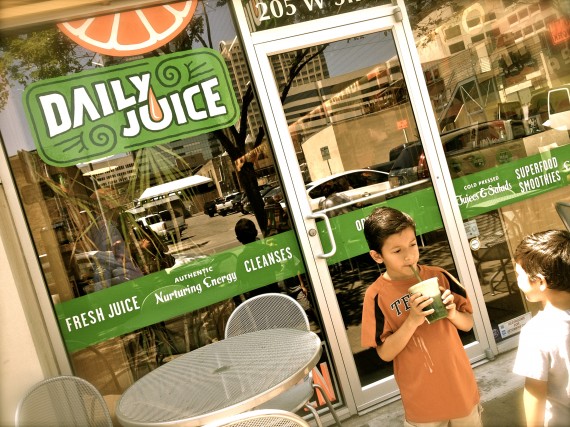 The smell of fresh fruit and vegetables emanating from the revolving doors of Daily Juice were too enticing to pass up, so we stepped inside and ordered the Green Ocean (Cucumber, Apple, Spirulina, Marine Phyplankton).
I prefer to save my cash and juice at home on my Breville – something I've been doing for the last five years – but today we splurged. I have to say, though…the wait was way too long (20 minutes) so I will avoid going there at lunch time again.
As their mama and first teacher, I know it's up to me to train my son's taste buds for healthy eating…
That's why I made certain they fell in love with Natalia Rose's Green Lemonade drink as babies and I've kept up the task of introducing new foods to their palate each day.
For the record, my oldest son loved his green juice, but my little one was like, "Whatever…" I know, I know…you can't convert them all.
How about you…are you a green juice lover? Do you juice at home? Or could you seriously care less? It's all good whichever way you go.
Tweet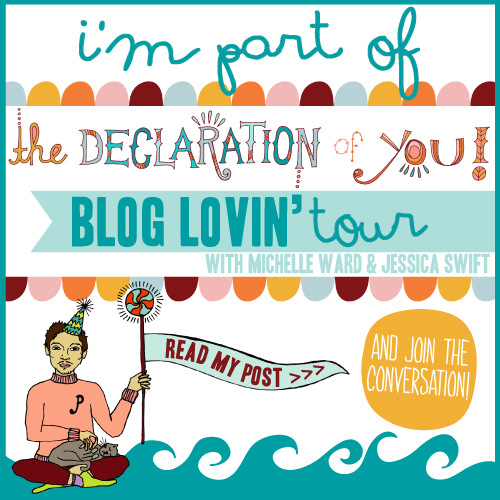 Self-care is a form of trusting, listening, seeking, yearning, surrendering…it's purpose is convivial at the core.

This is the story of my convivial discovery of an Ancient Mayan massage therapy and how I came to the understanding that you are your body's advocate and its up to you to find the many ways that nurture, restore, and heal you…
Once upon a time, I headed to Mexico for a much needed sabbatical after quitting my job in Banking. I left behind my husband, my home, my parents; my country, language, currency, and all certainty to walk the cobble-stoned streets of San Miguel de Allende with the intention to restore myself to who I once knew myself to be…a writer.
My first week in town, I went to the mercado and purchased what I thought was a fresh bowl of albondigas (meatball soup). After taking a long walk and climbing the steps of El Chorro to reach the peak streets of this colorful central Mexican town, I knew Moctezuma had spiked my soup with drano, because I fell ill that night with chills and fever.
My mother-in-law, concerned for me, recommended I visit La Dona Chole, "'pa que te de una sobada…" My Spanish was getting better by the day, but I still had to put two and two together to understand that she was suggesting (more…)
Tweet
Meeting for brunch, lunch, dinner or dessert is a sport for me. I practice as often as I can because it makes me happy. In fact, it relaxes me.
Today, I had lunch at Hula Hut, a restaurant on Lake Austin that offers a Polynesian – Tex-Mex themed menu. Who would've thought of that combo? Someone in Austin, of course.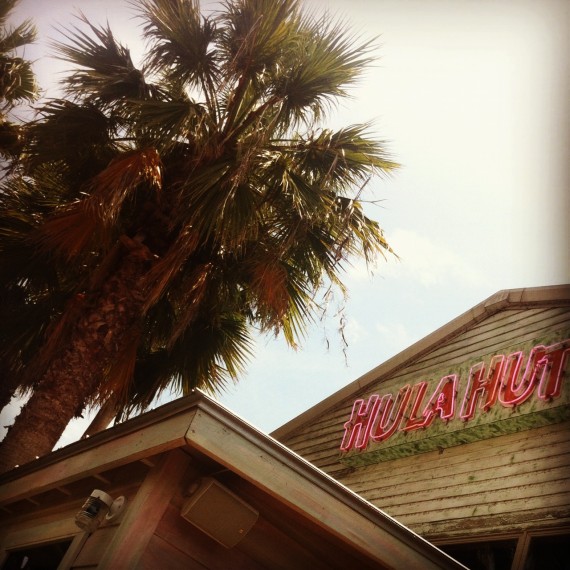 My friend, Monica joined me so we could discuss our upcoming trip to (more…)
Tweet
Recently, my cousin and her hubby came to Austin for a brief stay and being their convivial host and tour guide, I took them around to a few notable spots.
We had a few good chuckles while out on the town together and here are a few places we went…
First stop: Home Slice Pizza on Congress Avenue.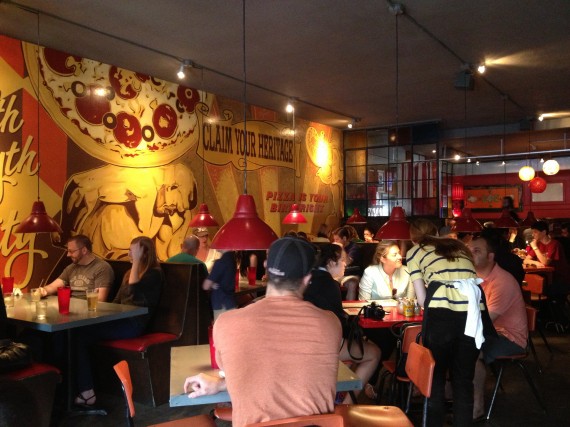 Can you go wrong with NY style pizza paired with table talk about U.S. conspiracy theories?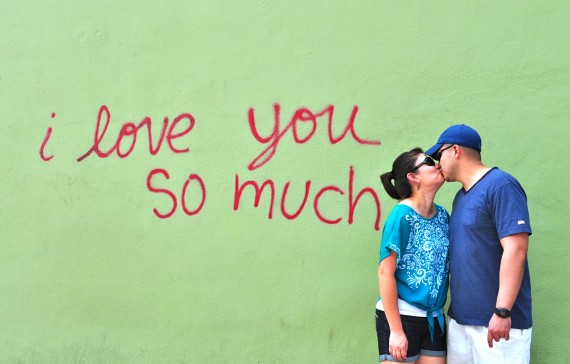 I encourage public displays of affection any chance I get behind a camera.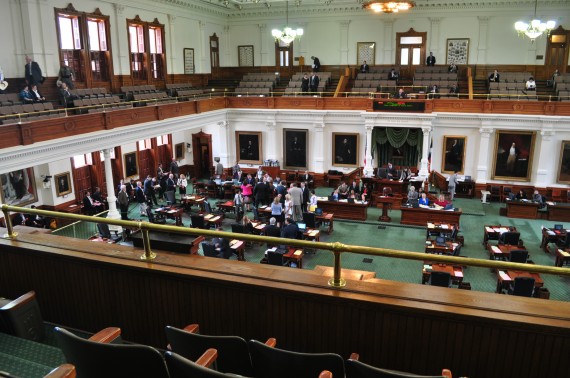 They were stoked to sit in on a live session at the Texas State Capitol.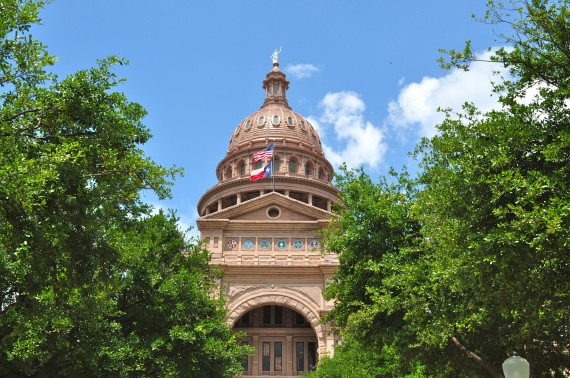 Cool graffiti spot in downtown Austin.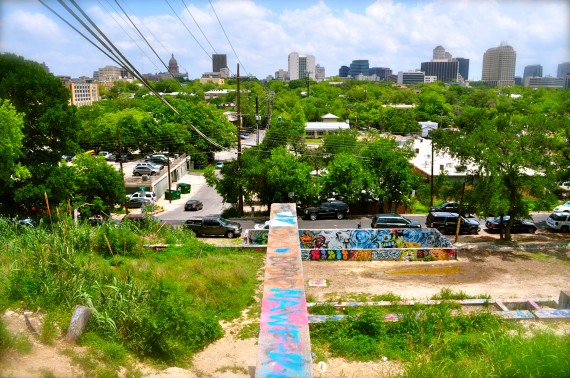 I was instantly transported back to my short-lived stint with gymnastics, walking the balance beam at 6 years old.
Alchemy: a power or process of transforming something common into something special…
I'm so thankful for my cousin's visit- or any visit I get from family or friends because its usually me flying away somewhere or stopping by to say HEY! It's just my nature to want to always get out and try or see something new and anyone I can bring along for the ride, then I say come on!
Do you have family to host in your hometown or city soon? Where will you be taking them? I'd love to hear…
(Photos by yours truly)
Tweet
As I lay in bed this morning, probably looking like a zombie pooped from the night before, you'd be surprised to know that in that very moment, there are myriad ideas bouncing off the walls of my mind.
I'd just had a dream that I was walking the grounds of a colorful mission estate in San Antonio.
The picture above is actually Bellas Artes with the Iglesia de las Monjas in the background in San Miguel de Allende, Guanajuato but hey! I'm trying to "put you there." It seems this picture is what my subconscience drew on for imagery while I slept.
At first glance, the whole place was empty and it was just me and a few other people, including my husband who went venturing off on his own with my camera- the Nikon D5000 one! I was a bit annoyed by that, because I was left to work with a Kodak camera that I once used in 2000 on a trip to San Francisco for my 21st birthday. I wasn't used to handling this little camera anymore.
When I think about what it feels like to hold my Nikon, it takes both hands to get the right shot and it can feel like I've got the whole world in the palm of my hands…or at least an image of it.
So I walked around the grounds of this rustic mission that was built who knows when and I was so impressed with the architecture and the huge bells used to call the faithful, and especially thrilled by the clear blue sky and occasional streaks of clouds that served as the backdrop.
Eventually, there were tons of people strolling alongside me, weaving in and around corners, going up and down iron wrought stairs. The food stands and little trinket shops had opened up for the day.
Soon, I awoke from the dream and began to think about all that is to be for The Convivial Woman in 2012.
With this move to Austin, I see myself discovering a whole new terrain of the state of Texas. Who are the people awaiting me on this new journey?What will I find in this new world I call home? What will I learn about myself and my own pursuit of life, love and happiness?
I'm going to discover all the little things that some might find weird, or not so weird, about Austin. I'm going to go in search of the puffed tacos in San Antonio that my Food Network Star crush challenged on his show, Throw Down with Bobby Flay.
Anyway, that's what the next year has in store for me and you- discovering Austin, San Antonio, Fredricksburg (the cute little German-influenced town my grandma Lupe always talked about), and the hill country.
And something tells me there's going to be a more fierce rebirth of my love and appreciation for the Tex-Mex culture ("my people") in this part of Texas. I see more cumbias, more accordions, more queso (but not too much! This waist of mine is working that muffin top! I gots to control it.) and oh so much more. I can't wait.
It's a new dawn…it's a new day…and I'm feeling (more than) okay.
Tweet
This past Memorial weekend, I had no big plans for cookouts or chowing down on turkey legs or anything like that, but I was able to escape to funky cow town, Ft. Worth, TX to stroll their Historic Stockyards. It never fails to be a convivial way to spend the day…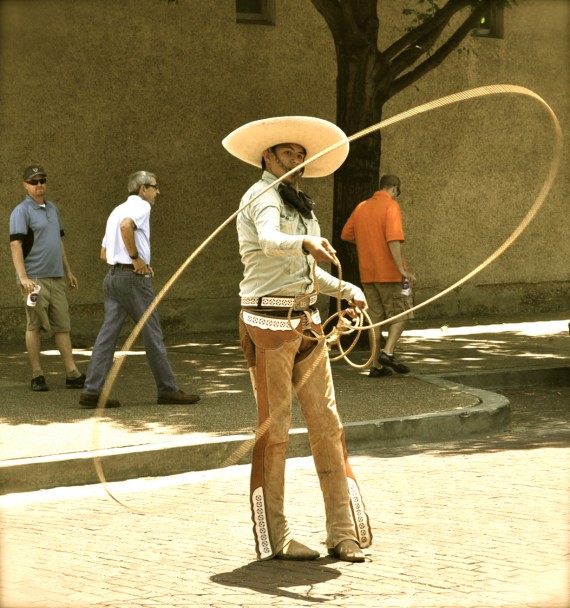 He ain't no Tonto.

Site of the next Convivial Supper Club?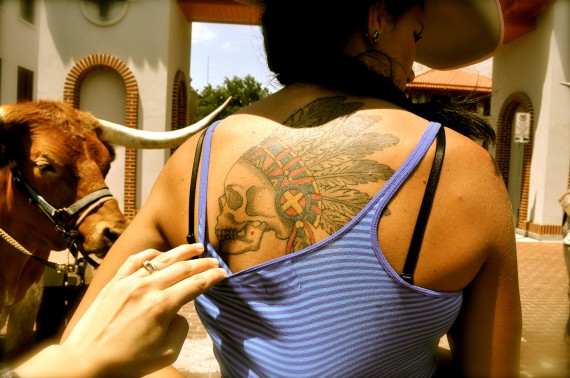 Cowgirl body art
Saddles for bar stools…oh yeah, giddy up.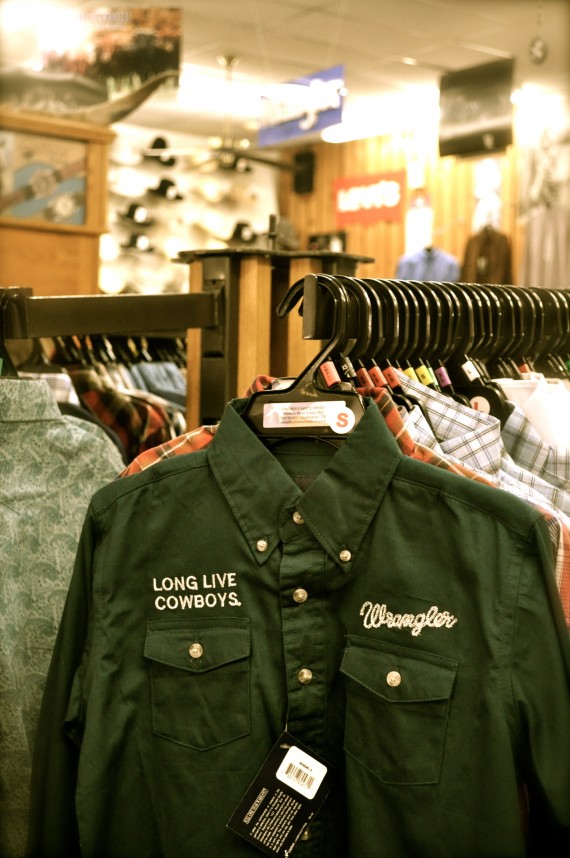 Handsome urban cowboys can call me Sissy anytime.
My utmost gratitude goes out to our military for the freedom I experience on a day to day basis.
Tweet
"The moment a child is born, the mother is also born. She never existed before. The woman existed, but the mother, never. A mother is something absolutely new." -Rajneesh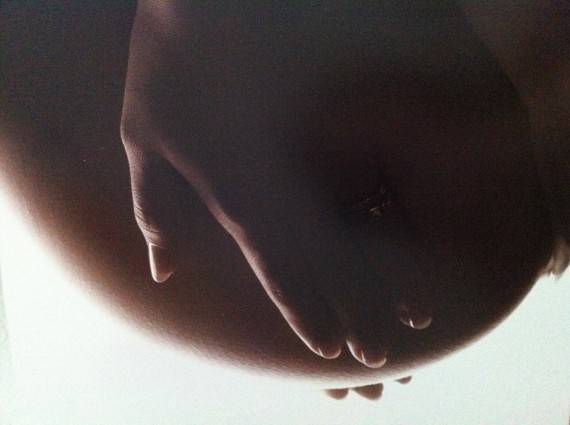 The photo you see is my belly when I was pregnant with my first son back in 2007 (just tilt your head to the left and you'll see it right!)
I decided to post the photo this way, because it makes me think of the earth, a globe, and to me, that looks like mother nature's hands keeping the world in tact. 'Cause you know that's what us mamas do!
HAPPY MOTHER'S DAY.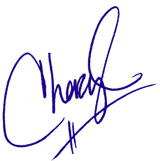 Tweet
Here's a video of one of my favorite Spanish artists, Bebe singing the song La Bicha . As I watch Bebe sing, the melody and movements strip and caress the flesh that I call my own.
I see myself in Bebe as she expresses in her body, her smile, hands, hips and lyrics such strength, confidence, freedom and lack of inhibitions. Yes, I believe this is what my own sexuality looks and sounds like.
Do you know what your sexuality looks like? Feels like?
Have a look at this video and see how you feel. You may not understand this woman's words, but I don't doubt you'll get her message.

.

Sex is sacred,
savage,
supernatural,
and I embrace its every form.
Religion taught me to believe it was bad to express the desires of my flesh, to experience all that is natural in me and I still hear those messages in society today. As a mother, I should be keen not to appear too aware of my sex, because goodness, what kind of woman would I seem? (Madonna/Whore complex) How about a confident one? I'm sorry to say, but my name is not Mary. Sex was my ticket to motherhood.

At a young age, I remember having an awareness about my sexuality-I felt it and wanted to express it. When I finally did (more…)
Tweet
I was listening to The Diane Rehm Show on National Public Radio (NPR) and the show was about Infertility's Legal Issues– the technology available to assist women with conception and how the laws are behind the trend when things go wrong.
As I listened, Diane introduced fertility doctor, Dr. Paul Gindoff and he proceeded to talk about what infertility treatments were and started promoting them as a great method for women to use if they wanted to postpone having children solely because of their desire to pursue a career.
He made it sound easy to consider this route by saying any woman could wait to have a baby, that she could have it whenever she wanted, and she could do it this way. "Was this a commercial break?!" I thought. Definitely not. This was a guest, a medical doctor making it seem the control was all in the woman's hands, that the timing didn't matter and these technologies could guarantee her the desired outcome which was a baby.
I was immediately reminded of the book by Silvia Ann Hewlett called Creating A Life: What Every Woman Needs To Know About Having a Career and a Baby. Here's a brief excerpt from the book which tells you why it came to mind:
The plain fact is, if you are a career woman who has had the tenacity to nurture both a career and a long-term loving relationship, you might well be on the wrong side of 35 before you have time to draw breath and contemplate having a child- exactly the point in life when infertility rears its ugly head. Media hype notwithstanding, the new reproductive technologies have not solved fertility problems for forty-something women.
I'd add that the reproductive technologies have not solved the problems for thirty-something and even late twenty-something women either. I've known many women who sought medical intervention to conceive a child because nature simply wasn't cooperating with their bodies, not because they held off too long due to career aspirations.
The stories and statistics given in Creating A Life about women who went this route and couldn't conceive, even after years of infertility treatment show a different side of this reality. It's not as easy, yet media doesn't talk about those women and their stories. Hearts are broken, relationships are strained, bank accounts are stressed and no baby results. When it comes to what is reported on infertility treatment, there's lots of coverage on Hollywood actresses and singers having babies in their 40's, and of course, OctoMom's latest shenanigans or Kate Gosselin and her 8 kids she supposedly doesn't care for because she has desires to dance.
Trouble on the conception front is far too common nowadays, so for this doctor to make it sound like getting pregnant has never been easier for women, well, I'm just a tad bit annoyed by the misinformation. I'm sure there are women out there he may be speaking to, but I would find it hard to see them as the majority of interested clients.
This may have also hit a nerve for me, because I had trouble initially conceiving both my children. The reasons behind this were potentially related to stress, unhealthy eating, a non-active lifestyle, therefore causing an imbalance in hormones, possible endometriosis, and resulting in infertility. I never found out if I had endometriosis, because I took a different path to conceive my children by first trying to get to the root of my problem and correcting the imbalance.
Then I explored Mayan Abdominal Massage via The Arvigo Technique which is a non-invasive massage for the female reproductive organs and it worked for me. I highly recommend it as a first resort solution to infertility and overall women's health. I drove from Dallas to Austin to have it done by Elizabeth Quigg of Sirisage and firmly believe it helped me get pregnant with both my boys. The timing was too impeccable not to believe in it. And although I didn't go the invitro route doesn't mean I wouldn't have considered it. I just never made it to that point and I'm thankful for that.
Like Dr. Rosita Arvigo of The Arvigo Technique once said,
"Give nature half the chance and she has a miracle in store for you."
In my case, it was two miracles.
Tweet
Recently, I spent a family day at The Nasher Sculpture Center located in downtown Dallas with my husband and two sons and snapped this photo. I didn't catch the name of the artist or of the sculpture, so forgive that missing detail, but this rock-turned-work of art speaks volumes of what we crave in our lives every day- love, comfort, compassion, acceptance, understanding, and refuge. The fact that an image so simple can pull on the human eye and tug at the heart is undeniable proof of this truth.
You can see the reflection of my husband carrying our firstborn son in the glass as we all looked on in admiration of this beautiful yet simple piece. My hubby wants to create a replica of this image in our own backyard and I don't doubt his ability to do so. We're all artists in our own unique way– it just takes encouragement and belief in oneself. I'm curious to know what materials my husband will use to construct his piece, but we shall see. Once the project is complete, I'll be sure to share a photo of it with you.
Hugs and kisses to the artist in you.
Tweet
Recently, I was inspired to put on the ritz in the form of a Regal Chic brunch for my girlfriends. There was no exceptional reason for the occasion other than my desire to spoil the women in my life and give them an experience they wouldn't forget. How many women want to be spoiled? Raising my hand! But, how often do women spoil each other? It's all about letting love get the best of us and spreading the joy. I gave my friends one month's notice to mark their calendars for the event; told them to save the date and gave no inkling of what to expect. Little by little, a vision for the event began to reveal itself to me and with each new inspiring thought, I took to the stores and prepared for the big day. Initially, it was suppose to be a convivial day spent with just my friends, but then the whole life coaching with Lisa Carmen came about, and I began to think about challenging myself in ways I hadn't before, so I chose to treat the brunch as a mini-workshop. It was an opportunity to take my efforts to empower and inspire women offline and stand before them in person. I was nervous about what I would do, what I would say, how the whole presentation aspect of the event would flow, but I decided to take the risk, to face any fears that might surface and put myself out there in a new way. It was time to take the stage.
When the day came and all was set to go, I felt my power coming through for me like a dear friend. I was no longer worried about what could go wrong or what I could miss saying to get my desired message across, and I especially wasn't listening to the voice within saying, Who do you think you are doing this…What gives you the right to stand before a group of women and want to empower them…You don't have anything valid to say…blah blah blah. I decided to let my heart lead the way and surrendered my desire for complete control. What a relief it was to be a follower! I felt such confidence as everything slowly came together. My guests began to show up and wanted to offer a helping hand, but I smiled and said, "I've got it covered. Just enjoy yourself today." It felt wonderful to serve others, to offer all the love in me without any conditions, any expectations of getting payback.
When all was said and done, the event was a hit! I allowed the weight of the world to fall off my shoulders, thus creating a similar atmosphere for the women in my company. We had entered into a Convivial Society and anything was possible. I saw joy, expressions of pure elation, witnessed the little girl in every woman playing and giggling as they participated in the meal and activities. I felt light on my feet, formless, as if only my spirit walked around overseeing the event. I believe that's what truly happened. My mother was my right-hand woman in bringing it all to fruition and I couldn't have thought of anyone better to choose as my partner. By taking on the challenge to stand before friends as The Convivial Woman, I had stepped into a new realm. I had taken the idea of a Convivial Society and turned it into a real place, a real moment, for real women. I can only move forward from this point on and the ideas for more events are making their way to the forefront of my mind's eye. Creation…it's quite the beauty to experience. Fear or no fear, I'm wide awake and behind this wheel now…there's no turning back.
Feast your eyes on the brunch pictures by clicking directly on the album below.
Tweet
I have been convinced of a truth: Perfection is possible. I know it exists and can be reached, because I just experienced it. I am now more certain of its power, its potential to grab a hold of my heart, even if for a moment, and take me for an unforgettable ride. With this experience, I was transported to the muse's doorstep and given a taste of the sweet sensations she brings. Before anything can get in the way of this feeling, I must declare it mine. Just as I do with my own life, I am holding it dear to me, embracing it with eyes wide shut and heart wide open. I am thankful, because I know it cannot stay. This moment will pass in exchange for another. It'll call me, then evade me and I'll chase it and find it again in some other form, but for now, it's here…caressing, inspiring and causing feelings in me that I can't explain. Does this make any sense to you? If the answer is no, then my answer is, GOOD. Mysterious ways…perfection works.
How did I arrive at this final destination? It happened without attempt, without logic or strategy, and had no clear direction- just as love is, as life is– but once I was aware of what I could do to steer perfection my way, the intention was all there. I didn't seek it out, didn't pursue it and like the sun rises and sets, it made its appearance. When the journey to this treasured spot began, I was unsure of how or what the experience would be. If I'd allowed my thoughts to take the stage, I would've hindered perfection's debut. So I let go of all thought and chose not to speak. I closed my eyes and envisioned a deep, dark, gentle space within me and took my thoughts there. And left them there. I went with the flow. I let all worries walk out on me. I breathed in and then out, continuing this pace as needed and soon felt myself relaxing. When I felt the potential for thoughts to take the forefront, I pushed back and closed the red curtain on them. This was my stage.
In the beginning, there was a little uncertainty, some restraint, even friction at times. As is every new experience, every new meeting of the minds, of the hearts. But I had faith. And trust. And most of all, desire. I allowed the experience to unfold on its own, giving it the space, time and energy it required of me. I inched forward, then held back, leaped across and over, then surrendered again, not pushing or forcing anything. Cause and effect, baby. I trusted myself and all that was out of my control. Eventually, the pathway that called to me opened up for me and as I journeyed forward, I felt a rush of happiness, peace, and total calm. But the journey wasn't over yet. I worked hard and was diligent in my efforts, strategic and patient for an outcome that would result in my ultimate favor. Then…it happened. I had arrived, reached success, reconciled my ideal of perfection to one of reality and was left in a state of pure gratitude. Perfection had surprised me, completely conquered my mind and body by simply proving her existence. I was in awe of her power and felt harmony and unity and peace and love. I was speechless. Tears replaced potential words.
What moments of perfection have gone down in the history of your heart? When all is right, smooth sailing, flowing, smiling down on you; when you feel impenetrable, subject to no limits, seemingly (or literally) floating above ground, and you can't contain yourself, these feelings are what we aspire to achieve every day in life. Perfection is possible and a reachable state of mind, although not a permanent possibility considering the daily distractions that swallow up our mind's potential power, but it is there, waiting for us to dedicate the time, resources, energy, and belief that it can be experienced. Give yourself the chance to discover and set foot on utopia. Repeatedly. It's an incomprehensible and convivial place to be. Even if for just one moment.
Tweet