Spirituality
On Sunday, my dear friend, Becky came to visit and we decided to have tarot cards drawn and our palms read by a psychic.
I always had this phobia about seeing a psychic…you know, the whole being afraid of what they might say, of hearing something you didn't want to hear, but on this particular day, I was open to the idea.
We were two girlfriends looking to create a convivial memory together and do something out of the ordinary, so this seemed fitting.
Upon hanging up to confirm our appointment,
I asked Becky, "Did she have an accent?"
Puzzled, she said, "Uh…yeah…"
I gave an approving nod and said, "Good. Then hopefully she's the real deal."
Becky cracked up laughing and our mystical experience was now underway.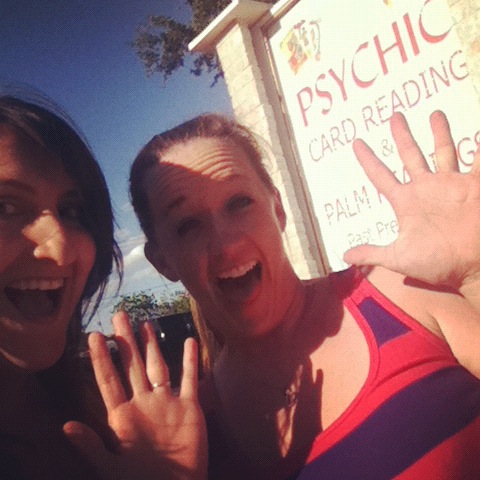 Soon we were ringing the doorbell to the Psychic's office and exchanging pleasantries with her.
Becky went first and as I sat and observed the ongoing reading, I did my best not to (more…)
Tweet
The last two weeks have been fun for me. First, I got away to Vegas with my luvuh (aka hubby) and a couple friends for some much needed unwinding.
We enjoyed a night out as the participating audience for the show, Zumanity- the sensual and naughty side of Cirque de Soleil.
This show is definitely not for the conservative in you. You'll walk away feeling naked and exposed for the sexual being that you naturally are, but if you're all about exploring your inhibitions, then join the audience!
I loved the show, but the best part of my experience was seeing my husband laugh out loud as much as he did. It warmed my heart to see his joy and I found myself leaning even closer to him and squeezing his arm a couple of times. Hmm…the effects of the show or a simple moment of endearment? Maybe both!
We stayed at The Venetian and had some convivial times with our friends while dining at such places as Public House, Emeril's Delmonico, and we couldn't pass up good old dessert on the Vegas strip at my fave P.F. Chang's.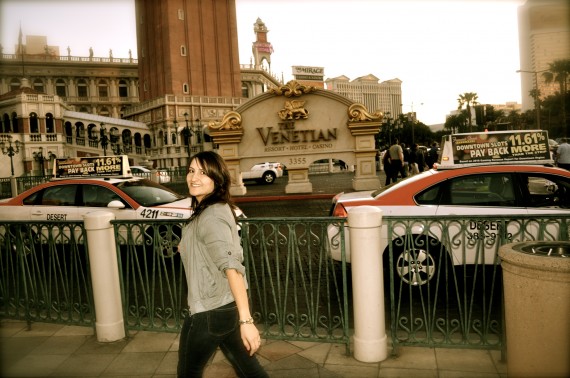 Leisure brings about inner calm which fuels your creativity
I've come to appreciate the importance of giving in to leisure, to relaxation, to living your life in order to spark your creativity. The last few months have been transitional for my family and I with the whole move to Austin and when I've wanted to get to work on an idea, my family's needs have proved to be paramount and so ideas sit pretty, waiting on me to give them life. But many things haven't been possible lately, but I know that doesn't mean they will never be possible.
Within the last year, I've learned a lot about patience, acceptance and balancing my ambitions with certain things being out of my control.
What keeps me going are the dreams-turned-reality that I've witnessed firsthand by the benchmarks, mentors, and convivial company I've carefully selected. They are the folks who inspire, lead, and show me all that is possible..
One such benchmark I want to especially mention today is the visionary author, Danielle LaPorte.
I made it to the bookstore for an early writing date with myself and to pick up a copy of Danielle LaPorte's newest book, The Firestarter Sessions: A Soulful + Practical Guide to Creating Success on your own terms. Today's the official release date and I'm flipping through my copy and can say its a beauty.
If you're at a crossroads in your life, this would be a great book to grab.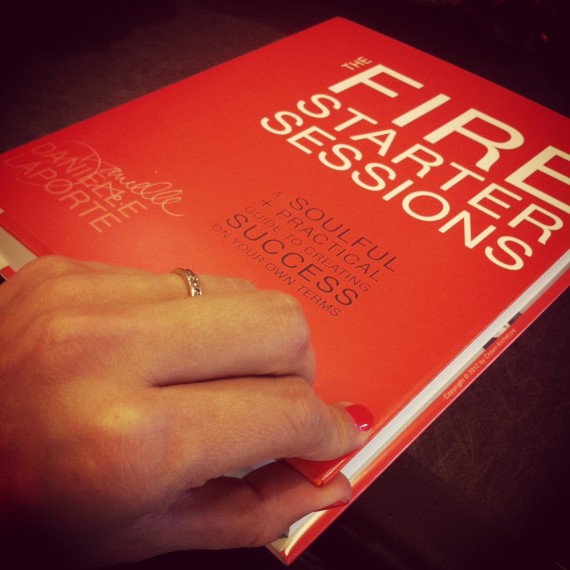 In case you aren't familiar with her, she is the creator of the site www.WhiteHotTruth.com. I discovered her blog in 2009, have met up with her twice- in Austin and New York- and have felt her vibe and demeanor to be similar to my own. She's a cheerleader without the exclamation points and high pitched voice. Her words are deep and intense just as my own sense of being can be. She also happens to be an introvert.
I'm a true fan of her work, because her work affirms within me that my own dreams are real and possible. She's simple yet hits the mark. Maybe she can do the same for you and the dreams you are holding onto…
Dreams are all around us. Yours included!
Surround yourself with convivial company-
the fearless and crazy kind.
Pick up their books,
hop on a plane to visit them,
dial their numbers regularly, or…
choose to be one yourself.
Convivially yours,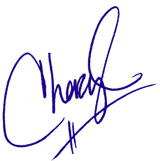 Tweet
Hello kindred spirits. It's been a while since my last "inscription." WARNING: This blog is the mother of all blogs I've written. I'm playing catch up to cap off the year so hold tight and hang with me for a moment. I have much to say.
Since announcing my move to Austin, I've been quite the gypsy mama, traveling back and forth from Dallas to Austin. My husband and I have been on the house hunt since renting out our home in November and haven't hit gold yet, but I'm patient and holding out for the most convivial home of them all. It's out there and I'm ready to plant my feet on the grounds of the State Capitol of Texas, or somewhere close enough.
Changes are brewing on the convivial home front…
This being in limbo, not knowing where my family will hang their hat and call home screws with a lot. With any kind of move you make, there is no way it cannot change you, and it definitely plays tricks on your mind.
I like to know where I'm going, what the plan is, a woman who, as one friend put it, "requires a lot of answers," and when there are so many unknowns, well, I'm gonna get antsy, uncomfortable, and I'll do my best to keep my irritability in check, but I can't guarantee it.
Not knowing where I'm settling causes unsettling feelings about what to plan for, what to talk about, and it's created some resistance about writing- really just blogging. You see, I'm a perfectionist (I know…I'm working on letting up) and I put these expectations on myself to crank out a "masterpiece" and share something worthwhile, something profound, and eye-opening, with you, every time. And yet it's a blog. But it's much more for me. (more…)
Tweet
I hope all is going great in your world and that you are facing each new day with the courage to do that ONE THING that your heart is calling you to do.
Today, my heart has me savoring all the good memories I've had in my Dallas home since this is the last weekend I will officially reside here.
I'm still in the midst of moving to Austin. Thankfully, I can say it hasn't been stressful! Finding a home in our new city is taking a tad bit longer, but I know it's coming. This delay gives me that much more time to consider all the memories my current home offered me.
Everything is falling into place as we say farewell to this space.
This was the home that birthed the idea of a Convivial Society (in my kitchen as I talked to a dear friend), where The Convivial Woman wrote late into the night (as my hard-working husband and sweet boys slept, the place I had many discussions with hubby about creating our family's future in Austin, where we made our first attempts at cooking Thanksgiving and Christmas dinners…
It's where I shared the news and sonogram picture with my husband of our first and second baby, where we enjoyed many playdates and visits from family and friends, where I designed the convivial website with the help of some very talented people, where I hosted one unforgettable brunch for some special women in my garden. There's so much to remember and appreciate…
It's easy to look ahead and imagine yourself somewhere new, somewhere different, but there is always something to gain from the moment, the current experience, wherever it is spent, with whomever.
With any big change you make, uncertainty is…certain.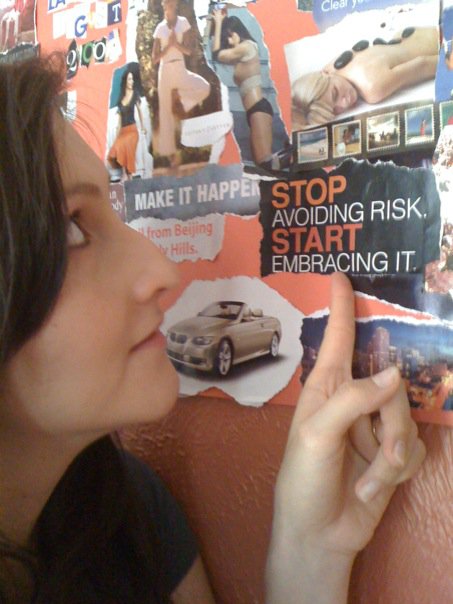 I have tons of questions about this next chapter in my life.
Where will I live?
What new friendships await me?
How will my current friendships hold up with the distance?
How will this town proclaiming to keep things weird nurture my convivial spirit?
How's it going to feel putting "roots down" finally?
(I was so resistant to doing so in Dallas)
How will it feel being three hours away from my parents
(we've always been close)?
Who will help me with my kids when on convivial business and hubby's not available? (Mom was five minutes away!)
How will my husband and I create more romance in this Texas hot spot?
Sometimes it's hard for me to settle into the now, but I'm working that muscle right NOW by writing. It's my version of spirituality…the creative kind. This whole business of "being present" of focusing on the "now"-I say, that's what you call practicing faith. It's having faith when you don't know what is ahead and you don't have all the answers. It's a conscious choice to find peace and comfort with what is, right now.
When it comes to what you truly desire, your efforts follow a close second behind.
When entering a new phase of life, sharing your writing, your product, your service, simply who you are with the world, be prepared to feel uncertainty for the details of your path won't always be clear cut, but you can get clear by cutting all that you know is not serving you or bringing you closer to that ONE THING your heart beats for. Only you know what that is…
The world is full of opinions and judgment and everyone is working to figure out their own way. For that reason, concentrate on yourself and make every effort to live according to that convivial vision only you can have for your life.
Here's to peace, love, and constant change,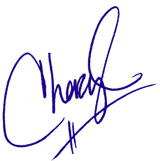 P.S. EXTRA EXTRA: I'm writing a book! I would love for you to join me on this new adventure! Join me on The Convivial Woman fanpage so I can share all the juicy details with you as they happen!
Tweet
As I lay in bed this morning, probably looking like a zombie pooped from the night before, you'd be surprised to know that in that very moment, there are myriad ideas bouncing off the walls of my mind.
I'd just had a dream that I was walking the grounds of a colorful mission estate in San Antonio.
The picture above is actually Bellas Artes with the Iglesia de las Monjas in the background in San Miguel de Allende, Guanajuato but hey! I'm trying to "put you there." It seems this picture is what my subconscience drew on for imagery while I slept.
At first glance, the whole place was empty and it was just me and a few other people, including my husband who went venturing off on his own with my camera- the Nikon D5000 one! I was a bit annoyed by that, because I was left to work with a Kodak camera that I once used in 2000 on a trip to San Francisco for my 21st birthday. I wasn't used to handling this little camera anymore.
When I think about what it feels like to hold my Nikon, it takes both hands to get the right shot and it can feel like I've got the whole world in the palm of my hands…or at least an image of it.
So I walked around the grounds of this rustic mission that was built who knows when and I was so impressed with the architecture and the huge bells used to call the faithful, and especially thrilled by the clear blue sky and occasional streaks of clouds that served as the backdrop.
Eventually, there were tons of people strolling alongside me, weaving in and around corners, going up and down iron wrought stairs. The food stands and little trinket shops had opened up for the day.
Soon, I awoke from the dream and began to think about all that is to be for The Convivial Woman in 2012.
With this move to Austin, I see myself discovering a whole new terrain of the state of Texas. Who are the people awaiting me on this new journey?What will I find in this new world I call home? What will I learn about myself and my own pursuit of life, love and happiness?
I'm going to discover all the little things that some might find weird, or not so weird, about Austin. I'm going to go in search of the puffed tacos in San Antonio that my Food Network Star crush challenged on his show, Throw Down with Bobby Flay.
Anyway, that's what the next year has in store for me and you- discovering Austin, San Antonio, Fredricksburg (the cute little German-influenced town my grandma Lupe always talked about), and the hill country.
And something tells me there's going to be a more fierce rebirth of my love and appreciation for the Tex-Mex culture ("my people") in this part of Texas. I see more cumbias, more accordions, more queso (but not too much! This waist of mine is working that muffin top! I gots to control it.) and oh so much more. I can't wait.
It's a new dawn…it's a new day…and I'm feeling (more than) okay.
Tweet
It's a great day when you hear a song that touches you, speaks to your heart, expresses how you feel or want to feel.
I'm writing at 6:45am, because 1) I haven't been able to sleep all night, and 2) I've finally stolen time away for myself to share this news:
I'm officially adopting a song for The Convivial Woman!
First, let me tell you which songs it will NOT be: (more…)
Tweet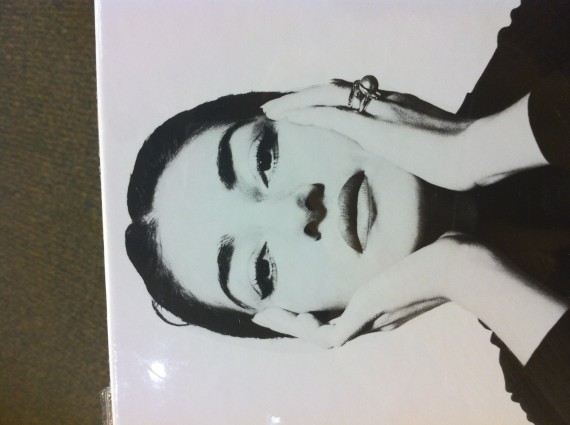 For the month of January, I went on digital sabbatical with the intentions to reconnect, rediscover and redefine my purposes here at Convivial Society (soon to be renamed and relaunched as The Convivial Woman end of February).
So, January has come and gone and I've returned on this fine, icy, cold day in February. Yes, me, Cheryl Chavarria A.K.A. The Convivial Woman is saying Bye Bye sabbatical, Hello writing again.
Wow! January was intense and unforgettable for me. Please tell me you're all goo goo gaga about my return, because this is a big deal for me! I was beginning to feel pent up like a genie in a bottle. Being offline and in a sense out of touch was starting to wear on me…shall I dare talk about how moody and out of my comfort zone I felt toward the end?
Where to begin, ya'll?
There are various experiences to share about my offline escapades, so get ready for (more…)
Tweet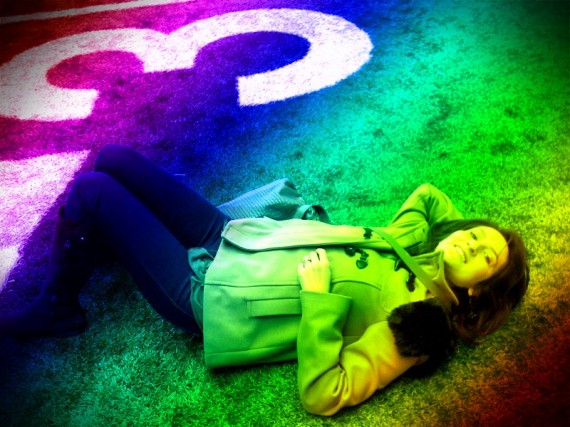 For the month of January and to kick off the new year, I'm going into full immersion mode and taking a sabbatical.
As I've written throughout 2010 and pondered the idea of a Convivial Society, I have decided that to create and experience such a place, you have to start with the very element that sets its foundation, that gives root to the possibility of its creation and existence, and that is the woman…a convivial woman. For this reason…
I've decided to rebrand by changing the name of the site from Convivial Society to…

(more…)
Tweet
On September 14th, Bindu Wiles launched The Shed Project, 8 Weeks of Losing It / An Adventure in Letting Go. Here is a woman who has created a space for anyone to join her in shedding anything from material possessions to love handles to burdening thought patterns. What an adventure to embark on!
I am someone who has usually found some ease in letting go- I repeat, some ease, because somehow I knew and felt there was something or someone on the other side, reaching for my hand, patiently waiting for me to grab onto it.
Space…it's something I've always been very comfortable with and enjoyed. The first time I recall my ability to let go of what was to embrace what would be was the summer of '93 when my friends and neighbors in Chicago, The Delira family, announced they would move back to their hometown of Aguascalientes in Mexico. I was about to lose five friends all at the same time.
They were my everyday go-to crowd. Our time together consisted of making cotton candy while dancing to Madonna's Like A Virgin song, creating fake money out of grocery store ads when our monopoly money ran out from long intervals of playing, reenacting entire movie scenes from Mermaids (I played Winona Ryder), rollerblading through Lincoln Park to Chicago's Boardwalk and back, and cruising the streets of Chicago singing Cathy Dennis' song, Too Many Walls. We thought the world was all ours and it truly was in every one of those moments.
When they said they were moving away, I don't remember taking the news hard. I simply accepted the direction life was taking us. When they left, I remember being alone. Still…I managed my way through it all. I knew I would see them again…someday and trusted the time and new space that surrounded me would bring me comfort and new people and experiences would enter my life. Eventually, they did and a new phase of life began.
In 1995, it was my family's turn to pack up. I'd been away for nearly 6 weeks during my summer break working at a camp in Orr, Minnesota when I got a call from my mother letting me know as soon as I returned, our family would plan to move back to Texas. I had grown up in Chicago's inner city, spent the most crucial years of my upbringing there, years that shaped me as a person, was almost finished with high school, and had all of my friends there, but the first thing that came out of my mouth was, "Can we PLEASE go to Austin?" I was ready to go. It was just my nature to accept and embrace the new.
I'll always remember one of my last nights before moving. I was with two close friends and we were huddled together, arm in arm, swaying back and forth listening to Boyz II Men's song It's So Hard To Say Goodbye. We were being overly dramatic and trying to make ourselves cry but we laughed more than anything. I thought I would really start crying or feel depressed when it was time to go, but it didn't happen. I was ready to move forward and it didn't mean that I didn't care enough for my friends. I trusted the friendships would survive the change and that I would do my part to nurture them. Fifteen years later, they are still in my life and we're as close as can be. One of them even served as my labor coach when I had my first son. She saw my vagina and e'erthing. Yup, she's still my friend.
Shedding a new skin is hard to do, but I'm always reassured that taking this action is necessary and good for me. It's another way of expressing my personal evolution and there's no need to fear what results from it. So, I continue the ritual today with The Shed Project.
It's a regular habit of mine to get rid of stuff around my house, thus making way for new things to enter, but after reading The Law of The Ugly Chair by Danielle LaPorte, I am reminded to be even more conscious of what I consider sacred to me and give it the space it deserves.
I'm thrilled that Bindu has asked me to guest write a post for The Shed Project and can't wait to share it with you all so when the post is up, I'll definitely let you know! My hope is to inspire you to embark on your own journey of shedding your skin for one that better suits your spirit. If you're intrigued to learn more or ready to join the shedventure, check out Bindu's launch video and sign up!
Tweet
Staring out the window that overlooks my garden, I see the trees rustling in the wind and soon find myself in a state of instant reverie. A stream of thought flows through, causing me to recollect on various experiences in my life when I've felt disappointed in myself and in others.
For the most part, when I wasn't happy, I walked away, but there have been many instances when I stuck around, tried to pull me and the other person through a tough or awkward time with the hopes that something could change, that I could help in some way, that I could understand my experience better.
Just when I thought my stream of consciousness was coming to an end, this message came through to me:

When you finally learn to listen to your heart and follow its lead, everything changes within you and around you.
I was so compelled by the sound of these words that I had to share them. I thought about the many ways to apply this truth: receiving new people into my life, overcoming negative thought patterns, facing my fears, taking on new challenges, leaving behind less than favorable circumstances and sometimes people contributing to those circumstances, forgiving myself and others for lack of wisdom in trying times, and oh so many more.

Letting my heart lead me in action means I am no longer a slave to my thoughts about a particular situation, person, experience and when I am no longer enslaved by thought, then my ego is dead and no harm or hurt can come or be done.
I'm not the first or the last person to experience toxicity of the mind, body and spirit, but I know I can minimize it by taking the time and action needed to release it…to be released.
Learning to distinguish between experiences that matter and ones that don't can be a constant and conscious life practice.
.
Being a follower of the heart can cure so much, perhaps almost anything. The definitive results are love and that's all anyone or anything needs, right?

If your heart moves you to do something, do it.
If your heart tells you to let go, let go.
If your heart wants you to walk away, walk away.
Opportunity abounds when it comes to finding peace in your heart and letting yourself live out loud. When you find a message speaking to you, give it the attention it deserves because you deserve it. When you do that, ohh the places you'll go…the people you'll know.

Surrender is not only a beautiful word, but just as beautiful an experience.
Tweet
I began the weekend by focusing on my home to clean and clear space for all that I want the next week, month and year to bring. After shaking my tail to Lady Gaga while wiping down the kitchen counter, I switched to my Bebe Pandora station and heard the song Pa Mi Casa (To My House) for the first time. After just a few lyrics,
I stopped everything I was doing and raced to write down a few lines from the song, but then more lyrics kept coming and I couldn't help how they were making me feel, so I decided the song needed to go down in convivial history as yet another must-share moment. Hence today's post. The more I listened to the musical message, the more I found my discovery of the song and Bindu Wiles' newly announced community project, The Shed Project, to be perfectly timed. It was a superior example of synchronicity in action.
If you're in process of embarking on a new journey and letting go of all you know, whether in the grandest or smallest of ways, I invite you to listen to Bebe's song and ponder her words, THEN read all about Bindu's plan to let herself go for ten straight months!
Note: Is Spanish not your native tongue? Mine neither (it's my second), so I've offered up my best translation of the song lyrics below.
Pa Mi Casa / To My Home
Now I return to my house
I say goodbye to you for the time being
'cause I feel like being the girl
who at many times no one believed.
You have to look within
for if the river is running dry
know that below the earth
an ocean travels.
The prairies of my land
Meet with the sky
And that is where I rest
And look for my memories.
There are those who prefer bigger things
for me, I prefer the small
The distance helps you to look
with much less fear
I want to return to closing my eyes
to see what I want
I have no fear of the time passing
but that it passes and memories will be lost
In silence
In silence
There is all that I want, all that I've ever wanted
We accumulate so much
And breathe much less
Each day the air is less pure
And every day that passes I continue missing you.
Go wherever you may go
I'd even die for you
For the prairies of my land
Meet with the sky
And that is where I rest
And look for my memories.
In silence
In silence
There is all I want, all I've ever wanted
There is all I want, all I've ever wanted.
Spanish Lyrics here.
photo courtesy of www.centraluno.com
Tweet
Thanks to Bindu Wiles, my newest challenge and personal commitment began on June 8th. For 21 days, I'll be in spirit with Bindu and numerous other well-intentioned people from around the world doing 5 days of yoga a week and 800 words of writing per day. Along with the goal to condition my body and mind, I'll use this project as another opportunity to share how it serves me spiritually. Namaste!
Tweet