Popular
My second day at South By Southwest Interactive Conference (SXSWi) was a combination of talks on the state of the ever-changing music industry, and the business climate in general, pissed off artists trying to figure out new ways to put their art out into the world and be appreciated and rightly compensated for their self-expression, and fashion blogs and their links to big company advertising.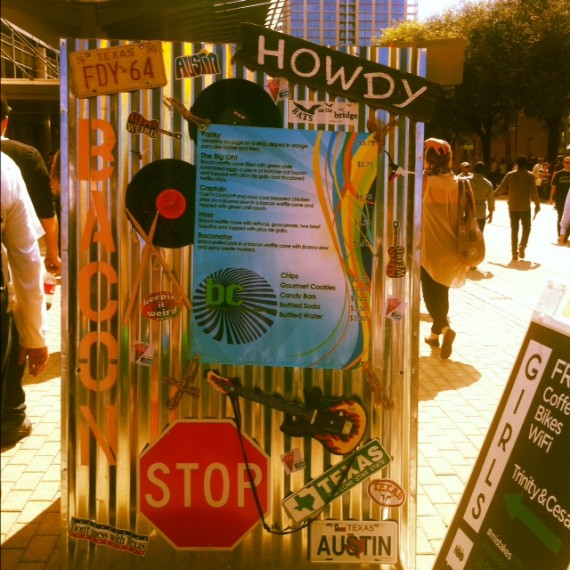 It was all very interesting and went down like this…
Before going into my first talk, I stood in line for "The Original Grilled Cheese" and met Myra who recently moved to Austin. She worked in the Gaming industry and was thinking about becoming a mother. We talked about the tough choices women have to make when the time comes for us to sacrifice in the utmost way that we are put on earth to do.
I told her the same thing I've said to other woman contemplating motherhood- "There will always be a reason to put it off, so just jump the cliff and join the club, girlfriend."
I recommended that she read the book, Creating A Life: Professional Women and the Quest for Children. Before I had children, I never thought about anything passed the labor experience (you know…like who would take care of my kids and how I would fit work into that equation) and this book gave me reason to think beyond that.
Soon after, I was sitting in the third row, waiting for Brian Solis, one of the most prominent thought leaders and published authors in new media and lead singer of the Smashing Pumpkins, Billy Corgan to begin talking about The End of Business as Usual (the same title for Brian Solis' book which I will read once I finish the stack of books currently staring at me from the top of my kitchen bar).
As Billy Corgan sat on stage, I instantly thought of my dear friend, Cecilia. When I was 12 years old, she was the one I danced and twirled around with when Smashing Pumpkins' sang Today. All I have left to do is meet Johnny Depp, Larry David, Julia Roberts, and Laura Pausini. Then I can go to heaven.
Billy Corgan is cool. He not only drops plenty of F-bombs, but is a man of strong convictions and personal integrity. He won't be exploited; and that manner of being is why we as fans have such wonderful memories with his music, because it was pure heart/art.
I headed back to the Blogger's Lounge and grabbed some food and to my heart's content, got this picture and autographed book by author, Hugh MacLeod.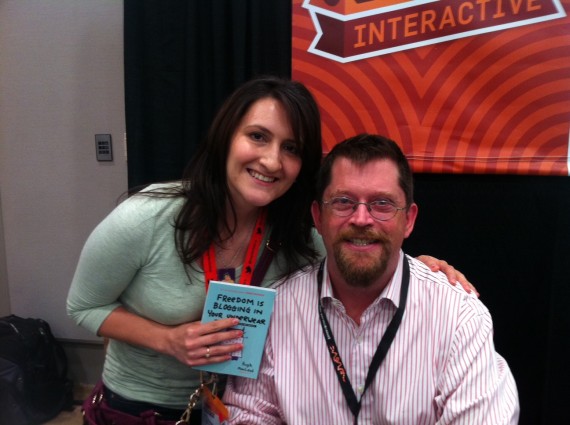 This was a serendipitous moment for me, because it was only two weeks ago that I was at BookPeople doing some writing when I came across a book called Ignore Everyone by this very man. I spent the rest of my time at the bookstore devouring his book and became an instant fan of this writer who now lives in Alpine, Texas.
This gal offered me a ride to my next presentation and was as friendly as any Austinite can be. She'd just spent the past year living in Ecuador and was back home and back to work.
I arrived to the Intercontinental Hotel to hear Indiana Adams of Adored Austin and Alessandra Colaci of the Republic of Wow talk about Blogging: Why So Many Women Are Doing It.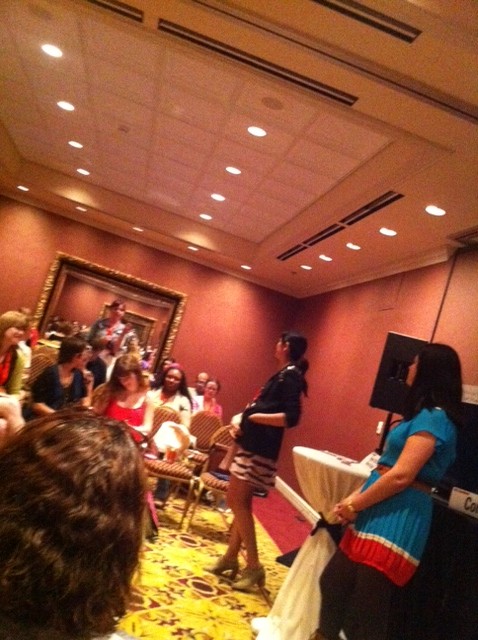 The girls were sweet and my takeaway was this: big companies are looking to work with bloggers to reach audiences and potential customers on multiple platforms. If they see a good fit, they're willing to work with individual bloggers and pay them. Proof? Folks from Victoria's Secret and Tide sat in the crowd.
I am convinced this is the conference to attend every year. And lucky me that I now live in Austin!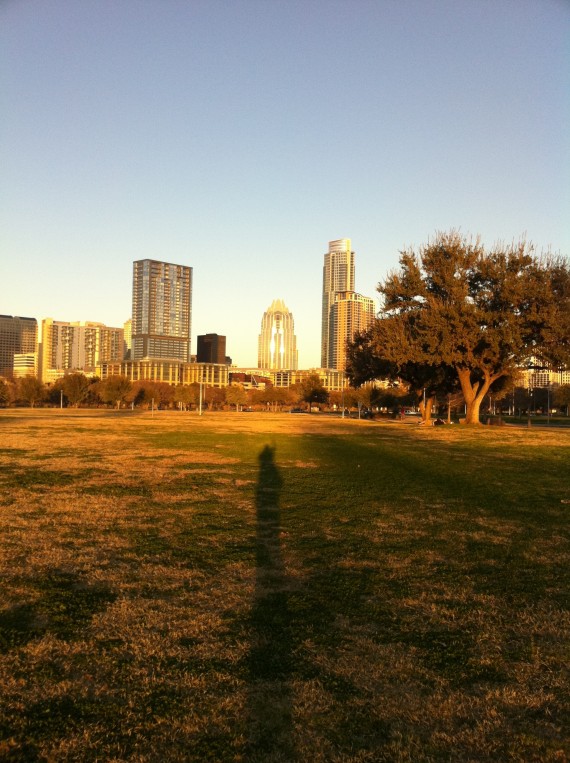 (my shadow throwing up the Peace sign)
Next on my agenda: convert my husband, Martin from Sunday football watching to Seth Godin reading. Then hopefully, he can be eager to attend SXSWi with me next year and we can make it a couple's affair.
Night night,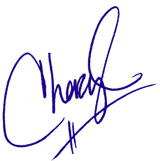 Tweet
One year ago, I re-launched my website from the name Convivial Society to The Convivial Woman and during the month of January, I went on digital sabbatical to read and write to determine my site's purpose and overall message. The theme that kept coming up in my notes was Art, a person's need to express it, and the joys and struggles of doing so. As the year progressed, I somehow ignored that underlying theme and experienced confusion with my focus.
Was this my platform to preach to women about how they needed to conduct themselves as women? What kind of friends, mothers, wives they needed to be? Choices they should make in their lives? No, it wasn't. It was simply a way to express myself creatively via the written word, the art form that chose me, but calling myself The Convivial Woman began to play tricks on my mind and make me feel a little self-righteous. Like any stage name, there's a persona that comes with it and I was still trying to figure out the difference so I could play my part right. I wasn't here to fake anything.
Recently, I've made the distinction:
The Convivial Woman is to me what Sasha Fierce is to Beyonce- the muse, a name given the creative power that comes from within and drives you to create and release your art into the world. I am Cheryl Chavarria, the writer also known as The Convivial Woman. Period.
Clarity of purpose, of vision, of thy self makes you an unstoppable force.
The Convivial Woman does not exist to impose some idea of what the perfect woman should be, or tell women how to behave, how to save themselves, their relationships, or how to love and better support one other, though we desperately need more mentoring of women by women.
The Convivial Woman represents something grander. She represents Art…the creation of it and the defiant spirit that accompanies it. She exists to praise and promote human creativity and the idea that a work of art resides within each of us.
It's about the art of convivial living, which centers around discovering the art and life within you, and making the conscious choice to express it as only YOU can do.
2012 is going to be a Work of
A.R.T.
This year, The Convivial Woman is going to be all about making A Return To creative origins. For me that's writing. What is it for you?
My focus is to write about how I lead, not necessarily how to lead, a convivial life, and what the art of convivial living means to me as I dedicate myself to the practice and creation of art, as well as the struggles that come with it.
In making the choice to follow your art, you will come to know your power and live a convivial life, for life itself is art. Whether it be a book, a business, blog, necklace, cake, lesson plan, a baby, new body / life for yourself, or even a simple meal for your family, it requires the courage to create. If you're heart is in it, then it's bound to be art worth admiring.
You are a Masterpiece. Live accordingly.
This is the message of The Convivial Woman, what I'm inspired to live by, and want to share with you. By pursuing my heart's desire to write, I hope to encourage you to do the same, whatever your art may be, for that is the journey we share.
Go forth and create your reality,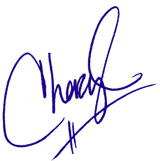 Tweet
After the dip, there's only one way to go and that is up.
Taking a trip back to my hometown of Chicago, the place where I spent the most influential years of my life, proved to be a great way to bring me back to the core of who I am after I'd experienced a dip in my own life.
During my time there, my hubby grabbed us some wheels at Bobby's Bike Hike and we biked from Navy Pier along the lakeshore to Fullerton avenue to Clark street to Wrigley Field and all the way back down Clark to the Willis Tower! If you're a local, you'll know how much distance we covered! If not, I'm gonna guess we did about 15-20 miles.
I gathered with my old neighborhood pals, friends with whom I kept the Sabbath day holy (back in my parentally-imposed religious days), and with grammar school chums.
Among other typical tourist spots, we also (more…)
Tweet
Hey Convivial world of mine!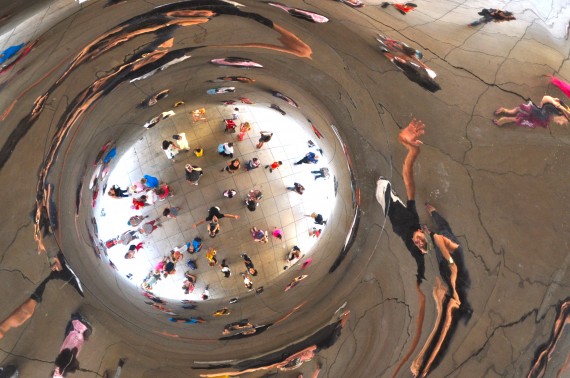 It's been 3 months and I'm back. At least, I think it's been that long since I last felt my true self.
Confession: I think I experienced depression for the first time.
I actually googled the symptoms and had many of them. Fatigued. Check. Hard time getting out of bed to face the day. Check. Preferred extreme isolation to socialization. Yup. Lack of focus and clarity. Writers block. A sense of hopelessness. All there in the imaginary dark room with me.
Having the sudden blues from one moment to the next. Oh yeah. Not being able to tear myself away from episode after episode of Mob Wives and Basketball Wives. Yikes! One could argue and say I was doing "research" to better understand the dynamics of female relationships, but I'm not one to shit ya…THAT'S when I knew something was seriously wrong!
I'm a full-time mama who is committed to nurturing her individuality, the writer in her, and building a convivial brand of her own
BUT I do the writing and empire building once my little bambinos hit the hay. It's not always an easy feat, it can get overwhelming, and all three adventures (mama, writer, entrepreneur) take a ton of practice and patience.
Word to ya muthas: There's no place like the home we make and no such thing as "life balance." Don't quote me on that, I'm just living it. I continue to juggle and drop occasional balls, but the key is learning to pick up your delicate heart along with all the balls and keep juggling. My own lessons continue and I just want to be brave enough to write about them here.
The Scoop on how things went down…low.

(more…)
Tweet
Ladies and Gentlemen,
It's the most anticipated event we've all been waiting for…
Relaunch Day for TheConvivialWoman.com!
Before you make your way around the site for a peep at what's new, I'd like to share a personal message on audio with you, but first, this quote…
"The work of art is another human mind incarnate; not in the flesh and blood, but in sounds, words, or colors." -The Art Instinct: Beauty, Pleasure, Evolution
.
As The Convivial Woman, I am here to say…
Every woman is a masterpiece.
An extravagantly unique & inimitable creation. Her very existence is a great work of art.
And ask the question…
So, how do you treat a work of art?
It's my personal commitment to live the answer…
With dignity. Reverence. A sense of majesty. And a sense of humor.
My desire is to inspire the same in you.
I'm all about Convivial Living…
joyful connecting, conscious action, and uncompromising self-care, and I plan to fill this space with a plethora of refined word gems to demonstrate that. When you make a conscious choice to see and treat yourself as a work of art, you inevitably create a life of artful intention for you and the world around you. That's what we're here to do.
"I'm not a businessman. I'm a business, man." -Jay-Z
The Convivial Woman is not only my artform, it's also the work I've been called to do in the form of articles, lifestyle guides, 1 on 1 strategizing sessions (think: creative brainstorming/dream accountability partnerships), intimate workshops and travel retreats. To receive updates, news and special links and offers on events as they happen, sign up here.
To celebrate my shape-shifting nature along with this grandiose day, stay tuned for an extra special blog post tomorrow, then join me for a series of Convivial Interviews starting this Monday, March 14 where I'll feature some amazing women (and men!) who inspire me. We'll talk about life, love, entrepreneurship, spirituality and share tips on breaking free from self-limitation. They'll also share how they are making the very personal choice to show up in the world and give you a sneak peek into their convivial lives, as well. It's gonna be fun!
If you haven't done so yet…
Become a member of The Convivial Society
– now known as my monthly newsletter- to receive important links, event news, and personal messages from me. Drop your name in the hat right here.
I'd love to interact and know more about you, so honor me with your presence and LIKE my Facebook fanpage or follow me on Twitter as well.
Join me for tomorrow's very first blog post as www.TheConvivialWoman.com- I'm calling it Up Your Convivial Game because that's what each new day calls us to do. You can come back on your own or have it delivered directly to your inbox.
Now go ahead and peek behind the imaginary turquoise curtain and take a stroll around the newly revamped site to get to know more about me and what I am offering. Convivial times await you and I…
With fierce admiration,
Cheryl Chavarria
P.S. I'd love for you to say hello with a comment on the blog (below), or on facebook and twitter so I know you honored me with your presence!
P.P.S. If you want to finish jamming to that song I shared in the relaunch memo, CLICK FOR SONG HERE. See you tomorrow!
Tweet
It's been three days since my return from an eye-opening weekend in New York. The memories continue to replay in my mind…the chemistry I felt with the city, with the women who surrounded me, the impact of the stories and knowledge shared by each speaker, and the guards let down and tears shed by various women of the audience at Rich Happy & Hot LIVE.
My second day back home, I shed some tears of my own as I spoke to a dear friend by phone and began to express my deep gratitude for our friendship and their continued unconditional love and support in my efforts to express The Convivial Woman and grow in the comfort of my writer's skin. When someone believes in you and just loves you for all that you are and all that you're not (yet), what a powerful force you can be in the world!
I love telling stories by way of the eye, and you'd better believe I snapped a good number of moments while in The Big Apple. So have yourself a look-see at my photojournalism skills! There will be plenty of time to share words, but for now, let this visit to Convivial Society be a visual experience to enjoy. Let me know if anything grabs you by the heart!
Click on the album to view and experience New York with me all over again:
Tweet
My boyfriend keeps telling me I've got to own things. So, first I bought this car. And then he told me I oughta get a house. 'Why a house?' 'Well, you gotta have a place to park the car.' -Julia Roberts.
OWN YOUR LIFE.


It belongs to you first. Then whoever you wish to share it with & however you want to live it…well, that's still a choice you own. Tweet

Coming to the stage is my one and only white hot love Danielle LaPorte, creator of the site White Hot Truth. Danielle hails from Vancouver, BC (ehhh) and is one bad mama rocking her business and inspiring legions of other women and men to do the same. Danielle is no one-trick pony. She's a strategic and intuitive business advisor, fiery and inspirational speaker, creator of one of the coolest note card lines on the web, and mama writer and design mastermind behind the recently launched and amazingly successful Fire Starter Sessions: A Digital Experience for Entrepreneurs.

I'd say her Fire Starter Sessions book is one of the most innovative and brilliant contributions to the online business world yet and its no wonder she's experienced such acclaim and success thus far. I had the pleasure of meeting Danielle at her Fire Starter Session in Austin, Texas last September and experienced the presence of a woman standing in her current power, setting the stage for truth and authenticity. As an entrepreneurial writer mama who wants to rock her creative bottom line as well, I'm all over anyone who can dish some damn good wisdom and be straight up real with me when I need it most. Danielle is of that divine feminine tribe and I'm dancing and chanting words of wisdom alongside her, always wanting more to fuel the convivial flame that burns within me. As part of my intention and desire to keep the circle of influence and power burning bright from one convivial woman to another, I'm here to let you know Danielle speaks to me…deeply, and now, literally. I hope she strikes a cord within you too. It's all about passing the torch, baby. Enjoy the interview!

The idea behind Convivial Society is "Know Your Power. Live Your Life."
When did you become fully aware of your power? What has it taken for you to reach that breakthrough point?

I've always been aware of my energy, a fire in my heart…my love and intellect. But it's been the stretches of life that have shown me its full flavour. I forget who said this: "People are like tea bags, you don't know how strong they are until they're in hot water." It's been the hot water of business divorce, juggling a wonderful kid with a fabulous career, romantic heart break…you know, the big passages that have shown me my power. And I know it when I see it because it's gentle and generous.


In what ways do you see women giving up their power and how do you keep yours burning white hot?

We keep our mouths shut. We let logic eclipse emotion. We apologize for wanting what we want the most. Of course, none of this is women-specific, but we do have a knack for getting in the back seat.

How do I keep my fire burning? I treat my home like it's a temple. I eat a lot of spinach. I hang out with really solid, happy people who are interested in really living. I have a great Buddhist shrink whose main tool is compassion. I don't apologize for what I want. I get off on being generous. I make time for pedicures.


As you've said, "Everything is progress," and "I wish I would've had someone to tell me what the fuck to do," so how does a woman who knows her power steer the wheel when she doesn't always know the way?

Just keep driving. You can't really know where you're going, but you can be wide awake at the wheel and fuel up when you need to.


As hot as you are, how do you tame those wild things called "Vices" and "Distractions" to stay a glow over the beds of hot coal you consistently walk?

What are vices?


The evolution of a woman's body is a tricky and sensitive thing. When time between bike rides lapses, how does the voice whispering to your heavenly body sound? What does she say when things don't all feel so put together anymore? Or when you've had one too many (fill in the blank)?

Too many…squares of milk chocolate…or late nights…or days without moving.
This is a big one for me. I spent most of my life in my head, and thanks to a good metabolism, that worked out okay.
My bod' is my new frontier, the next power source for me to FINALLY plug into. And I'm doing it and loving it.
Yoga, dancing, breathwork. New world of gratitude. I'm going to be one of those conversion stories.


You give much praise to the book The Creative Habit by Twyla Tharp. What's your everyday creative habit/ritual that keeps the flow coming so often? What other books concerning women and creative, convivial living have a permanent place on your bookshelves?

My creative habits: write freehand (not on the computer); pay attention to the first thoughts I have in the morning; rock out – music is my elixir.

Books: Women Who Run With The Wolves by Clarissa Pinkola Estes is a MASTERPIECE and every woman should read it three times. I think The Artist's Way by Julia Cameron is a classic for good reason. And most everything Pema Chodron has put out has an amazing clarity to it.


So many women play small at times for the sake of others. Would you say you've mastered your height and when you feel yourself shrinking within, how do you combat that?

I still shrink. First thing I do is NOT condemn myself for shrinking. I try to be incredibly friendly with the part of me that shrank. And then I can hear what that part needs to say. And what a gift that is.

I've also learned to sleep on it when I feel some shrink action about to happen. Be still. Stand tall(er) tomorrow.


What are you willing to go to the ends of the earth to tell your fellow woman about money, the company she keeps, and rocking her talents?

I'm not really willing to go to the ends of the earth to tell people anything. I used to want to be a Messiah, now I'm more interested in being a reporter/Priestess. But I get the spirit of the question… What I want to say is this: You know. You know what you want and who you are. You. Know.


Mmm…Mmm…Mmm…Convivial.
If you liked it and want some more of it, check out

and order your copy here.
Ever yours,
Cheryl Chavarria
Tweet
I have been convinced of a truth: Perfection is possible. I know it exists and can be reached, because I just experienced it. I am now more certain of its power, its potential to grab a hold of my heart, even if for a moment, and take me for an unforgettable ride. With this experience, I was transported to the muse's doorstep and given a taste of the sweet sensations she brings. Before anything can get in the way of this feeling, I must declare it mine. Just as I do with my own life, I am holding it dear to me, embracing it with eyes wide shut and heart wide open. I am thankful, because I know it cannot stay. This moment will pass in exchange for another. It'll call me, then evade me and I'll chase it and find it again in some other form, but for now, it's here…caressing, inspiring and causing feelings in me that I can't explain. Does this make any sense to you? If the answer is no, then my answer is, GOOD. Mysterious ways…perfection works.
How did I arrive at this final destination? It happened without attempt, without logic or strategy, and had no clear direction- just as love is, as life is– but once I was aware of what I could do to steer perfection my way, the intention was all there. I didn't seek it out, didn't pursue it and like the sun rises and sets, it made its appearance. When the journey to this treasured spot began, I was unsure of how or what the experience would be. If I'd allowed my thoughts to take the stage, I would've hindered perfection's debut. So I let go of all thought and chose not to speak. I closed my eyes and envisioned a deep, dark, gentle space within me and took my thoughts there. And left them there. I went with the flow. I let all worries walk out on me. I breathed in and then out, continuing this pace as needed and soon felt myself relaxing. When I felt the potential for thoughts to take the forefront, I pushed back and closed the red curtain on them. This was my stage.
In the beginning, there was a little uncertainty, some restraint, even friction at times. As is every new experience, every new meeting of the minds, of the hearts. But I had faith. And trust. And most of all, desire. I allowed the experience to unfold on its own, giving it the space, time and energy it required of me. I inched forward, then held back, leaped across and over, then surrendered again, not pushing or forcing anything. Cause and effect, baby. I trusted myself and all that was out of my control. Eventually, the pathway that called to me opened up for me and as I journeyed forward, I felt a rush of happiness, peace, and total calm. But the journey wasn't over yet. I worked hard and was diligent in my efforts, strategic and patient for an outcome that would result in my ultimate favor. Then…it happened. I had arrived, reached success, reconciled my ideal of perfection to one of reality and was left in a state of pure gratitude. Perfection had surprised me, completely conquered my mind and body by simply proving her existence. I was in awe of her power and felt harmony and unity and peace and love. I was speechless. Tears replaced potential words.
What moments of perfection have gone down in the history of your heart? When all is right, smooth sailing, flowing, smiling down on you; when you feel impenetrable, subject to no limits, seemingly (or literally) floating above ground, and you can't contain yourself, these feelings are what we aspire to achieve every day in life. Perfection is possible and a reachable state of mind, although not a permanent possibility considering the daily distractions that swallow up our mind's potential power, but it is there, waiting for us to dedicate the time, resources, energy, and belief that it can be experienced. Give yourself the chance to discover and set foot on utopia. Repeatedly. It's an incomprehensible and convivial place to be. Even if for just one moment.
Tweet
Over the weekend, I took my son to get his hair cut and got to talking with a man who was waiting to do the same with his two kids. He was a fit man with salt and pepper hair, stylishly dressed in khaki shorts and sandals, possibly in his late thirties.
Our young ones began coloring together, so Fit Dad and I chatted about raising boys and girls. He mentioned how he'd noticed an immediate difference when his daughter was born, how she set the tone for that gender distinction. Referring to their nature, he put it simply,
"Boys have physical needs and girls emotional ones."
DING! I heard a light bulb go off in my head. Ain't that the truth? Boys have the need for rough play, sports, action movies, sound effects and (shhh) S-E-X while girls need to talk, relate, connect, be made to feel special, protected, and especially need to be heard. Hello! Raising my hand here. It's a must.
At one point in the conversation, one of the hairdressers was finishing up with a client, so Fit Dad stopped in mid-sentence and called out to her, saying, "Do you think we'll be outta here in the next ten minutes?" She looked confused and slightly offended that he appeared to be rushing her. "You told me it'd be 20 minutes and it's now been 35 minutes. We have somewhere to be," he continued. The stylists glanced at each other, then returned to their scissors, customers hid behind their magazines, and I kicked back to enjoy the show.
We continued talking and it turned out Fit Dad was from Austin, Texas and it's no surprise to me that his face lit up when I asked him, "So, how was it growing up there?" He had nothing but great things to say and I was intrigued to continue the conversation, but we were interrupted when the stylist called his number. He shuffled his son over and began telling her how he wanted his son's hair cut, pointing to particular areas around his head to communicate his request.
When I heard and saw this man taking charge of the situation, you better believe he had my attention. My eyes remained fixed on him as I thought, Those ladies probably think he's being an asshole. The others waiting probably think so too, but he doesn't give a shit. As a straight shooter myself, I appreciated him for his ways. I was convinced that this man was "The Man" at home and at work, because he didn't mince words.
He spoke with authority, was straight to the point and non-apologetic about it. I liked that, liked it a lot; in fact, it made me all tingly inside. Now now, before you get ahead of yourself, here's why. I'm a gal who respects people who give it to me straight, who are real, to the point.
Such conversations call me, lure me, tickle my fanny.
Being frank is my best form of communication and many times, I've been made to feel bad about this strength (YES, it's a strength because its me at my strongest) and I'll admit to playing small at times and holding back my true kaboom for the sake of someone else's weakness.
In a non-convivial world, it's being bitchy, bossy, unappealing, worth ignoring. It's where women aren't encouraged to be loose with their tongue and therefore inadvertently try to avoid it to appease and please. Fuck that. We've got a lot to say.
In my world, speaking out means freedom.
There's a great sense of confidence that accompanies one's ability to be assertive. It takes time and guts to come as you are and not care what people think.
When all is said and done, that's exactly how you get what you want in life. That's how you get the life you want. It takes practice, faith in yourself, and permission. Who's doing the permitting? You are! So go ahead and permit it, want it, speak it, live it.
Cheers to a great day of telling it like it is,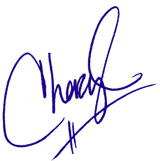 Tweet
I find myself reading a brief, well-written biography on the notorious tattoo artist of the popular TLC show L.A. Ink, Miss Kat Von D. It seems more like the foreword on a book. As I read the piece, written by a close friend, what stood out to me most was when the writer mentioned how Kat was "incredibly loyal to her family." Instantly, I could relate and found something in common with the beauty. She's not your everyday girl, choosing the body she was born with as her art canvas-something many people wouldn't comprehend or agree with- and being of somewhat Latino descent, as well as beautiful, I couldn't help but wonder what her family thought of her work- if they saw it as art or if they simply saw a tattooed body. Did they agree with her chosen way of life? I know how my Mexican mother would view her lifestyle, and the assumptions that would be made about her as a person, but I can't do that. I respect her work, admire her person. The fact that she is spoken of by friends as a dedicated and loyal member of her family, to her family, tells me perhaps that her family may have supported her aspirations all along. What a huge feat for a woman. To go for what she wanted and be fully backed by the members of her tribe. It's no wonder she has turned out so successfully and my hope is that she is completely happy. It's funny how people can be hypocritical. They can smile in your face and then when the time comes to offer up an opinion about you, they chicken out and go with the negative flow of thoughts they may have been harboring about you or your lifestyle or even simply the poor choices you've made in your life. People don't deserve to be judged. Women play a huge role in judging others, one another, themselves, and this is because they are constantly under a watchful eye that doesn't really exist. It's all in our mind. And the strength of our heart has the power to combat it. If we could break free from concerning ourselves with what others think of us, stop defending who we are and how we want to live our lives, then we can break the cycle of prejudice and put to rest that hurtful voyeur who dwells within. She is not of your true being. Love your fellow woman and support her art. We all have a desire to create. Women, if given the freedom to be who they want to be, can show the world their wonders. Our place as the bearers of life to this dependent, ever evolving mother earth proves we are the epitome of creativity and a force of nature to be reckoned with.
Tweet
I'm capable of telling it like it is and capsizing boats that merit sinking, but I haven't always gone "there" for fear of how I might be perceived or no longer received. GASP. An image-conscious, convivial woman?
I wish I could say it isn't so, but it's one of the biggest challenges for women (raising my hand) to overcome before reaching
The convivial promise land of "This is who I am, this is how I live…take it or leave it."
Thankfully, we have a TED talk like the one given by Eve Ensler, creator of The Vagina Monologues (pictured above) to remind women how important it is to (more…)
Tweet