Unveiling The Book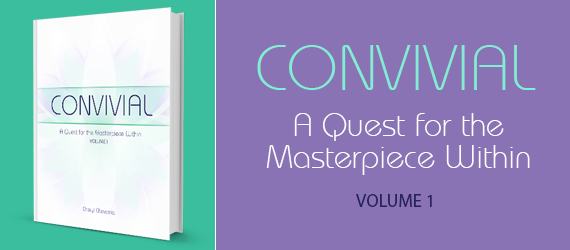 You took the conventional route and got the results you were after.
You went to school, landed the job, bought the house.
But now you're itching for a change … wondering if there's more to life than this.
You feel like you might not be living up to your true potential.
You're creative and maybe even entrepreneurial, but you put your "unrealistic" dreams and talents on the shelf a while back. Get ready to dust them off.
"Convivial" is the road map to your creative life.
In this guide, I share stories of my experiences and how they led to my understanding of convivial living. From these accounts – along with engaging exercises – you'll unearth your own truths. You'll discover a sense of what it is to live convivially.

Go on a quest. Follow your heart and curiosity.
In this three-part guide, you'll recognize how to…
: Connect with and better understand yourself
: Discover, explore, and do what makes you happy
: Surround yourself with people who inspire
: Seek and invite the creative muse in
: Follow your curiosity
: Fully express yourself
: Tap into your childlike joy

: Trust that all will be well, even when you can't see what's ahead

: Deliberately create what you will

Go on an intimate date—with yourself.
Worksheet Exercises include…
What's your art form? Claim your interests and passions. Allow yourself to be led by curiosity.
Small, manageable steps to curating your world. Explore what's brewing within you. Discover something new in your world.
Study a true original. Observe childlike joy and tap into your own.
Be seen. Begin showing up more fully in the world. Share your true self with others.
And more!

"Convivial" is a proactive, creative approach to joyful living.
Embark on a quest to the Masterpiece Within.
Come alive inside. Joyfully share what's within you.
Finally feel at home with who you are.
What are you waiting for?


Want to get a peek
inside the book?


All products purchased from TheConvivialWoman.com are in digital format and delivered immediately via email after purchase. We feel confident and stand by the quality and value in content delivered. Considering the time it takes to create such digital products and experiences, this purchase is nonrefundable. Thank you for investing in this convivial experience created just for you.