Uncategorized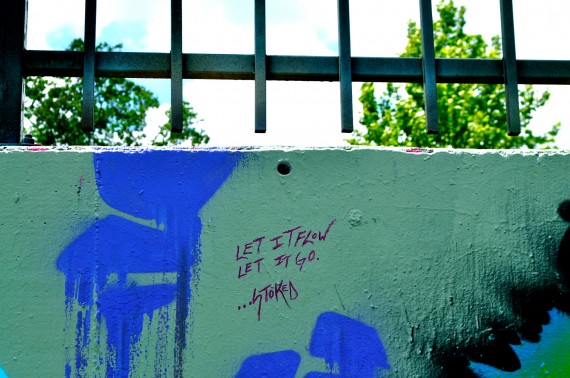 There are moments in your life when you have to pay attention to what life is throwing at you and act accordingly.
Sometimes, all can be going smoothly; other times, everything can be going to sh*t. What do you do when its the latter?
As I must often learn, the more you resist the change you are needing to make, the more momentum you give the forces working against you.
This is when you have to (more…)
Tweet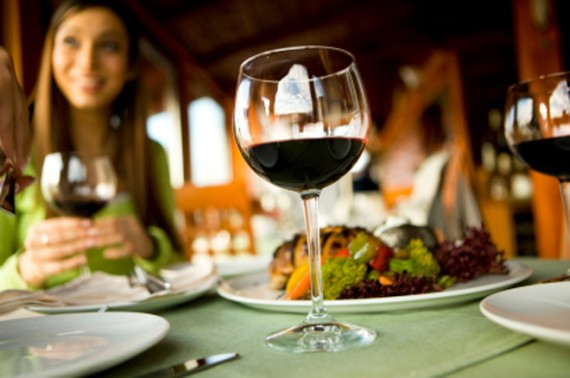 In case you didn't know, I like to eat. In fancy terms, dine…and I like to do it with women who are big advocates of listening to their own voices, especially those little inklings and yearnings that tend to lead us down paths all their own.
When inspiration comes knocking, I gather such women at a table and we throw down…not the table (although I could), but the food, along with our thoughts and sentiments on…life, love, business, family, dream-chasing and glass-ceiling smashing.
This experience is The Convivial Supper Club, hosted by yours truly.
Let me assure you, it's not your average meeting over dinner and drinks. Oh no…it's much more than that. The food and drinks are really a side note, but we surely don't scrimp on that area!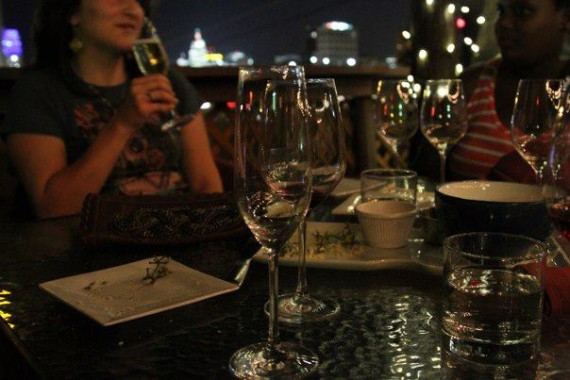 The Convivial Supper Club is a highly anticipated, private dining group that sits at the intersection of creative living, personal development and social impact for women.
CONVIVIAL [kuhn-viv-ee-uhl]: 1. fond of feasting, drinking, and good company; festive; folksy, forthcoming, genial, kindly, lively, communicative, expansive, high-spirited. 2. The feeling you get when you make the every day choice, whether subtle or profound, to live your life on purpose and with passion.* 3. The essence of who you are.*
The Convivial Supper Club is distinct and stands apart from every other women's group because (more…)
Tweet
You know that inner critic inside all of our heads, the one who loves to construct the walls, the glass ceilings, the roadblocks and imaginary obstacles deep within when we set out to fulfill our dreams?
That imaginary bully/mean girl rolling her eyes, crossing her arms, and plotting ways to sabotage your confidence and efforts to be happy, to find confidence within yourself and your abilities, to finish what you start…the negative voices in your mind who love to talk talk talk about everything you can't do? Yeah, I think you know that character.
Well…just a day after successfully launching my brand new book 'CONVIVIAL' and exciting sales starting to come in like WOW,
Here's what my inner critic, looking ever so small and sitting on the sidelines, is saying today:
"She did it. The bitch did it. She wrote that damn thing and it now exists for the world to read and enjoy. Shit. I need a new game plan."
So! What dreams have you put on the back burner? What changes are you ready to see take shape in your world? It all starts from within and my book can serve as a guiding light to help you make headway.
Get your peek inside and read a few pages right now!
Tweet
The introvert in me was at work on the first day of the conference. No, I wasn't being shy. I was hesitant to go at all!
Considering the pretty penny I spent to get a ticket, that was crazy to even think, but true. I felt a little overwhelmed by the amount of people that were potentially going to be in town for the week- newspapers reported 250,000- and I was wondering how I was going to get there and back home, because I imagined gridlock on the roads and no parking spaces and I was not about to get stressed looking for a spot to park my Chevette. (Just kidding)
Then I looked at the schedule and saw the number of sessions that were available to me. Ahh! I wanted to be many places at once, because there were over 20-30 great topics all happening at the same time and in different hotels!
And here's another big factor…
I was set to go solo.
Now THAT takes some courage. I always have the faith that I am going to meet kindred spirits and like-minded people, but this was my first time to the conference and I am pretty new to Austin, so it's not like I had an entourage of friends with me.
So I went and I'm happy to report that I made a wise decision.
REMINDER

: Don't give in to fear that comes from inside your head.- that one's fake. The fear that's felt in your body…listen to that one. That one's instinct.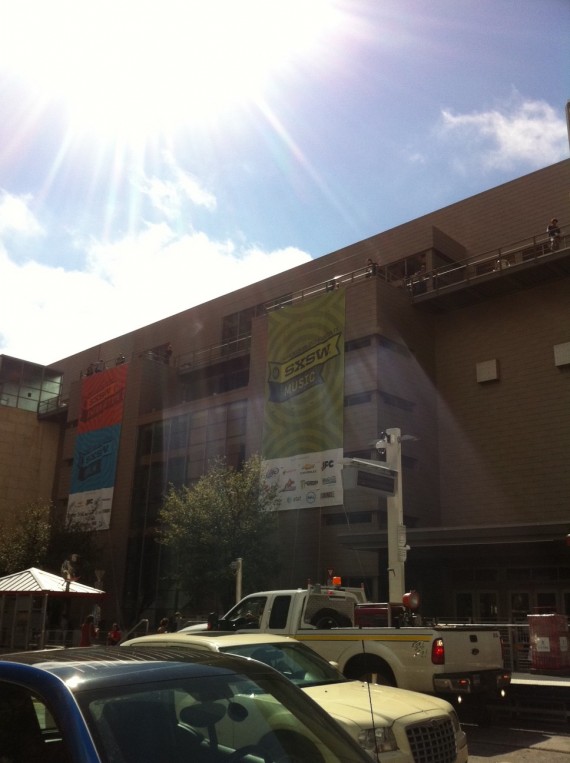 I was taking in the sights: gals wearing skirts with vintage cowboy boots, funny t-shirts (saw a guy with a shirt that said "You're not punk, you're just dirty."), eclectic eyewear, food trucks and tattoos galore.
I made my way to all the events I wanted to attend starting with a panel of five women discussing Everyone's a Bloody Entrepreneur! Or Are they? .
It was a fantastic example of women entrepreneurs in diverse positions and industries, sharing knowledge across the board about what is needed to truly be able to call yourself the E word.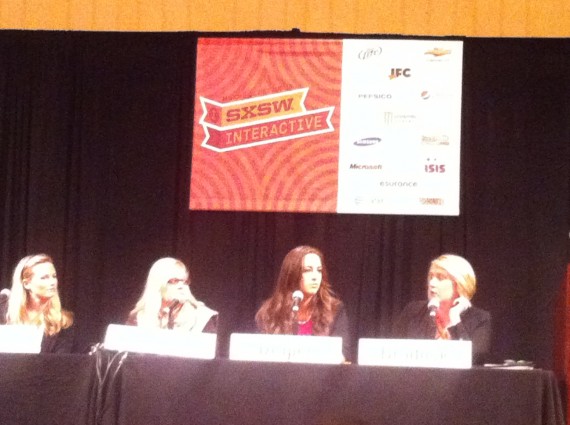 Next, I headed over to the session For Better or For Worse: Married to an Entrepreneur. The description?
How does someone who is obsessed live peacefully with someone who isn't? That question—posed by an entrepreneur—elegantly summarizes the quandary faced by company founders and their spouses.
Gary and Meg Hirshberg, owners of Stonyfield Yogurt, the world's largest organic yogurt makers came together, to stand as the couple that is still standing after creating a behemoth company to talk about the struggles that couples go through when one or both spouses are an entrepreneur.
This is a topic that certainly hit home for me and many others in the crowd, because creating your own business and trying to get your loved one to get on board and feel as passionate about the idea as you are, to be involved and have a presence in the journey that you face as an entrepreneur is never easy.
Meg Hirshberg wrote the book For Better or For Work, which covers the struggles her couple faced while building Stonyfield Yogurt along with numerous other equally obsessed entrepreneurs and how they made it, in every sense of the word. This is yet another book on my buying list.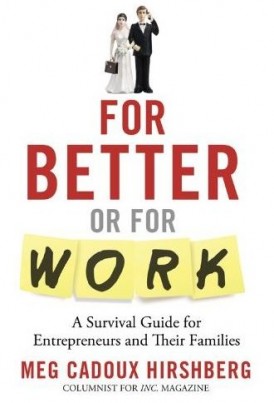 I also got to meet and interact with co-founders, William E. Pearson and Mangesh Hattikudur of Mental Floss Magazine as they discussed how they took their publishing idea From The Dorm Room to the Boardroom. They're very funny guys, which means they represent their magazine's brand well.
Here's magazine editor-in-chief, Mangesh Hattikudur in speaker mode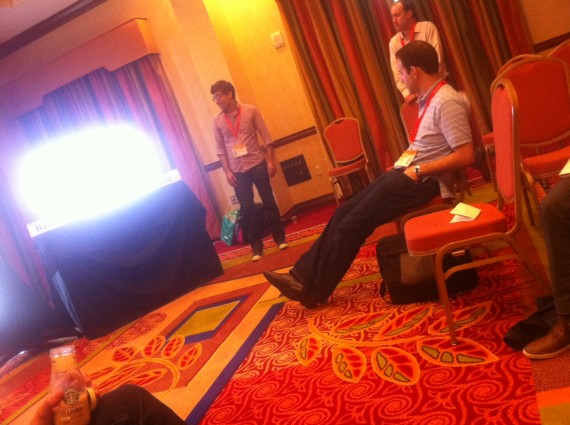 This was my last talk of the day, but not my last connection made.
I'll leave you with a few photos I snapped while out and about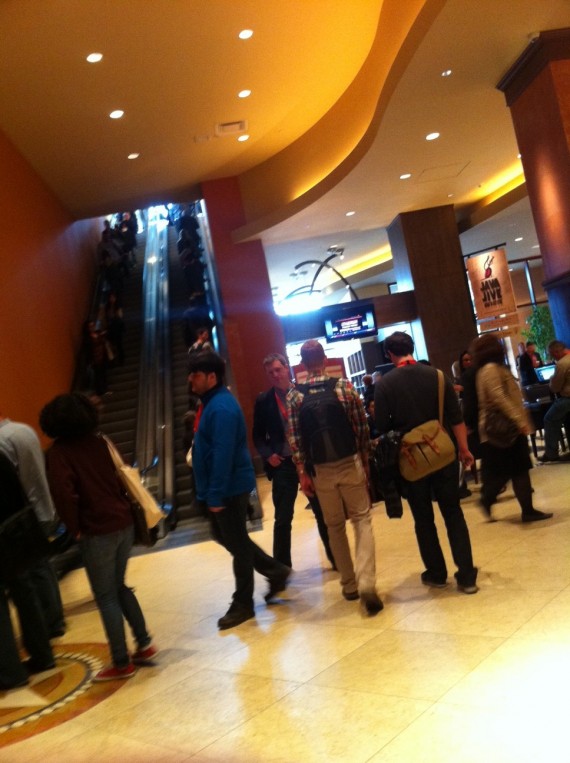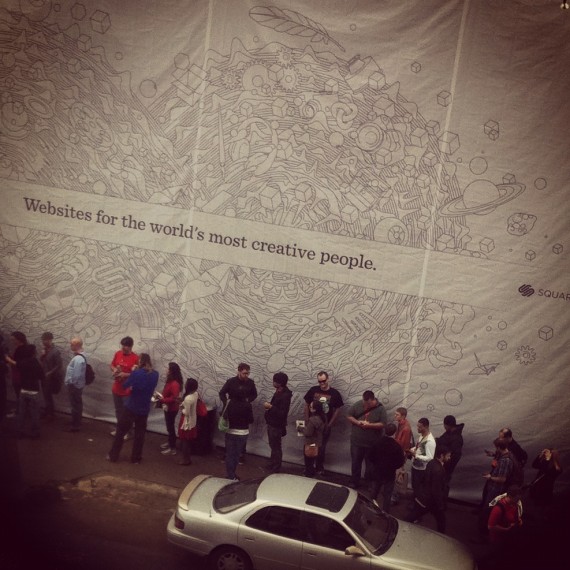 Tweet
R.E.M. sings about shiny, happy people holding hands and it's a song that can stir me to sway back and forth with arms flowing upward, but having everyone put on a happy face and use flowery words when things are tough or uncertain isn't what gets my ass moving to create change in my world.
I've got to dislike something, feel uncomfortable, lost, violated, offended, cheated, unappreciated, held back, all that good stuff in order for me to react. The straight-shooters, the ones who don't deal well in sugar-coating a situation, who don't mince words and "ponder on things", the ones who go after a solution, a goal, a seemingly unrealistic dream with fierce determination are the people who speak to me, and the ones who truly get me.
This is the same breed of "response-able" people that beat writer, Jack Kerouac describes below…
"The only people for me are the mad ones, the ones who are mad to live, mad to talk, mad to be saved, desirous of everything at the same time, the ones who never yawn or say a commonplace thing, but burn, burn, burn, like fabulous yellow roman candles exploding like spiders across the stars and in the middle you see the blue centerlight pop and everybody goes 'Awww!'" -Jack Kerouac
I'm reminded of one mad friend who gets mistaken for being angry when people first meet him. Funny thing is, if asked how he's doing by the same people, he'll say in his deep, slightly intimidating Vin Diesel-like voice, "I'm happy as shit."
Does it make sense to compare happiness to shit? I'd say, if you choose to be content amidst apparent chaos, that's a show of strength and wisdom, but don't confuse it for a person who wears a permanent smile to cover up reality. Face the facts, then take your faith, courage, and will to act and get through the situation or change it altogether.
Sometimes, my husband uses the word "madness" when describing my anger and secretly, I like it because…
Life is madness…especially as a woman and I make every attempt to rebel every day.
I encourage you to do the same! Question your place. Don't play the game. Want more…less…better, but never whatever. Speak up. Learn when to offer someone love vs. truth (psst…your honest opinion is only appreciated when it is solicited).
Put attention to your desires and all the fear that accompanies them, then…stir the pot, rock some boats, and do something about it. The Convivial Woman is all about seeing some jaws drop, aren't you?
Speaking of the desire/fear combo, did you know I'm writing a book? The Convivial Woman, a compilation of stories and cheeky wisdom from one sensual, sublimely complex woman to another. Yes, it's in the making, so stay tuned! And remember…
You are a masterpiece. Live…mad.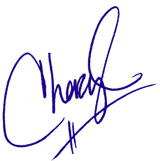 For news on The Convivial Woman book project, event news for The Convivial Supper Club (soon to be launching in my new homebase of Austin, Texas baby!), and special offerings, get your name on my one and only convivial list! And you can't forget to join the convivial party and conversation on Facebook or follow your interests on Twitter too!
Tweet
I hope all is going great in your world and that you are facing each new day with the courage to do that ONE THING that your heart is calling you to do.
Today, my heart has me savoring all the good memories I've had in my Dallas home since this is the last weekend I will officially reside here.
I'm still in the midst of moving to Austin. Thankfully, I can say it hasn't been stressful! Finding a home in our new city is taking a tad bit longer, but I know it's coming. This delay gives me that much more time to consider all the memories my current home offered me.
Everything is falling into place as we say farewell to this space.
This was the home that birthed the idea of a Convivial Society (in my kitchen as I talked to a dear friend), where The Convivial Woman wrote late into the night (as my hard-working husband and sweet boys slept, the place I had many discussions with hubby about creating our family's future in Austin, where we made our first attempts at cooking Thanksgiving and Christmas dinners…
It's where I shared the news and sonogram picture with my husband of our first and second baby, where we enjoyed many playdates and visits from family and friends, where I designed the convivial website with the help of some very talented people, where I hosted one unforgettable brunch for some special women in my garden. There's so much to remember and appreciate…
It's easy to look ahead and imagine yourself somewhere new, somewhere different, but there is always something to gain from the moment, the current experience, wherever it is spent, with whomever.
With any big change you make, uncertainty is…certain.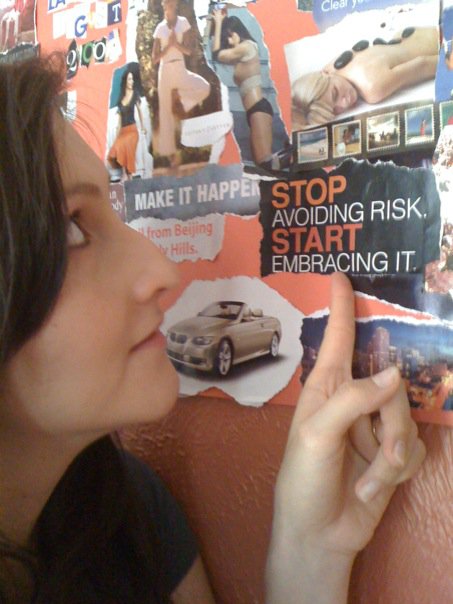 I have tons of questions about this next chapter in my life.
Where will I live?
What new friendships await me?
How will my current friendships hold up with the distance?
How will this town proclaiming to keep things weird nurture my convivial spirit?
How's it going to feel putting "roots down" finally?
(I was so resistant to doing so in Dallas)
How will it feel being three hours away from my parents
(we've always been close)?
Who will help me with my kids when on convivial business and hubby's not available? (Mom was five minutes away!)
How will my husband and I create more romance in this Texas hot spot?
Sometimes it's hard for me to settle into the now, but I'm working that muscle right NOW by writing. It's my version of spirituality…the creative kind. This whole business of "being present" of focusing on the "now"-I say, that's what you call practicing faith. It's having faith when you don't know what is ahead and you don't have all the answers. It's a conscious choice to find peace and comfort with what is, right now.
When it comes to what you truly desire, your efforts follow a close second behind.
When entering a new phase of life, sharing your writing, your product, your service, simply who you are with the world, be prepared to feel uncertainty for the details of your path won't always be clear cut, but you can get clear by cutting all that you know is not serving you or bringing you closer to that ONE THING your heart beats for. Only you know what that is…
The world is full of opinions and judgment and everyone is working to figure out their own way. For that reason, concentrate on yourself and make every effort to live according to that convivial vision only you can have for your life.
Here's to peace, love, and constant change,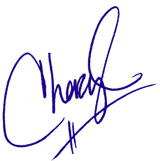 P.S. EXTRA EXTRA: I'm writing a book! I would love for you to join me on this new adventure! Join me on The Convivial Woman fanpage so I can share all the juicy details with you as they happen!
Tweet
As I lay in bed this morning, probably looking like a zombie pooped from the night before, you'd be surprised to know that in that very moment, there are myriad ideas bouncing off the walls of my mind.
I'd just had a dream that I was walking the grounds of a colorful mission estate in San Antonio.
The picture above is actually Bellas Artes with the Iglesia de las Monjas in the background in San Miguel de Allende, Guanajuato but hey! I'm trying to "put you there." It seems this picture is what my subconscience drew on for imagery while I slept.
At first glance, the whole place was empty and it was just me and a few other people, including my husband who went venturing off on his own with my camera- the Nikon D5000 one! I was a bit annoyed by that, because I was left to work with a Kodak camera that I once used in 2000 on a trip to San Francisco for my 21st birthday. I wasn't used to handling this little camera anymore.
When I think about what it feels like to hold my Nikon, it takes both hands to get the right shot and it can feel like I've got the whole world in the palm of my hands…or at least an image of it.
So I walked around the grounds of this rustic mission that was built who knows when and I was so impressed with the architecture and the huge bells used to call the faithful, and especially thrilled by the clear blue sky and occasional streaks of clouds that served as the backdrop.
Eventually, there were tons of people strolling alongside me, weaving in and around corners, going up and down iron wrought stairs. The food stands and little trinket shops had opened up for the day.
Soon, I awoke from the dream and began to think about all that is to be for The Convivial Woman in 2012.
With this move to Austin, I see myself discovering a whole new terrain of the state of Texas. Who are the people awaiting me on this new journey?What will I find in this new world I call home? What will I learn about myself and my own pursuit of life, love and happiness?
I'm going to discover all the little things that some might find weird, or not so weird, about Austin. I'm going to go in search of the puffed tacos in San Antonio that my Food Network Star crush challenged on his show, Throw Down with Bobby Flay.
Anyway, that's what the next year has in store for me and you- discovering Austin, San Antonio, Fredricksburg (the cute little German-influenced town my grandma Lupe always talked about), and the hill country.
And something tells me there's going to be a more fierce rebirth of my love and appreciation for the Tex-Mex culture ("my people") in this part of Texas. I see more cumbias, more accordions, more queso (but not too much! This waist of mine is working that muffin top! I gots to control it.) and oh so much more. I can't wait.
It's a new dawn…it's a new day…and I'm feeling (more than) okay.
Tweet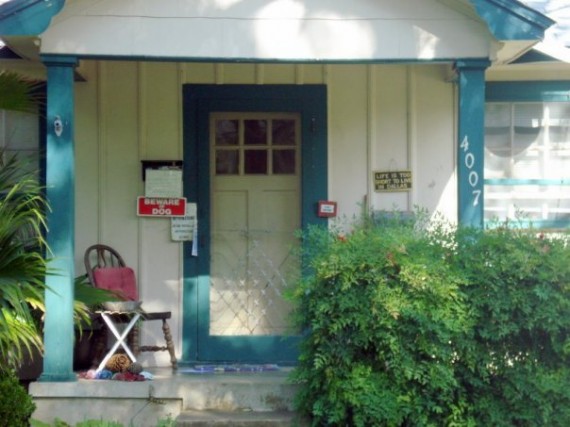 In 2009, I took this picture while showing my husband around Austin, Texas. We were passing through a random neighborhood near downtown and a small sign hanging to the side of this home's front door caused me to hit the brakes and reverse with tires screeching, saying, "Oh my God, I don't believe this!" When my husband got a closer look, he was just as baffled. More on the sign's message soon…
Two years later, I'm here to tell you my family is moving from Dallas to Austin, TX. This potential move has been at the forefront of our dinner table conversation since I first proposed the idea in 2009, so it's cause for me to jump for joy!
There were many times I thought it might not ever happen
-initially, my husband wasn't eager about starting over in a new city. Most men aren't. However, he eventually grabbed onto the anchor I kept throwing out to him from my imaginary turquoise-colored sailboat. You know, the one I've yet to buy to set asail on the waters of Lake Travis…it's on my To-Have list once I settle in Austin. Hey, who said dreams can't have a domino effect?
Before The Convivial Woman came to be, this space was known as Convivial Society and the mantra I was inspired to live by was
"Know Your Power. Live Your Life."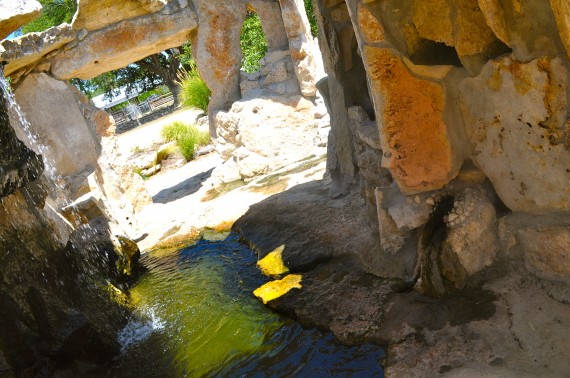 For many years, I had this lingering feeling of resistance when it came to settling down in Dallas. Big D was where I was brought by my parents at age 16 to live after my brother started getting involved in Chicago street gangs.
I finished high school here, got my start in Banking while I put myself through college, thus graduating from The University of Texas at Dallas, and I found love and got married here.
I was busy and had my head in a lot of things, but once all those projects were complete, my heart was free to roam.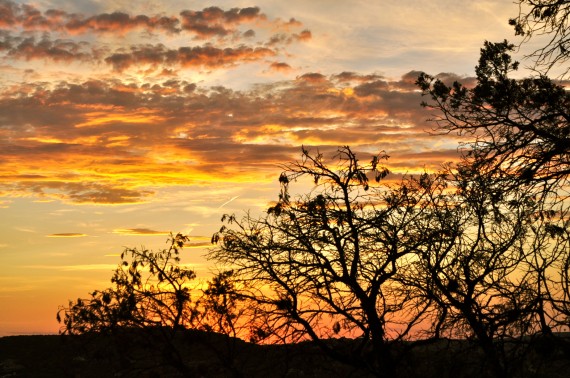 I acquired many friendships and enjoyed living five minutes away from mom and dad, but still…every time I'd travel, there went that lingering feeling again.
Initially, I wanted to move to San Francisco or back to Chicago, but I allowed outside factors and other people's feelings to get in the way of my personal endeavors. So, I stayed put. I tried the whole "Change your thoughts, Change your life" mentality and told myself, "If Mark Cuban can make it here, I can too!" But I was lying to myself which only fueled the fire within.
I'd already had my first son, a cute little house and two dogs to call home, but it wasn't all I envisioned. Was I an unsatisfied, ungrateful woman for wanting more, or perhaps just something slightly different? I didn't think so.
I was willing to make adjustments and be flexible in my dreaming, but not fully surrender it.
Knowing that I didn't want to venture too far from mom and dad (for grandkids sake- I know what it's like to grow up without extended family and holiday get togethers) I decided if there was anywhere in Texas I wanted to be, it was Austin.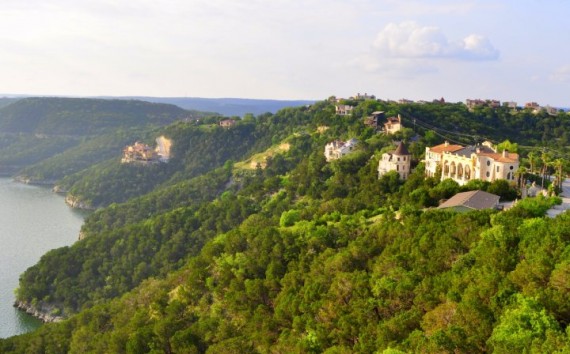 I tapped into my 6-year-old little girl's mind and remembered the hills and winding roads, the sweetest summer time nectarines picked up at H.E.B., the grandeur of the state capitol building, and the feeling of care-free joy when I visited my family in this Texas town. It truly felt like a homecoming for me. Every time. Can't forget to mention my first tour of 6th street riding on my uncle's Harley at 16 years old!
Austin reminded me of my family, my roots, something so familiar to me, so I set my sights on her and gathered the courage to tell my hubby.
It was a bumpy ride at first, but I told myself that compromising this feeling would be fatal to my fierce spirit.
There were times when it seemed not worth fighting for, but as I stared out toward my backyard one morning, I remember thinking to myself (just as a tear rolled down my cheek) that I'd be a hypocrite to talk the talk of "Know Your Power, Live Your Life" if I didn't walk the walk and fight the fight…IF it had to be one at all. It was a true test of will and desire and thankfully, my husband and I made it happen… together. That is KEY.
In the early stages of this dream, when it seemed hard to get on the same page, I once imagined myself driving down I-35 toward Austin, yelling out the window like Winona Ryder in Mermaids, "I wanna lead a violent and exciting liiiiiiife!"- with belongings in tow and hubby tied up in the trunk, of course. There's a Thelma and Louise aspect to me, but I wasn't determined to make it happen that way!
Compromises can be made, but when it comes to what makes you happy, if the other doesn't give you a chance to explore that feeling, then there are other issues to consider between the two of you.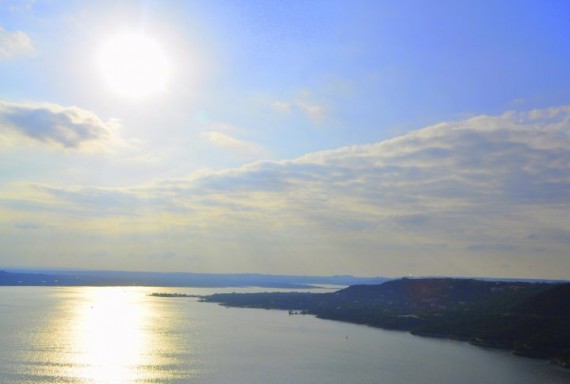 And the compromises have to feel good for both or they'll resurface in other ways later. So, be true to you and everyone reaps the benefits, even if there's resistance at first.
So, we're off to the state capitol of Texas and in search of our next home! It's bitter sweet to be packing up and a surreal sensation to be the one putting up the "For Rent" sign in front of my house. Kinda felt like I was in an old school 21st Century real estate commercial!
Now, about that sign on a random house in Austin two years ago…
When it comes to listening to my heart and being the one to choose a place where I could feel truly at home, here's why I believe someone, somewhere, somehow was conspiring in my favor two years ago…it said: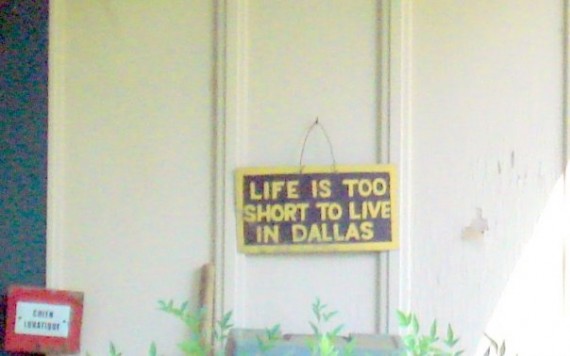 Know your power…Live your life. Indeed.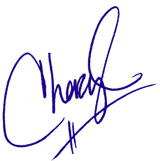 P.S. What deep desires have you been shoving to the back burner? How badly do you want to taste them? What's it going to take for you to act on them? I'd love to hear from you!
Tweet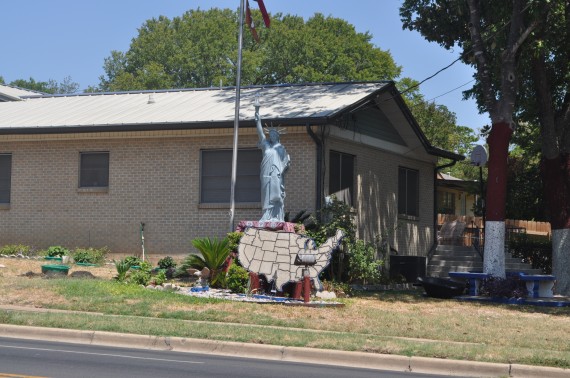 9-11. Osama Bin Laden. Terrorism. "Let's Roll". Firefighters.
NYC.

The Pentagon. Shanksville. Jihad. Muslim Extremists. Operation Enduring Freedom. Afghanistan. Taliban. Smoke 'em Out.

These are the words that mark a day in the lives of my generation of Americans.

I was 22 years-old, finishing up college and in the midst of starting to plan my wedding to a man who I was hopelessly in love with. It was to be our beginning, however on September 11, 2001, everything changed.

On that day, three planes were hijacked and our country was under attack. The Twin Towers were struck and soon crumbled to pieces, our Pentagon was partially destroyed, and Pennysylvania had a new hole in the ground of their state's landscape.

Indeed, it was a traumatic event in mine and my countrymen's lives.

I felt it. I felt it so deeply that I temporarily stopped planning for my future and simply sat in silence, watching what would unfold as Operation Enduring Freedom. I was scared and uncertain of what lie ahead…
Ten years later, I send up a big peace sign and all the love in my heart to every American and every immigrant who appreciates and has made America their home country.
Everyone contributes something beautiful to this land if they choose to. So if you're here for now or for good, make the choice to contribute the best in you. If not, well, you know where you can go.
I wish for God (or whatever you call your "being" and sense of consciousness) to bless us all, for their to be unity and harmony, for people's beliefs and way of living to be fully respected.
9-11 gifted me with one solid understanding of one thing:
Although, I have a deep appreciation for all countries and cultures, if ever a question is posed as to who I'd go to war for, if ever attacked and need to defend a land, if ever called to serve, to stand for a nation of people, it'd be Americans, because I am American and I represent the United States of America.
Stay true,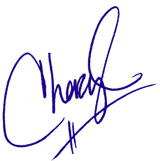 Tweet
As a little girl, I didn't get the experience of being "Daddy's little girl."

I can't remember a tender moment between just the two of us, father and daughter until I was about 18 years old. I don't recall him ever looking sweetly at me and making me feel special. He only knew to wake up every morning and head off to work to provide for me every day.
He made his mistakes with me, but thankfully, as I became a teenager, I came to understand that it wasn't that he didn't care or love me; he simply didn't know how to express his fatherly love toward me.
Luckily, he loved the hell out of my mother and without realizing, he taught me how a man should love a woman.

(more…)
Tweet
Wow. She's gone. Like, today.
I was visiting some friends this morning and popped open the laptop to check on an event we were discussing and BAM, right there on the Yahoo homepage,
Elizabeth Taylor: 1932-2011.
GASP! My jaw dropped and I announced the shocking news to my friends.
Then…a cold chill ran through my body and I had to suddenly hold back a rush of tears to my eyes.
Of course, at her age, it was bound to happen, but it's still heartbreaking.
Elizabeth Taylor. An American Icon. What a loss.
Farewell violet eyes,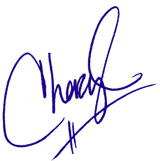 Tweet
Decision Two: Make time to dream, to work, to write (or whatever your genius is)
There were plenty of strategic decisions which led me to decide on and make the transition from Convivial Society to The Convivial Woman. In today's blog post, I discuss part dieux in this three-part series…
I'll say it time and time again…it all starts with a feeling. When it's something that you need to do, must pay attention to, if you're not consciously doing it on your own, life will take the initiative for you and send signs, people, and even unexpected circumstances to get your attention to call you to action.
If you aren't privy to the fact that I've been raising little warriors since November 2007, well, there you have it- I'm a mom. For the first year of my son's lives, I socialized them in playgroups, did storytime and enrolled them in sing along classes, and we all made new connections and went home tired and happy. However, each night, when the moon hung high in the sky and all members of my family were sound asleep, Cheryl- the girl, the writer, the woman, the individual- would come out to play. She was always the hardest one to put to bed. I was playing creator and toiling with this idea of a Convivial Society, writing incognito for just family and close friends and when I couldn't keep my eyes open any longer, I'd surrender to sleep.
"The real secret of creativity is to go back and remember…" -Twyla Tharp
Motivation is a very personal thing and no one had me doing what I was doing at 1 in the morning- benchmarking, reading for inspiration, writing, finding my voice, preparing to build an online presence,and simply exploring new online worlds to assist me in creating my own. I had this need to (more…)
Tweet