The Convivial Woman Meets A Little Goat
Recently, I was in Chicago to support my friend, Carrie during a special time in her life and our first day together proved to be memorable.
We've known each other since 5th grade, when Carrie transferred into school as the new girl sporting a Judy Blume adult novel under her arm. When she used the word generic to describe something she didn't like, it was then that I knew we were meant to be friends.
She's an intellectual woman with inner-city Chicago roots and has an adventurous palate like I do, so on a first culinary jaunt around our city, she suggested we head west of downtown Chicago to have lunch at Little Goat Diner…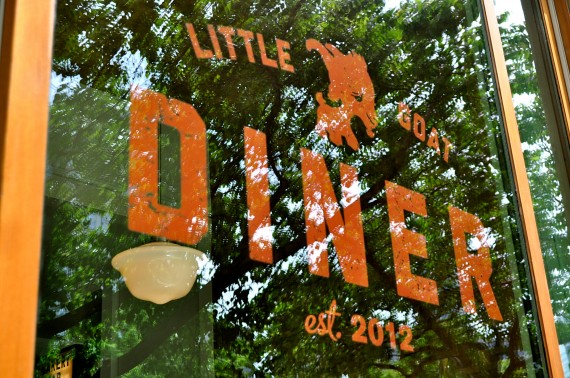 Little Goat Diner is owned by Stephanie Izard, an American chef and the first woman to win Top Chef, Bravo's cooking competition show. She is also the co-owner and Executive Chef of Girl & the Goat, also located in Chicago.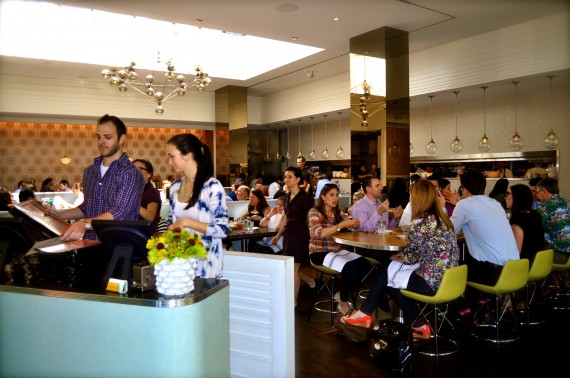 Carrie was thrilled we'd arrived and once our eyes met the diner menu, it was food porn at first sight.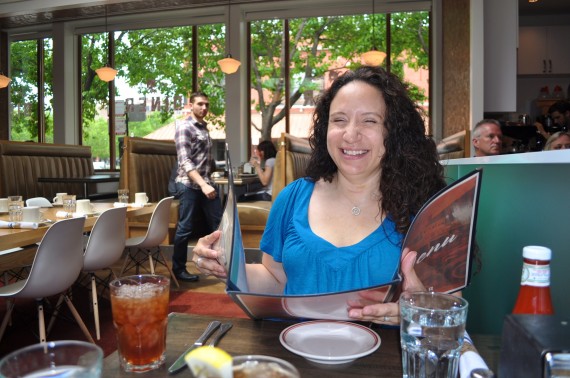 Strange behavior soon took the place of our civilized public demeanor…Carrie began to breathe heavily and smack her lips together as she perused the Sammiches section of the menu and I experienced a salivating mouth and extreme palpitating heartbeat while scanning the salad choices. Upon regaining our composure, we decided on the…
Fat Elvis Waffles
banana, peanut butter butter, bacon maple syrup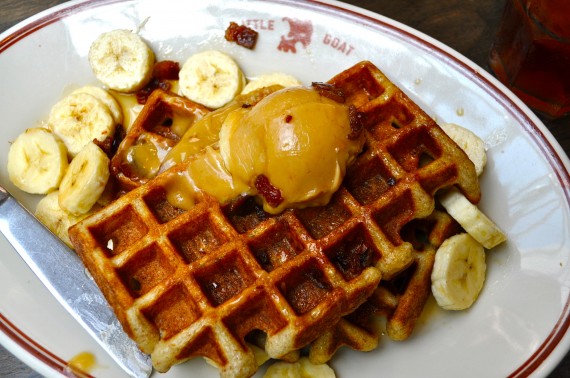 and The Fat Club Sammich
smoked turkey, ham, bacon, buttercase cheese, avocado, cabbage & tomato, mayo, special sauce, and fat toast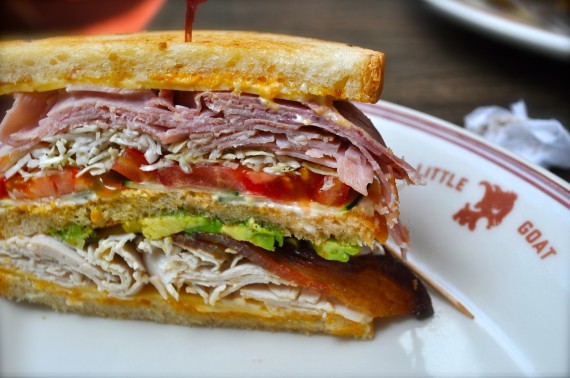 I took one look at this thing and thought, How the hell am I going to do this?

Trying to eat, I probably looked as ridiculous as I did the time I tried biting down on a humongous pickle with braces. Let me tell you, braces and movie theater pickles do not go together.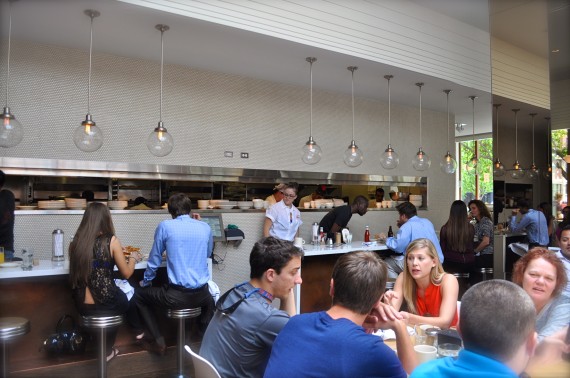 The view from our table…

I finished and enjoyed my initiation into the fat club of sandwich eaters then dabbled my fork in the waffle dish (Carrie will tell another finger-lickin-good story about the waffles, I'm sure).
My curiosity has been piqued with this Goat experience, so on my next trip back to Chi-town, I'll be sure and reserve a table at owner Stephanie's other restaurant The Girl and The Goat (the fine dining extension of this cute little dynasty).
Until that time comes, be sure and support your fellow woman, open yourself up to new experiences, taste the world, and remember…pickles and braces don't mix.
Tweet
Leave Your Own Comment.