My Feisty Mama Visits, Wedding Oops + A Long Awaited Date Night
I've been thrilled to start May off by spending time with my feisty mama.
I've been calling her that lately when I mention her here, because that is one of the qualities that I love best about her. It also happens to be one of the top qualities I inherited from her.
One thing I'm grateful for is how madly in love my mother is with my boys and vice versa. (That's them below)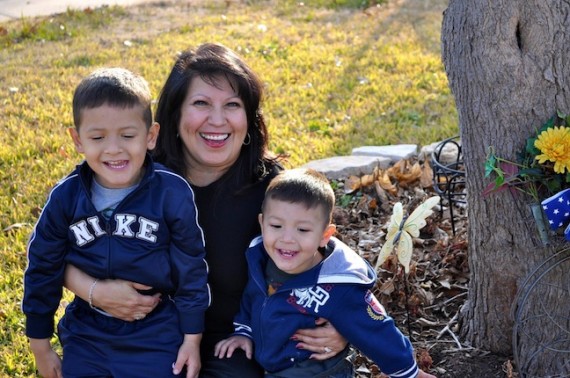 I would die and go to heaven if my mom could take my place and be their primary caretaker, but thankfully I'm very much alive and of this world still and have the privilege to be with them every day. But it ain't all peaches and soft baby bottoms!
Full-time mommyhood can drive a convivial woman mad. You've gotta have stamina, good health, strong neurons, the desire to be there, and most importantly, the will to get away!
Anyway, feisty mama and I had a funny moment in the bathroom today.
I was trying to help her blow dry and style her hair, because it was NOT working out for her.
Confession: Hair styling is not my forte, so I'm no one to talk!
I'm a very simple kinda gal. I get overwhelmed by too many options.
Peek behind my shower curtain and you'll find one bottle of shampoo, one bottle of conditioner, one bar of soap and myriad bath toys for my kids.
Simple may be my thang, but thankfully, I've been taught a few beauty tricks by some gifted friends and it's made a dramatic difference in my appearance.
Back to my mom's beauty emergency. I couldn't take watching her struggle any more, so I pretend to snatch the brush from her and begin to imitate the voice of one of her favorite Def Comedy Jam comedians, Jay Anthony Brown, saying, "GotDamnnn woman lemme help you!" We both bust out laughing. I tend to get pretty silly around my mom.
I made her look all shnazzy and we got out to Guero's Tacos on Congress avenue today.
We shared a plate of chicken mole enchiladas and the sauce proved to be a bit thick and bitter for us. I don't know about you, but I'm all about the sweeter version of mole.
Every time I think of mole, I think of my husband on our wedding day in 2002.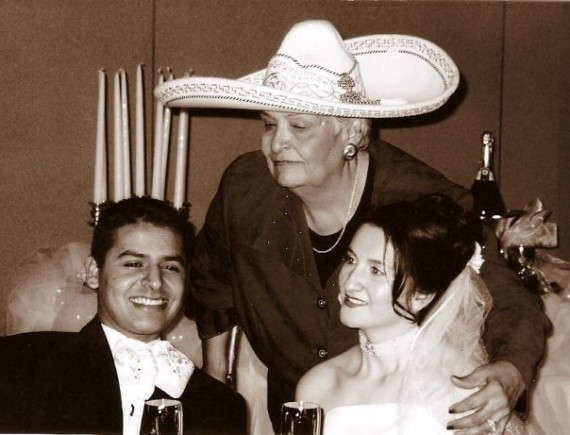 Some history for ya…
My hubby, Martin is from San Miguel de Allende, Mexico and one thing he always envisioned eating on his wedding day was Chicken mole. I didn't have a vision or preference, so I went with it.
The only problem was, I think he envisioned his mother's chicken mole and his mother wasn't able to cook the meal. I had hired a caterer who was not Mexican, had obviously never eaten or seen mole, because to my husband's disappointment (to put it lightly), she didn't know that the chicken needed to be drenched in the sauce and then served on the plate.
Since the bride and groom normally go first and open up the buffet line for the rest of their guests, we got the chicken barely coated with the sauce and my husband was not happy.
He sat down with his plate, took one look at it and said, "This isn't mole." He then proceeded to go ballistic over the consistency of his chicken mole and pulled a Hulk move by overturning the table we were seated at.
(I'm TOTALLY kidding folks. Just wanted to see if you were still with me!)
I didn't want to have any disagreements on the big day, so I just had my mother correct the issue and speak directly to the caterer about how things needed to be.
I have good news to share about this coming December. My husband and I will be celebrating our ten year wedding anniversary in his hometown of San Miguel de Allende and we plan to renew vows.
I'm happy to say his mother will be cooking her famous chicken mole with sesame seeds sprinkled atop and my husband's vision for his wedding day meal will get its second chance to shine.
I plan to do a vintage Mexican style celebration with my husband and sons in this colorful, colonial Mexican gem of a town. It's going to be great!
Well, time to sign off. Hubby asked my feisty mama to watch the boys and is taking me out on our FIRST solo date in Austin. The last time I remember doing this, we went to The Home Depot!
Not this time. He wants to go salsa dancing, but I just want to chill, have a drink on a patio and people watch. Hopefully we can make some life-changing decisions over a few drinks tonight.
Until the next time,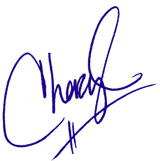 Tweet
Leave Your Own Comment.