The Creative's Need for Order
As a mother of two boys, the wife of a messy husband (shh…don't tell him I told you), and being a writer and entrepreneur in my soul who walks around with myriad thoughts and ideas jumping off the walls of my membrane, I work hard to keep order in my world. I can't say I'm always successful.
As creatives, the meaning of "order" is different for each of us. Do you know what it means for you?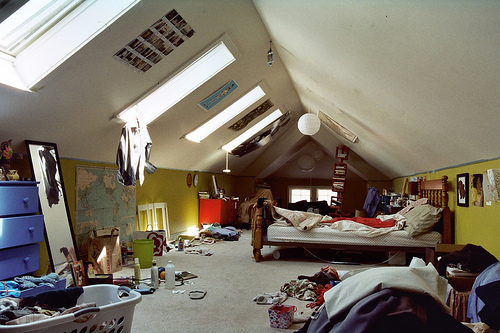 Way back when, I may have wondered about, or dare I say, judged someone for keeping a crazy space, but I've learned there's more lurking beneath the surface than just laziness. It plays a part, but many times its more than that.
I'm reminded of when my brother was temporily living at my parent's home as an adult. Back then, he was quite distant from family and didn't want to mingle or talk much. I didn't understand it at the time, but now I do.
He knew he was talented, smart, and had lived vicariously through his many previous rebellions, yet as he embarked on a new phase of life, he felt lost, without identity.
He was getting a second chance to start anew and was in process of recreating himself, though he didn't completely realize how to do it.
His bedroom door was slightly open and I was able to glimpse inside his room as I passed in the hallway. It was extremely messy. Nothing was in order, and I recall thinking, Wow. How does he function like that?
I didn't realize at the time that his room's condition was an exterior sign of his internal condition. After going through my own phase of blurry vision and not seeing the days when my kitchen floors needed a good mopping, I can sympathize with anyone struggling in their space, or their own skin, especially if they're in process of changing the direction of their life.
Creativity requires you to keep things simple.
You've got to keep your plate as clean and clear for the important stuff. In that space of presence and clarity is where the creativity lives and breathes within you.
On days when you can't keep up, that's the time to clean house- physically, digitally and mentally. Sometimes it even means socially and emotionally where your relationships and time commitments are concerned.
Create an inventory of all the things you concern yourself with, worry about, want to do, need to do…then narrow it down to the top 10 most important things you must do.
Forget the shoulds in your life. You could leave the country tomorrow, or this world entirely, and so many of those "shoulds" won't matter. Determine what those are.
When you make a conscious effort to clear the way, each new day, for a blank canvas, you have the ability, mental capacity, and energy to truly create what wants to come out of you.
The world is waiting…lovingly and patiently. It's up to you not to miss the opportunity.
In the comments below, let me know how you keep order (read: internal peace) for sake of maximizing your creative self? I'm always looking for new ways to renew and rejuvenate my space and am sure I am not alone, so be sure to share your thoughts and methods with the rest of us creative folk!
Tweet
Leave Your Own Comment.