I Stumbled Upon This Austin Juice Bar Today
After getting some work done today, I took my boys to the Austin Children's Museum and on our walk there, we stumbled upon Daily Juice, a local Austin juice bar.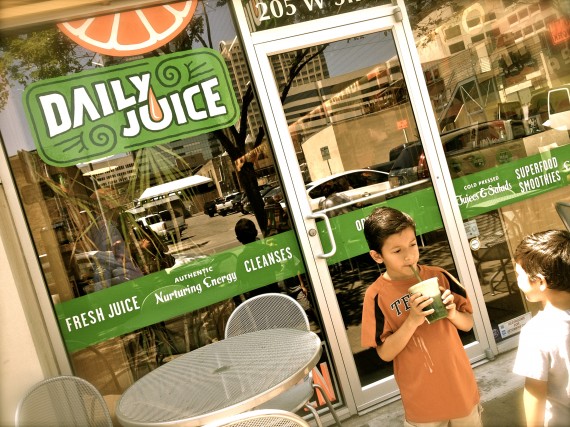 The smell of fresh fruit and vegetables emanating from the revolving doors of Daily Juice were too enticing to pass up, so we stepped inside and ordered the Green Ocean (Cucumber, Apple, Spirulina, Marine Phyplankton).
I prefer to save my cash and juice at home on my Breville – something I've been doing for the last five years – but today we splurged. I have to say, though…the wait was way too long (20 minutes) so I will avoid going there at lunch time again.
As their mama and first teacher, I know it's up to me to train my son's taste buds for healthy eating…
That's why I made certain they fell in love with Natalia Rose's Green Lemonade drink as babies and I've kept up the task of introducing new foods to their palate each day.
For the record, my oldest son loved his green juice, but my little one was like, "Whatever…" I know, I know…you can't convert them all.
How about you…are you a green juice lover? Do you juice at home? Or could you seriously care less? It's all good whichever way you go.
Tweet
Leave Your Own Comment.