Community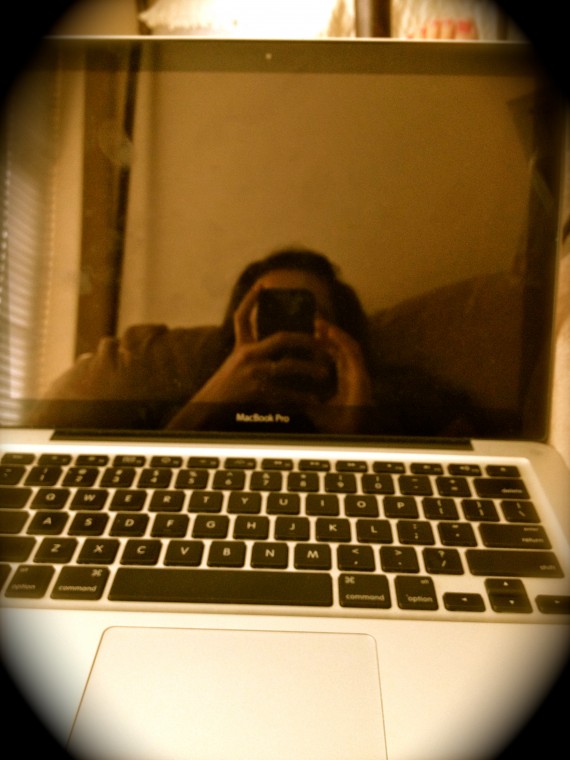 "Life is just better led when it is lived rather than viewed…now I find myself just taking in a moment, and I don't have to post a picture about it." -from Disruptions: More Connected, Yet More Alone
In this online space, I blog about putting yourself first, savoring the moment, and leading a more conscious and creative life. But…I must say, I don't always follow my own advice.
Recently, I've had some great discussions about our current world's incessant dwelling in digital land and how it's hindering true living.
It's easy to get sucked into this newly evolved matrix of sharing, texting, and posting because that's social media and the culture we now live in, but for the love of your one life, don't remain there.
When you put higher priority on sharing what's happening in the moment with others who aren't there (and probably never will be), it can be hard to savor your experience.
Look at me here. I'm out on the town, waiting on dinner, and I'm on my phone… (more…)
Tweet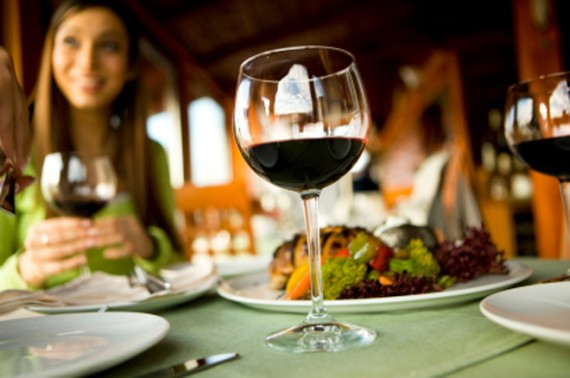 In case you didn't know, I like to eat. In fancy terms, dine…and I like to do it with women who are big advocates of listening to their own voices, especially those little inklings and yearnings that tend to lead us down paths all their own.
When inspiration comes knocking, I gather such women at a table and we throw down…not the table (although I could), but the food, along with our thoughts and sentiments on…life, love, business, family, dream-chasing and glass-ceiling smashing.
This experience is The Convivial Supper Club, hosted by yours truly.
Let me assure you, it's not your average meeting over dinner and drinks. Oh no…it's much more than that. The food and drinks are really a side note, but we surely don't scrimp on that area!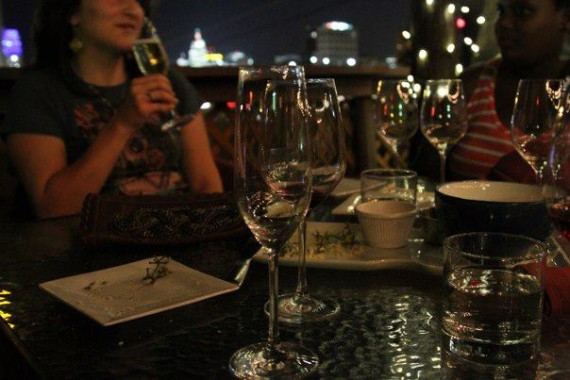 The Convivial Supper Club is a highly anticipated, private dining group that sits at the intersection of creative living, personal development and social impact for women.
CONVIVIAL [kuhn-viv-ee-uhl]: 1. fond of feasting, drinking, and good company; festive; folksy, forthcoming, genial, kindly, lively, communicative, expansive, high-spirited. 2. The feeling you get when you make the every day choice, whether subtle or profound, to live your life on purpose and with passion.* 3. The essence of who you are.*
The Convivial Supper Club is distinct and stands apart from every other women's group because (more…)
Tweet
I went to Portland last weekend to attend an unconventional conference and being that it was my first visit, I wasn't sure what to expect.
I'd heard my business mentor and cousin, Tony rave about it and now that I've been living in Austin for almost two years, I've become well aware of the comparison folks make about Portland and Austin, calling them sister cities.
This was a trip in which I went with the flow of each new day (true chillaxin'). What I've concluded is that I love my Austin, Tejas. Sorry P-landers.
I'm sure if you stay awhile, you'll get the similar vibe amongst the locals of my town and P town, but as far as the way the two places look, I got more of a San Francisco (SFO) feel.

I have to say, no city has topped San Francisco for me…well, unless you journey to this colorful town south of the U.S. border or take an 8 hour flight for some fancy-shmancy bike riding in this Italian village.
I ate really well in Portland. A satisfied palate is crucial for any traveling, convivial woman.
My friend, Monica and I stepped into a few cool shops too. (more…)
Tweet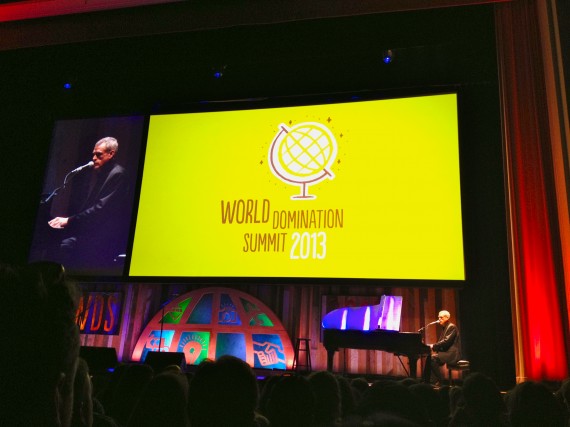 I've made it back to home sweet Austin after a convivial weekend in Portland for Chris Guillebeau's World Domination Summit (

WDS

2013).
It was my first time attending and I'm thankful to have shared the experience with my friend and fellow Austinite, Monica Crowe. On our flight home, we sported our new WDS 2013 shirts…
Once you get familiar with going to conferences (or any social event), you begin to understand that it's not about impressing, it's about (more…)
Tweet
It's that time of the year when we honor the soldiers who have served and continue to serve the United States of America. I don't normally do this on my blog, but…
I can't think of a better way to honor and recognize one soldier in particular for the sacrifices he has made for our country and my family, as well as the selflessness he has taught me as a friend.
I've known him since we were 13. (I'm older.) Here we are with our church crew, circa 1994. He's wearing the cream-colored suit. (more…)
Tweet
After picking my oldest son up at school last week, I surprised him by taking him to Barnes & Noble where he likes to buy new puzzles. We found him a 12-pack of 500, 300, and 100 piece puzzles to work on and he was ecstatic. He practically bear-hugged the box on the ride home.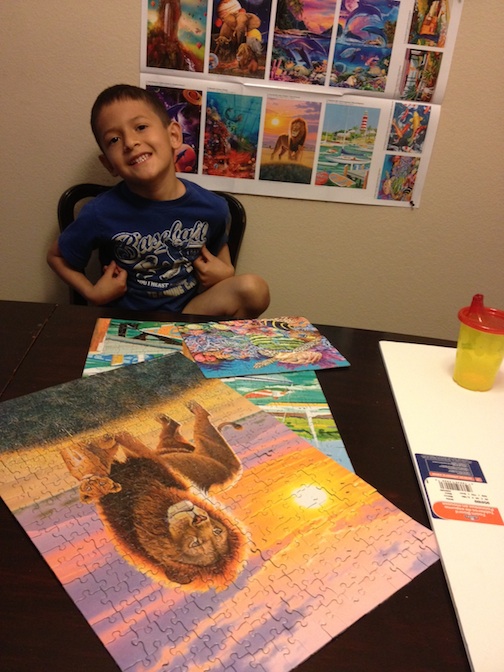 Unable to wait, he began working on a 300 piece puzzle of a lion. He asked me to help him, so we got started and soon found ourselves getting stuck because it was proving hard to bring the pieces together at times. We had to keep referring back to the picture on the box because we'd forget what the image looked like.
We'd try putting one piece with another, nothing…then another piece and searching for yet another piece, and nothing. This went on for awhile and then I got distracted with my other son and had to leave the table. I encouraged my son to keep working which he didn't resist because he loves these sorts of things.
He worked tirelessly, never leaving the table except for an occasional snack or bathroom break or drink, but soon returned to the scattered puzzle pieces. After awhile, I passed by and saw the lion and surrounding sunset and brush coming together little by little.
I cheered my son's diligent efforts and thought in that moment how in many ways, the things you work toward in life – your goals and dreams-  are no different.
When you have a vision for something you want (Sailboat anyone? Tuscan Villa?), you have the gist of what you might have to do to make it happen, and so you begin your quest. 
As you work, you hit bumps and obstacles along the way, but the key is to keep working (and believing), especially during the seemingly most challenging moments. Those moments determine your will for how bad you want what you want. I've often dealt with this as it relates to my writing and business-building efforts for The Convivial Woman. It's no easy game to play but I keep playing it!
What "puzzle" are you working on in your own life?
Keep putting the pieces of your "puzzle" together…if one piece doesn't fit, try another, and another, then search for another. If you need to, take a break – either temporarily, or sometimes from it all. If you're committed and passionate enough, you'll return to the work at hand and your focus will return. Trust in the dips and valleys of your personal journey.
You WILL have plenty of moments of frustration, confusion, uncertainty, but if you take action to pick up where you left off, or in a whole other place, your focus will be renewed. You're meant to get lost in the process because not everything is within your control.
Remain vigilant and committed to seeing your goals – whatever they may be – to completion. The ones you're willing to quit are the ones you don't want as bad, so why feel bad? If you need to, find a new goal to build your confidence.
When your patience gets tested, when you feel like giving up, when you aren't figuring things out, or the details are just not coming together, remember that creativity is an enlightened form of problem solving and your role is to trust and stay committed.
If a 5-year-old can show us the way of a good work ethic, then we can certainly follow his lead.
Cheers to you and your dreams and the work ethic they so desperately need!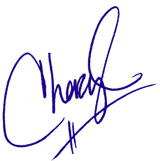 Tweet
Hello convivial world of mine, how does this afternoon find you? I hope it finds you hopeful and thankful.
Now that America has the opportunity of a beautifully white (no pun intended) blank canvas before them, no matter who you voted for yesterday, no matter how you feel about the president, the reality that remains is that your life is your life, so what are you doing with it? How are you going to make a difference, an impact, give hope, create change in it?
Here's how I plan to start. With the release of my new book…
CONVIVIAL

| A Quest for the Masterpiece Within

which will be released on Thursday 8 November across the world-wise web and can be purchased exclusively HERE on my website.

This nearly 200-page book will be thought-provoking, a compelling read for every creative heart and mind, and without a doubt, visually appealing (just as we love all of our digital reading experiences to be). This is the first volume in a series of Convivial Lifestyle Guides that will be published worldwide – hardly a surprise, given the fact that this is the 21st century and the internet now gives us the power to reach and touch the lives of so many people unlike any other time in history.

Expect to be pleasantly surprised by intimate stories on what it means to practice the art of convivial living, down to earth guidance, and get ready for true engagement with exercises geared toward getting you out of your head and into your life.
HELP SPREAD NEWS

OF

THIS EVENT

Be part of this Convivial revolution by sharing this blog post link:

http://www.theconvivialwoman.com/convivial-women/eve-victory/

with friends and family on Twitter and Facebook! This isn't just about my accomplishment of writing a book, but about the achievement of the many dreams I want you and so many others to have as a result of reading my book.

YOU'LL ENJOY THE BOOK

IF

YOU…
Are fond of feasting, drinking, and good company (the very definition of the word Convivial)
Crave to live a life according to your own design
Want to approach your life in a more proactive and creative way
Want to begin recognizing and expressing the work of art within
Wish to begin nurturing your creative spirit and the dreams you have put on the back burner
Are tired of feeling guilty about making time for yourself, for those moments of bliss and joy you truly deserve
Are itching for a chance or find yourself at a crossroads in life
Want to stop sacrificing so much of yourself, your time, and your well-being to please others and discover what it means to live a more fulfilling life. (Notice I said "please," not serve others. We are here to serve for sure.)
SNEAK PEEK

of what's in store for you…

"You took the conventional route and got the results you were after.

But now you're itching for a change … wondering if there's more to life than this.

You feel like you might not be living up to your true potential.

You're creative and maybe even entrepreneurial, but you put your "unrealistic" dreams and talents on the shelf a while back. Get ready to dust them off.

"Convivial" is the road map to your creative life.

In this guide, I share stories of my experiences and how they led to my understanding of convivial living. From these accounts – along with engaging exercises – you'll unearth your own truths. You'll discover a sense of what it is to live convivially."
ARE YOU READY

TO

EMBARK

ON A

QUEST FOR THE MASTERPIECE WITHIN

?

Be here on Thursday 8 November for the unveiling.

Much love,

Cheryl Chavarria

P.S.  'CONVIVIAL | A Quest for the Masterpiece Within' will be released on 8 November in e-book format and traditional print July 2013.

NOTE: I'm in process of scheduling SPEAKING engagements and collaborating on guest posts/interviews,  so if you have an opportunity/collaboration/partnership you'd like to discuss with me, I'd love to hear from you. Please send email to: cheryl@theconvivialwoman.com.
Tweet
I'm remembering my childhood friend, Carrie when she came to visit me in Austin not long ago and it made me so happy to know we'd have five days to play and catch up with one another's lives.
Our kids played together, I took her and our whole entourage (all under age 5) to many scenic spots around town, and we even enjoyed a few joint naps together! If you're a parent who has tried to go sight-seeing with small children, you know what that's like, so exhaustion is almost inevitable.
A few weeks later, as a token of her appreciation for the time we spent, she sent me this engraved necklace which said…
"Live the life you love"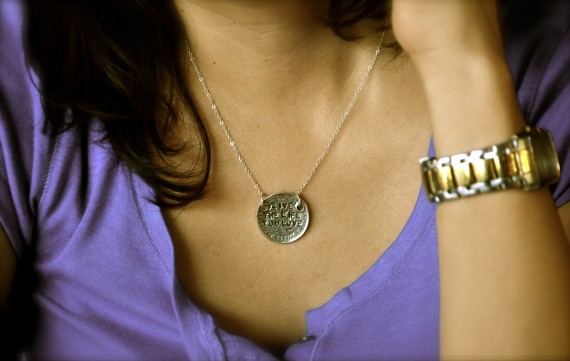 I was thrilled to wear something that held such a powerful message, and so close to my heart. Carrie saw it at a store and said she immediately thought of me.
This is the same friend who sent me the book Write From The Heart by Leslea Newman during a time when I was compelled to cross over from Banking to Unknown Writer.
I had been expressing my desires to her and a few other friends and the day I received the book in the mail, I was in awe. I thought, "Wow…what a way to show you were listening." To have someone really pay attention to what you say aloud, especially your dreams, then respond with a detail that encourages and connects you to that dream is a gift beyond anything that can ever be bought. And it's a moment that can never be forgotten.
To believe in someone and have someone believe in you is the greatest exchange you can make. It can't get any more spiritual than that, can it?
Today, I had another dear friend nurture my spirit by accompanying me on a photo shoot around Austin. I've been in Austin for eight months now and have wanted to take pictures around the city to declare "I am here!" Well, today was the day. Here's a sneak peek into the fun we had.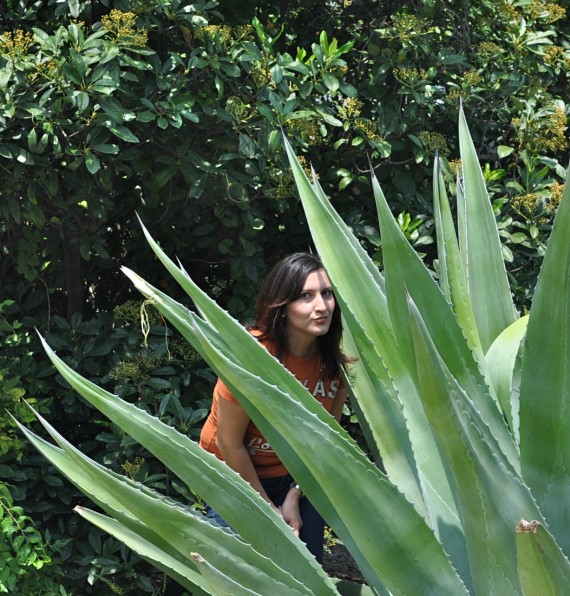 Before the fun even began, I felt the gratitude bubbling up inside of me and I had to let my friend know how much their gesture of time and attention meant to me. We ended the day with a beer and frozen margarita at good ole Hooters. Yeahhh.
In celebration of life, especially since today is my birthday (yeah!), tell me…to whom can you give the gift of "I believe in you"?
Who can you grant your time and attention to so that you may encourage a long buried dream to rise again? Or perhaps, who has nurtured you in this way lately and how so? Get your gratitude on and declare it or make a commitment to offer it to someone in the comments below. And be sure to eat some cake today, just for me.
Tweet
This will be quick, but I simply want to express my gratitude for an unexpected blessing that came my way last week and to tell you that if you show your commitment to your craft, your art, your dreams, yourSELF, and put your requests out there to be heard, to be known, to be considered, guess what? Life will respond accordingly.
As I write you, I'm on a writer's sabbatical all this week as a result of doing just the above. I devised a plan of action to create space and time for myself to continue focusing on a project that's been a long time coming. Before I continue, I want to ask you to be part of this experience and not miss out on anything, so be sure to…
Join the Convivial Collective for news on the official launch date of The Convivial Woman's first digital offering, Volume I in a series of Convivial Lifestyle Guides written by yours truly for you truly.
Back to my story… So, I put my request for space and solitude out there for the right person to hear, and as easily as I spoke it, it was granted.
I'm so grateful for what's been provided to me all this week. I'm holed up in an undisclosed location, all by myself with my Mac, a new journal, surround sound music, a plush bed, several books, and healthy snacks galore. I have no plans to be anywhere. It's just me, the convivial muse and I all week long. Scary and exciting!
Silence can be intimidating, but it's needed for anything creative to come out of you.
Upon arrival, I experienced (more…)
Tweet
Today is my first day in "class" for B-School and I'm taking a quick break to share this blog with you!
I'm possibly working out some discomfort and feelings of uncertainty as I write you-I was feeling it as I worked through the material I'm learning.
The community of women entrepreneurs who are involved, approximately 1500, are all so amazing and inspiring. That is the true benefit of this experience and I am so grateful to be part of it. However…
That alone can bring up tons of emotions and feelings of uncertainty. You may start asking yourself,
Do I belong here?
Is this the right place for me?
Do I have what it takes?
How can I compare to all the amazing things that these other women are doing?
Will this really be worth the money I spent on it?
and…
Will I get through all the assignments and apply all the knowledge in one peace?
When in uncharted environments and around new people who bring on the challenge, I'd like you to remember this quote to justify and validate your state of uncertainty and occasional insecurity (forgive me I can't remember who said it!):
"If you're the smartest person in the room, you need to find another room."
Simply put, smart people surround themselves with even smarter people. And the smarter you want to get, the more uncomfortable positions you're willing to put yourself in.
Personal investment in yourself is a huge deal and embarking on a new path can feel like stepping onto a tight rope with all eyes on you. There will be bumps in the road, especially at the inception, and the path will appear unpaved, seemingly treacherous, but this is to test your will and determination to get to where you are going.
Here's what I want to recommend you do ever so often, starting today, to combat weak thoughts:
Treat yourself to unforgettable, inspiring, personal reminders and words that come straight from you.
A kind of love note to self and place them in unexpected places for you to find later, where you can easily forget, and then find when you least expect to.
When that time comes for it to reappear, you'll find yourself pleasantly surprised and trying to remember
"Hey! When did I write this?"
It'll be a guaranteed moment of personal warmth and wonder.
I bet you'll even have a bounce in your step the rest of the day, because you took the time to treat yourself to words of your own that inspire and uplift. It'll be a great way to be reminded of how special, smart and vulnerable you are.
Here are two unexpected discoveries I recently found…
When I first set up my website, it was called Convivial Society and I was using FotoMoto to print postcards and share my photography. I wanted to test out the quality of the card stock, so I sent myself a postcard and wrote this message on the back. I've kept it since.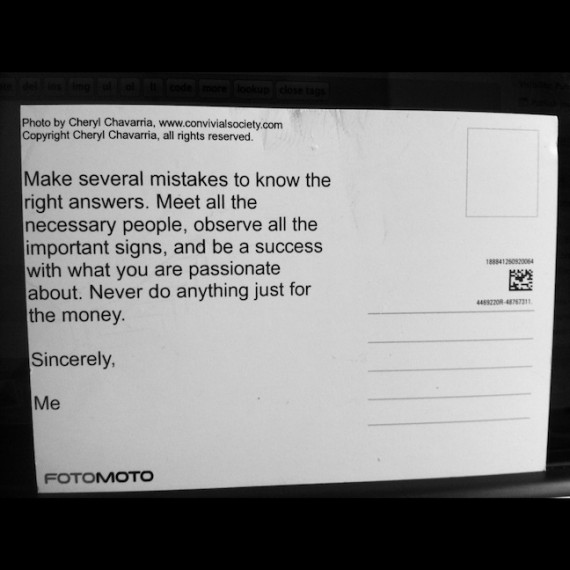 I started reading Aleph by my beloved author, Paulo Coehlo, then put it down to probably read three other books that I didn't finish either (creative, scatterbrain minds!), then I picked up Aleph again and found this message written on back.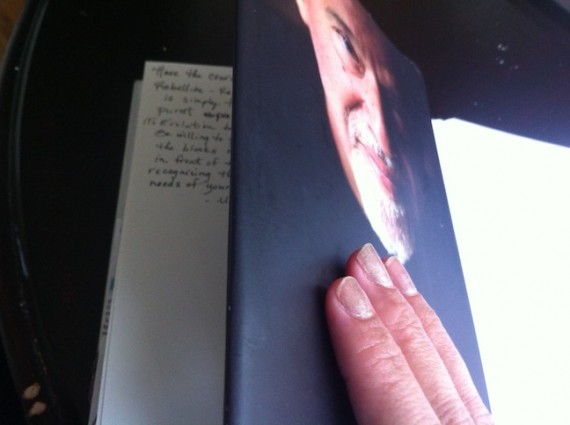 A closer look at what I wrote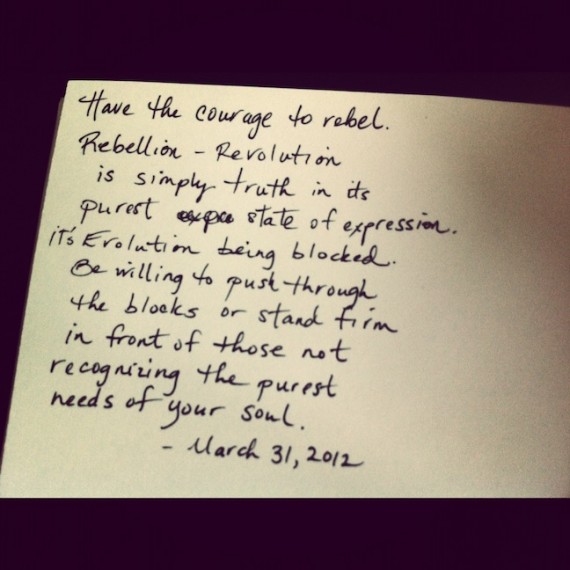 It was a sweet surprise and I'll be surely including it in my notes for The Art of Convivial Living book I'm working on. Material! Material! Our lives are what make up the material in everything we create.
Alright, I've gotta run now. It was great to spend this moment with you! Let me know in the comments or on Facebook / Twitter how you plan to take loving action into your own hands. Perhaps you can even do it for the ones you love…that never fails. Secret post it notes under the toilet seat? Nah…do even go there!
Just acknowledge that you are on this earth to learn, create and contribute in your own way and to touch numerous lives because of it.
Your presence is like no other,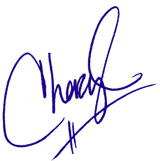 Tweet
I was able to steal this morning time to share with you all I was up to late last night.
After a few phone calls, some research, and two weeks of tapping into my feelings about where I want to go with The Convivial Woman and how I want to feel as a result of my efforts here, I took one swift action toward investing in myself by enrolling in…
Marie Forleo's Rich Happy & Hot B-School.
I'm thrilled, jittery and absolutely giddy because I pushed through my fear and every possible excuse that could keep me where I'm at versus getting me to where I need to be!
I spoke to two friends who happen to be women I admire and entrepreneurs themselves and when I told them I would be joining B-School, this is what they said:
"Yay!! We'll rock it out together"
and
"Yaaaaaaayyyy!!! It's gonna be awesome."
After a decent night's sleep, I also woke up to this message on Facebook from yet another friend who was aware of my recent choice:
"We are best friends…always remember that if you fall, I will pick you up–after I finish laughing at you." (ahh the truest of friends)
With every risk comes major rewards. Sometimes it's money, love, moving to a new city or country, a new house, but even better, it's a more clearer, confident, unstoppable
YOU.
When you show the courage to go for it, life responds accordingly and instantly, even if the response is subtle.
It was scary for me to push this button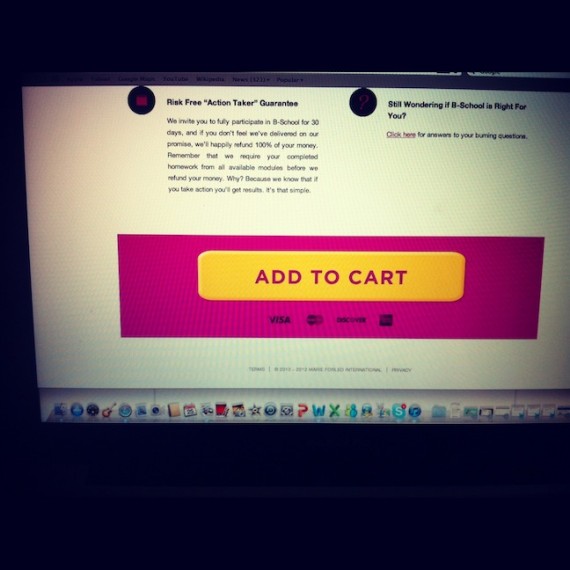 but I took a deep breath, knew I'd done my homework, and thought to myself, I know what I need to get better at what I'm already good at. And so I did it.
It's hard to know what to do sometimes, but you still must do that one thing to get to the next thing. Your future depends on you to make a decision, any decision.
I went through the process of signing up for B-School, from an expert I trust and know is the real deal, and when it was time to click "Pay", I took yet another deep breath, heard the click, and upon exhaling, this appeared before my eyes:
I felt nervous about what was ahead, yet I was proud of myself for demonstrating the courage to give in to my deep-rooted needs.
When you're a working professional, you show up to work and put your trust in that company to train you to do the job. As you get to know people, you find mentors and people who want to help guide you on your way. Bless those people who take the intiative to get involved in shaping your future. We desperately need more people to step up and reach out.
On the flipside, when you're an entrepreneur and creating worlds of your own imagination, there is no road map. Everyone is figuring out their way through the road less traveled, yet there are many travelers.
When you choose to tread a path that isn't as smoothly paved, that's constantly changing, doesn't have any clear cut signs for you to follow, then you must seek out mentors in your industry who have had the courage the venture down that same road to help guide and mentor you.
The more mistakes they've made, the more knowledge and wisdom they can impart. Athletes aren't the only ones who need coaches.
Their experience won't be your exact experience, but it will be worth finding out with them at your side.
So that's what Marie Forleo and the community of B-Schoolers are going to be for me.
Our parents were our first teachers and that is one world of knowledge we begin our lives with, but there are myriad worlds of knowledge and wonder that await you. It's up to you to discover them, to trust in them, to invest your time (and yes, your money) in them.
No action taken toward accomplishing your dreams is ever wasted.
Get your education on!
P.S. If you're looking to be part of Marie Forleo's B-School class of 2012, today's your last chance to get on board. Enrollment closes at 3pm EST today 2012 May 25.
Tweet
I've been living in Austin for four months now. My husband and I have been in the throws of looking for a house and we're discovering so many areas and details about this town because of it.
If you ask me for the zip code of any area surrounding downtown Austin, I bet I can tell ya! I've driven all the neighborhoods and have determined the ones whose vibe seep deep into my soul.
I've flip flopped back and forth between wanting to raise my kids in the outskirts of the city (aka suburbs) and the inner city and I keep coming back to the city.
I grew up in Chicago and my husband grew up in San Miguel de Allende, Mexico, so we were used to seeing people walk up and down the streets, hang out on their front steps, play football in the street, wave to the police, wash our neighbors cars during spring break, play basketball at the neighborhood park, walk to the corner store, and so many more unforgettable memories.
I didn't go to the most prestigious urban schools- my folks were hard-working people just doing their best to put food on the table and clothes on our backs- but I can tell you I got schooled by the exposure I had living in the city. I've got street smarts up the wazoo!
I cherish my upbringing and wouldn't trade it for anything.
Now that I'm a parent, I plan to enhance my children's education by not only finding them great schools (it's important to know what that really means for you), but also granting them exposure to city living, because there are myriad things to learn by simply living among all kinds of free-thinking individuals.
I am not going to be a parent who relies solely on the school system to educate my sons.
I don't plan for my kids to live in a pristine neighborhood that resembles Pleasantville. Nothing against those areas, or the people who prefer to live there, but to me there's so much more to life than having a well sculpted lawn, a nice car in the driveway, and a pretty box made of bricks to call home.
I want edgy, cultural, unexpected experiences. I want eclectic, progressive-thinking, out of the ordinary people surrounding my family.
I want people who know the value of investing in the community they live in (and I don't mean just money, but time) and not just buying into one that is already established.
My mother is visiting me for the second time around and I have been pleasantly surprised to find out that the neighborhoods in the city that I fell for appeal to her too and remind her of her own upbringing.
I take that as a great sign that there's something familiar pulsing beneath the trees and the streets of the city spots I keep coming back to.
I remember my days in Dallas when I was itching to experience other urban lands and my husband would (nay)say, "Change your thoughts; it's not Dallas, it's you." Well, he couldn't have been more right! It sure as hell was me and there was no avoiding my feeling.
Pay attention to the places that bring you to life. You will feel it the instant you set foot on the ground.
Some places just don't get you and vice versa. You can change your thoughts all you want, but your gut (that spot near your hips) don't lie.
It took me five years to follow my instinct to the place where I felt at home with myself. That feeling reaches deep within and is undeniable. The first week that I got to Austin, I felt this inner calm and felt no desire to be anywhere except the place where I was standing. It felt so good.
It sucks to live each day with the attitude of "Anywhere but here…"
Your life is all about venturing out and discovering where YOUR proper place is, which can be many places. Sadly, many well-meaning people who love you can get in the way of that if you let them. Be courageous and follow your bliss.
I've got five places that I can easily call my soul's home- San Francisco, Chicago, Austin, San Miguel de Allende, and Florence, Italy. And I don't mean to use pretty language when I say "soul's home"…I literally mean it, because I felt it the moment I walked the streets of each distinct location.
Places can make a person just as much as a person makes the place.
Getting out every day to discover something new about Austin is what I'm living for these days.
Today I hiked a scenic point overlooking the Austin skyline with my mother and two boys. My oldest son, now 4 years old, led the way and feisty mama wasn't too thrilled that she had to hike in sandals, but we worked it out!
Sometimes, life takes you away from the things you think you should be doing to give you the material and wisdom you need to do what you're meant to do.
It's all about surrendering to the direction your life wants to take you. Only you can steer that wheel. If you let someone else take control of it, who knows where you'll end up.
Which risk do you want to take?
Transitioning from one place to another is never smooth or stress-free, but I am thankful I had the will and the courage to make the move…even if I had to do a good bit of ball-busting to get here.
Listen to what calls you and what haunts you, because there's something magical and scary and exciting on the other end just waiting for you to take that first step towards living how and where you are meant to live.
Sincerely,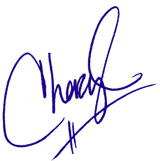 Tweet